Insider's Guide: Thanksgiving at the Movies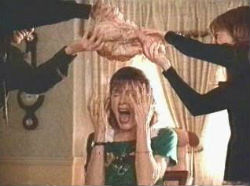 While many folks will be spending Thursday around the dinner table gorging on Thanksgiving dinner, some folks go to the movies. There is no need to choose between the two. You can still enjoy the classic dishes without messing up your kitchen, whether you go with family or not. No mishaps with turkeys, no nightmarish sides and no worries about finding a million and one ways to serve leftover turkey.
Theaters do big business on Thanksgiving, which is why this week new releases are opening on Wednesday. But in Austin, only Alamo Drafthouse is combining traditional Thanksgiving fare with their films. Even Violet Crown has no public plans to do anything special for the holiday as synonymous with overindulging as it is with the bird.
Like previous years, all Alamo locations are offering the option to buy a traditional Thanksgiving dinner along with your movie ticket. This year's menu includes turkey, green bean casserole, sweet potato casserole, giblet gravy, cranberry sauce, dressing, Parker House rolls and pecan pie. A (very) limited number of walk-up tickets will be made available, so it's recommended to purchase your dinner in advance. The ticket option is $22, which includes your film and the dinner, but doesn't include drinks. Check out the Alamo blog for details. Just note that this year they are not promoting the leftovers that you can bring home.
Most of the Turkey Day screenings at Alamo are current theatrical releases, but at the Ritz at 7 pm Thursday, you can watch the annual UT-A&M game. You can still get in by purchasing a $5 food and beverage voucher, but if you opt for the Thanksgiving dinner, your seat is secured and you don't have to worry about missing a second of the game to load up your plate.
On the dreaded Black Friday, if you want to avoid (or recover from) a day of retail madness, you can check out the special Master Pancake show celebrating "Hanksgiving" at 7 and 10 pm. Check out clips of the best and worst of Tom Hanks.
Speaking of the bankruptcy-inducing Shopocalypse, if you want to stay home to digest an overindulgence of food, you can help put your holiday spending in check. The SXSW hit doc What Would Jesus Buy? is available for streaming on Netflix and Amazon Prime, and it's an excellent reminder of just how insane the holidaze can get, especially on your wallet. This Morgan Spurlock-produced documentary follows Reverend Billy and the Church of Stop Shopping as they entertainingly skewer box retail, consumer excess, and Disney's zealous marketing. In the vein of Ha-Ha-Only-Serious, Billy and his cohorts traveled the country with too much Aquanet and a heartfelt desire to remind people of true holiday spirit long before the Occupy movement. If nothing else, What Would Jesus Do? will put Black Friday in perspective.
Of course there are plenty of Thanksgiving-themed films to watch from the comfort of your home -- Pieces of April and Home for the Holidays (pictured above) are my two favorites. Check local video stores for availability. And if the inundation of carols and Christmas decorations hasn't driven you nuts already this season, plenty of Christmas-themed film events are coming up, including the Paramount's holiday film series. In the meantime, know you don't have to succumb to the insanity on Turkey Day, unless you really want to.