Podcast: 'Everyday Sunshine' with Fishbone's Angelo Moore, Norwood Fisher
in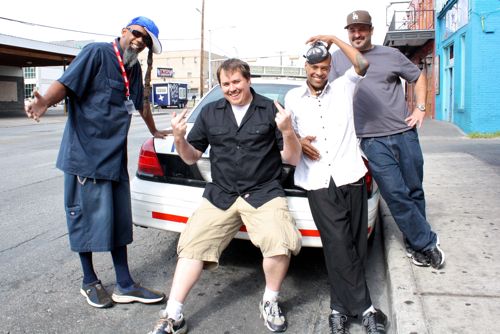 Filmmakers Chris Metzler and Lev Anderson were in town recently to bring the culture that shaped the personal stories of the black genre-breaking band Fishbone in the compelling film, Everyday Sunshine: The Story of Fishbone -- read my review here. Narrated by Laurence Fishburne, viewers are taken through a musical and intimate journey of Fishbone as they face the challenges of a band democracy, fiercely independent artists, and the music industry machine.
Personal interviews include musical artists and actors Flea (Red Hot Chili Peppers), Gwen Stefani (No Doubt), Ice-T, and many others, including the dynamic and determined frontmen Angelo Moore and Norwood Fisher. I joined the pair on their tour bus for an interview while they were in town last month for a special Austin Film Society screening and show at Emo's Austin.
Hear what Angelo Moore had to say about the impact of digital technology and his ode to Wall Street, as well as Norwood Fisher's greatest musical desire: to write more musical scores for movies.
Everyday Sunshine screens at Alamo Drafthouse Ritz tonight at 10 pm as part of Music Monday.