Review: Everyday Sunshine: The Story of Fishbone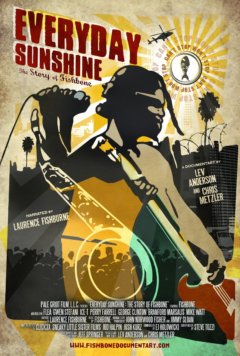 [Everyday Sunshine: The Story of Fishbone will screen in Austin tonight (Oct. 25) -- details are at the end of this review.]
Between deejaying college radio stations and also living in the heart of Montrose in Houston during the 1980s and 1990s, my nights were dedicated to the diverse music scene. New wave genre was my first love, but it was the upbeat tempo of ska and nitty-gritty sounds of punk that got me moving to the dance floor and from time to time, to the mosh pit. The creative cacophony of Austin bands including Bad Mutha Goose, Retarted Elf, The Big Boys, and Bad Brains created a mesmerizing wall of sound, moving the audience in a mass of sweaty, flailing bodies with an incredible outlet of energy.
Many of these bands were influenced by Fishbone, a black punk band from the streets of South Central Los Angeles. Band members sported dreadlocks and Mohawks as well as the ska/mod fashion, although sometimes they wore only their musical instruments. Fishbone "brought the Funk to the Punk." However, their prominence in the scene fell apart just as the band was on the verge of achieving the financial success they needed to survive.
Filmmakers Chris Metzler and Lev Anderson bring the personal story of the fiercely individual artists that make up the democracy of Fishbone in the compelling film, Everyday Sunshine: The Story of Fishbone. Narrated by Laurence Fishburne, the journey of Fishbone to fame and eventual bust is demonstrated through animation, vintage concert and interview footage with the band and other musicians.
Personal interviews include musical artists and actors Flea (Red Hot Chili Peppers), Gwen Stefani (No Doubt), Ice-T, Perry Farrell (Jane's Addiction), Branford Marsalis, George Clinton (Parliament/Funkadelic), Tim Robbins, and many others, including the engaging and polar-opposite mothers of the lead members, "Mama Fish" and Mrs. Moore. Fishburne mostly narrates the animated sequences of the film -- as a bouncer at different punk rock clubs in Hollywood in early '80s Fishburne became familiar and became friends with members of Fishbone.
Everyday Sunshine is not just another musical documentary, as the film explores the parallel changes in the culture of LA in the 1980s. Fishbone's evolution began as part of the first post-civil rights generation, when as high-school students they were bussed from the predominantly black communities of South Central to the suburbs of the San Fernando Valley as part of the controversial desegregation efforts in 1979.
Fishbone's story begins with lead singer Angelo Moore and bassist Norwood Fisher, who show how they formed a band that was committed to being democratic, but were torn apart by the creative conflicts as well as addiction and mental health issues. To overcome financial crises, family strife and the strain of being aging punk rockers on the road, Moore and Fisher are faced with the challenges of re-inventing themselves to survive while retaining their creative individuality in today's music industry.
Co-director Lev Anderson was formerly a fine art photographer with works exhibited internationally, which allows him a rather unique perspective to create a dynamic visual representation of the band's history and journey. Interestingly enough, Anderson's first attempt at documenting music via video was at the age of 12, with a a fully dramatized lip-sync rendition of punk band Suicidal Tendencies song "Institutionalized" after attending a concert with his father. Co-director Chris Metzler's first feature-length environmental documentary, Plagues & Pleasures on the Salton Sea, was narrated by the legendary counterculture filmmaker John Waters, becoming an award-winning cult favorite. Everyday Sunshine director of photography and editor Jeff Springer also worked with Metzler on Plagues & Pleasures.
The blending of animation, historical footage, and personal interviews provides a well-balanced story that kept me engaged throughout Everyday Sunshine. Highlights include insights from Flea and Ice-T, as well as soul-baring moments from Moore and Fisher themselves. The sensitivity with which Anderson and Metzler handle addiction and mental health issues -- including depression, anxiety and even bipolar disorder -- with sensitivity and respect to all those involved.
Norwood Fisher and Jimmy Sloan were the musical score producers for Everyday is Sunshine, resulting in a layered score that had me moving to the beat within the first ten minutes of the film and wanting to listen to more Fishbone for days after. Although it's already a no-brainer that this film is destined to become a cult favorite amongst fans of Fishbone as well as ska and punk music fans, anyone who is a fan of compelling and dynamic storytelling should not miss Everyday Sunshine: The Story of Fishbone.
Austin Film Society is hosting a special screening of the documentary Everyday Sunshine: The Story of Fishbone on Wednesday, October 26, at 7 pm at Alamo Drafthouse on South Lamar. Directors Lev Anderson and Chris Metzler will join Fishbone's John Norwood Fisher and Angelo Moore for a post-movie Q&A. Fishbone will also have an in-store performance at Waterloo Records at 5 pm on Wednesday, October 26, and a live show at Emo's Austin on Thursday, October 27. Don't miss a chance to see this historic band live!