Ready, Set, Fund: Help Austin Cinematheque Relocate
"Ready, Set, Fund," is a column about crowdfunding and related fundraising endeavors for Austin and Texas independent film projects. Contact us if you've got a film fundraising project going on you'd like us to know about.
If you weren't in Austin in the late 80s or missed the Live Your Cinema! Austin Media Arts documentary that screened during the 2010 Austin Film Festival, then you may not know about the significance of Austin Media Arts. This cramped space above Quackenbush's Coffee Shop on the Drag was the first venue that Austin Film Society (AFS) actually owned and operated. Formerly a psychedelic ice cream parlor, Austin Media Arts was the screening room of AFS founder Richard Linklater and Lee Daniels as they projected eclectic and diverse films by Ingmar Bergman, Michael Snow, Stan Brakhage, Michelangelo Antonioni and Jean-Luc Godard for eager film fans.
Austin Media Arts is long gone, but its spirit and intent has carried on in younger generations of film enthusiasts who drew inspiration from repertory programs including the defunct CinemaTexas. The most well known is Austin Cinematheque, the only free, 35mm retrospective film series in town, founded in 2005 by three University of Texas Radio-Television-Film students. Since their first self-funded screening of François Truffaut's The 400 Blows in the Texas Union Theatre, they have screened over 75 films from sixteen different countries spanning nine decades.
Unfortunately, due to the upcoming remodeling scheduled at the Union Theatre, Austin Cinematheque will be temporarily homeless while working toward expanding their free repertory film series. Find out how you can help them and other film-related projects after the jump.
Austin Cinematheque has provided Austin with one-of-a-kind screenings including the only known 35mm print of Samuel Fuller's Park Row in the United States, the first ever screening of the Criterion Collection restoration of Monte Hellman's Two-Lane Blacktop, and director Howard Hawks's Ball of Fire with special permission from Samuel Goldwyn's estate. Depending on your level of support, backers of their Kickstarter project (if successfully funded by Sunday, December 11) can receive a t-shirt or serigraph of one of their film screening posters.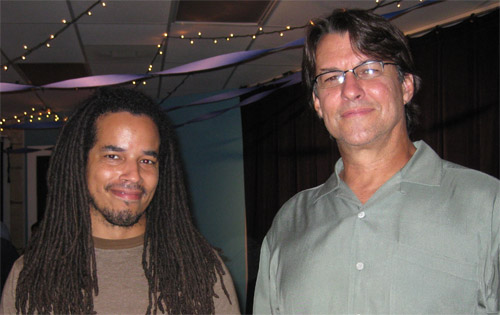 Ruth's Locket is a local film project seeking funding support through IndieGoGo for support in the film festival circuit. The directorial debut of actor Gene Burns, this short film portrays the poignant memory losses resulting from the devastating impacts of Alzheimer's disease on two young lovers of their past and future. Filmed completely in San Marcos, Texas, local producer and cinematographer Layton Blaylock (Arts from The Streets, Dazed and Confused) -- pictured at right with Rich Vazquez of Lights. Camera. Help. -- worked as director of photography. Funds raised by January 1, 2012, will go towards duplicating and sending copies of Ruth's Locket to film festivals around the world.
Speaking of films portraying mental degenerative disease and illness, unfortunately Thrive -- one of the films featured in last month's "Ready Set Fund" column -- had to cancel their funding project. Director Jonathan Holt reports in this update that the directors of Marbridge adult facility would not permit filming onsite, despite reportedly having 100 percent approval from their film subjects and their families. The facility's staff alleges that their documentary was exploitative -- implying that the crowdfunding was "making money." Filmmakers intend to apply funds already raised towards paying for the expendables, as well as any props, costumes for the residents' Christmas play, with remaining funds to be donated directly to Marbridge.
11.11 focuses on a young girl waking up on 11.11.11 and embarking on an incredible journey that leads to a beautiful twist at its climax. The filmmakers plan on filming the project in Austin in December with the intent of submitting their project to the 2012 Cannes Film Festival. Successful funding by December 13 through their IndieGoGo project page will fund equipment and other production costs.
Possumbox Productions is also seeking funding through December 17 for equipment to document the life of Austin radio personality John Aielli on film. In addition to their own project, they intend also to offer their services free of charge to one of our favorite local film nonprofits, Lights. Camera. Help., which in turn helps other nonprofit organizations. Find out more details including projects and backers' perks on their project page here -- they'll even "cat-ify" your picture or cook for you!
[Photo credit: "Austin Cinematheque" courtesy of The Daily Texan, "Rich Vazquez and Layton Blaylock" by Debbie Cerda.]