AFF Photo Essay: 'The Nice Guys' Drop Trou, Delight Audience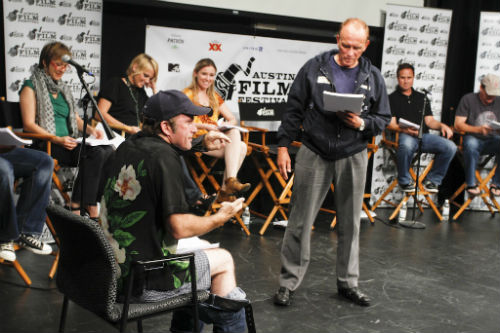 There was a lot going on at Austin Film Festival on Sunday, and unless you could clone yourself, you may have missed it. Thomas Jane dropping trou for The Nice Guys script reading for one. (More photos after the jump.)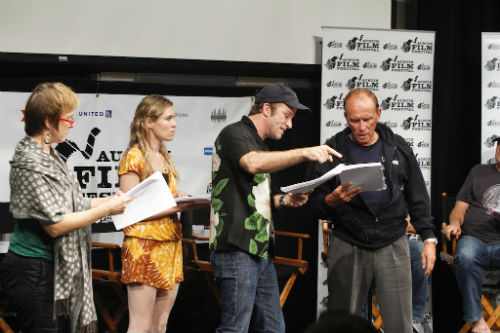 Sure he probably does that a lot on Hung, but this was a room of over 200 people for the reading of The Nice Guys, a screenplay written by Shane Black and Anthony Bagarozzi. Set in the late 1970s, The Nice Guys are Holland March (Jane) and Jackson Healy (Peter Weller), who reluctantly team up when the death of a porn star is just the start of a far-reaching murder conspiracy. It's very similar to Kiss Kiss Bang Bang in its sensibilities, beats and sense of humor.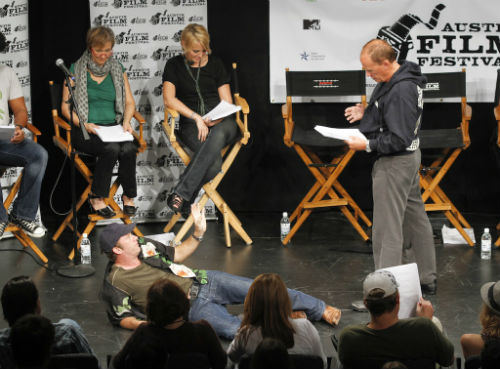 Thomas Jane showed up dressed for the part in a wild Hawaiian print shirt and a ballcap, and Peter Weller had donned his Sons of Anarchy jacket. Weller was gruff and deadpanned most of his lines to great effect, but Jane fully embraced the role -- and the floor -- which he threw himself into with gusto for several falls (prat and otherwise) that were in the script. One scene required Jane to be sitting on a toilet, so he had no inhibitions about undoing his jeans and showing off his boxers for one particularly hilarious scene with Peter Weller. And hats off to Austin actress Jennifer Ortega, who also got into the spirit in the name of dramatic effect (not to mention delighting the audience). Needless to say it was a very kinetic script reading.
Jane and Weller were joined by several other actors who voiced multiple parts during the reading, with Shane Black narrating. If you were at the script reading, here's the seating order in the picture above: Ernest James (Friday Night Lights, Jeff Who Lives at Home), Sheila Marie Gordon, Jennifer Ortega, Hannah Pepper, Thomas Jane, Peter Weller, Rustam Branaman, Jim Otis, Gabriel Folse and Madi Goff.
You might remember Madi, she also read during The Hand Job script reading last year. We at Slackerwood are quite fond of her for her hilarious performance in last year's I Didn't Come Here to Die (she's also in the upcoming Cinema Six). Madi had some great lines during the reading, including a really fun one as "Bee" as well as Misty Mountain the porn star. She's pictured below sitting next to Jim Otis and Gabriel Folse, with AFF's Barbara Morgan standing beside her.
Because the reading started so lat,e there was no post-reading discussion to find out what's going on with The Nice Guys, other than the actors that participated are not the actual cast. It would be great if some of them end up in it.
[Photo credit: First three photos by Jack Plunkett, used with permission from Austin Film Festival. Last two photos by Jette Kernion. All rights reserved.]