AFF 2011, Day One: Uncertain Freak Dance
There's something inherently refreshing about sitting on the East balcony at the Driskill right before the first scheduled event of AFF. Despite the occasional smoker, and the incessant clanking of metal on metal in a nearby alley that's closed for construction, the cool breeze makes it a perfect Austin day.
Checking out the other balcony to see if it had fewer smokers (it did), I happened upon the front-runner for best film marketing at a fest this year. The Upright Citizens Brigade had "protestors" out at Sixth and Brazos warning about the dangers of Freak Dancing. Freak Dance screens Friday night at ACC.
For the first time I actually made it to the Opening Remarks kickoff of Austin Film Festival. I was surprised to hear that the Polly Platt tribute and special screening of Bottle Rocket on Saturday was cancelled. Apparently it's been replaced by James Franco's Sal. And the last TBA slot has been announced; it's Post, written and directed by Texas native and True Blood regular Jim Parrack. However, Post is not yet showing on Festival Genius.
My first panel at AFF on Thursday was a miss more than a hit. "Character Voices: A Conversation with Whit Stillman" (Damsels in Distress, Metropolitan) was too much like overhearing parts of a conversation of strangers, I just couldn't connect to it.
My second panel of the fest was "Words That Go Bump in the Night: Writing Horror." It was an odd mix of panelists, some of which seemed uneasy about being associated with the horror genre -- Alvaro Rodriguez (Machete), Juliet Snowden and Stiles White (shared credits for The Possession, coming out in January), Beau Thorne (Max Payne), and moderator Fred Strype (Got Next). However, the advice was sound: Write an emotional connection to the characters, if you can't hook a reader in 30 pages, and just write (and finish!). It also had the oddest question ("Have you stepped on a spirit's toes?"). Thankfully after some awkward laughter, the audience member clarified that he was asking if their work ever scared them.
That lead to an interesting story. The Possession was originally titled The Dibbuk Box after an occult item of Jewish origin (Dibbuks being malevolent spirits that possess the living). Snowden and White were offered the opportunity to borrow a dibbuk box, but turned it down, not wanting to borrow trouble. The Possesson is directed by Ole Bornedal, who directed Fantastic Fest selection The Substitute.
I missed the panel on "How to Work the Film Festival: For Filmmakers" featuring Chris Holland, Paula Martinez, Kelly Williams and James Faust, which was moderated by Cine Las Americas director Eugenio del Bosque. Having seen that panel in the past, I know it's full of practical tips, and insight in festivals (such as why good films can get rejected by fests). Holland will be on another panel with Chase Whale (former Gordon and the Whale editor, now at Alamo Drafthouse) on Sunday for "Independent Filmmaking: Marketing Your Finished Film."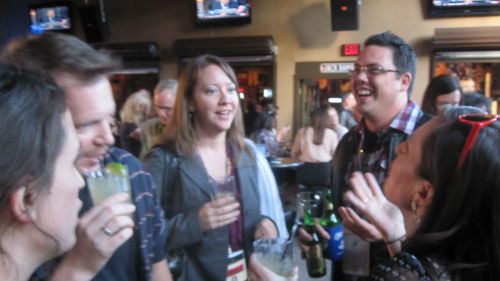 Then it was off to the opening-night reception over at Stage, where I ran into several Texas filmmakers including Clay Liford, who introduced me to Eric Steele, director of Uncertain, TX, which I saw after the reception. Liford did the cinematography, and it looked gorgeous. This southern gothic tale was full of suspense, set in a remote east Texas B&B ... and was shot in just nine days. The world premiere of Uncertain, TX may not have been sold out, but considering it was at the Rollins opposite the opening-night film, it was very well attended.
The Dark Matters screening of DeadHeads was sold out, unsurprising since it played in Ritz 2, the smaller screen. If you're planning on seeing anything at the Ritz during AFF, keep that in mind and make sure you get there very early for screenings. DeadHeads had a brilliant opening sequence, but falls under the weight of too many references to other movies, and the distracting forays into Troma-land. It's a shame because without that it would be a formidable movie.
Friday is expected to be a full day for the fest, but keep in mind there is a lot going on in Austin this weekend. The Texas Book Festival is taking place this weekend, which will result in street closures including part of Congress Ave. There is also a demonstration planned during the weekend, and a race, so plan more time than usual to get to different venues, and be aware that parking will be at a premium.
That's particularly important to remember because for the second year AFF is enforcing a 25 minute or earlier arrival time for badgeholders. If you show up later than 25 minutes before scheduled start you will have to get in line behind not only passholders, but those who purchase a ticket, and they do enforce it.