AFF 2011 Interview: Ben Foster, 'Strings'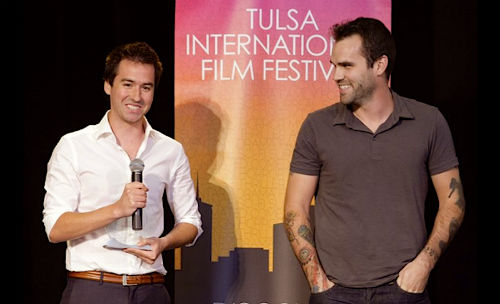 The 18th Austin Film Festival is here. To help celebrate all the locally connected movies at this year's fest, we've reached out to a number of filmmakers to find out about their Austin and Texas-tied films screening at the fest.
Strings is a a thriller co-directed by Austinite Ben Foster and written by co-director Mark Dennis (pictured above at Tulsa Film Festival with Ben on the left). The film is about a grieving man who opts for an experimental therapy to start a new life with unexpected consequences. I haven't seen the movie yet, but Austinite Karl Anderson, who has a significant role in the film, was very impressive during the script reading of By Way of Helena at AFF last year, so I can't wait to see his peformance on screen. In the meantime Ben Foster graciously took the time to answer some questions about Strings, AFF and Austin.
Slackerwood: Describe your film for us, in a quick and dirty paragraph.
Ben Foster: Strings is about a musician that discovers his therapist is using patients to commit vigilante crimes. He gets involved with this underground crime ring and can never return to his old life.
Tell us one thing about Strings that is going to make it impossible for people to resist seeing it at AFF?
It's a hometown film. We pulled all the Austin connections together to make this film. Austin actors, musicians, residents, business owners, UT students and UT grads. Odds are you know someone that helped us get it done. On top of that, we've taken it to festivals all over the country where it has picked up loads of awards. If all these strangers liked it, we think you will too.
How long have you been working on the film?
A long-ass time.
What are some recognizable locations in Austin/Texas?
The story for Strings takes place on the East Coast. So, we spent a lot of time disguising Austin as another town. Some script elements demanded NYC, so there's a composite shot where the Lamar Bridge looks out over Manhattan. Momo's, Union Park, Frank, The Woodland, Mansfield Dam, The Steinway Piano Gallery, The Griffith School, Austin Steam Train, The Comal Train Station, and Poodle Dog Lounge are all prominently featured throughout the film.
What are your future plans for this movie?
We have a few more potential festivals lined up and are in the process of talking to distributors and sales agents. Look for Strings DVDs or downloads by mid next year.
What one place to visit/eat/drink would you recommend to out-of-towners here for AFF?
Madam Mam's. We ate from there every other day while shooting Strings. There's no question that this film was fueled by Pad Thai.
What are you looking forward to doing during AFF?
Aside from screening our first feature film in our hometown for the very first time!? Seeing Johnny Depp. He's cute.
Strings plays Austin Film Festival on Sunday, October 23, at 9:45 pm at the Rollins Theater in the Long Center, with an encore on Tuesday, October 25, at 7 pm at Rollins. You can also learn more at the Strings website.
[Photo credit: Ben Foster and Mark Dennis at Tulsa Film Festival. Used with permission.]