Review: Footloose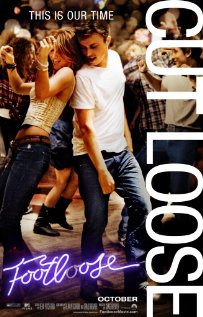 Director Craig Brewer has two critical hits to his name. Both Hustle & Flow and Black Snake Moan were exceptional works from a natural talent. Now, Brewer has taken on the challenge of remaking an 80s classic with Footloose, but the real challenge for him has been one of marketing a fantastic work that people are too ready to dismiss as a blasphemy without having even seen it. In fact, Brewer is perhaps the world's biggest fan of the 1984 movie that made Kevin Bacon a star. He has taken the film on the road, touring cities around the US and stopped in Austin a couple of weeks before Fantastic Fest to present the movie along with star Kenny Wormald. (see photos here)
Brewer has realized an updated yet timeless version of the story about a city boy who brings dance back to a small town paralyzed with grief. Fans of the original will find it hard to dislike this one. Footloose is the same movie in almost every way, but with a couple of background adjustments that result in a better presentation. Nothing revolutionary, but I won't spoil them. You may not even notice consciously, but the result is stronger character motivation and a better film.
Dennis Quaid is much more relatable as a grieving father than the unflinching fire-and-brimstone preacher portrayed by John Lithgow in 1984. This is where Brewer's vision departs from the original. This isn't a story about religious intolerance, and the script makes a pointed remark on that if it wasn't already clear. Kenny Wormald's Ren is a richer, more complex portrayal, still headstrong but more of a golden boy than Bacon's take on the role, and he has a strong relationship with his uncle Wes Warnicker (Ray McKinnon)
Footloose is a movie about dancing, of course, and the cast reflects that. Wormald has been dancing since the age of 6, is an instructor, and was previously seen in You Got Served. Costar Julianne Hough, who plays preacher's daughter Ariel Moore, is best known from Dancing With the Stars. It is Miles Teller's performance as Willard, however, that makes the biggest impression. Following up a strong dramatic performance in last year's Rabbit Hole, he shows breadth as the comic relief here in a very demanding physical role. In fact, the only weak character was Andie MacDowell's Vivien Moore, a part written with the belief in mind that a reverend's wife should be seen and not heard. In most scenes, she smiles and is silent.
The music is instantly recognizable as Brewer has preserved most of the songs written for the original by Dean Pitchford, but with new artists performing. The updates join several new tracks that demonstrate once again Brewer's ability to influence the audience with his music selection as an integral part of his direction. With Footloose, he has created one of the best remakes ever and a loving homage to the original. Those who give the movie a chance this weekend will find themselves dancing in their seats.