Fantastic Fest Interview: Harry Knowles, 'Comic-Con Episode Four'
Austin's Harry Knowles is the creator and editor of the website Ain't It Cool News and a co-founder of Fantastic Fest. In addition, he's produced a documentary, Comic-Con Episode Four: A Fan's Hope, which was this year's Fantastic Fest closing-night selection. The movie is a look inside San Diego Comic-Con and is directed by Morgan Spurlock; the film's other producers include Joss Whedon and Stan Lee. You can read Jette's review for details.
I sat down with Knowles before the fest began to ask him a few questions about Comic-Con Episode Four.
Slackerwood: You've worked at producing other films, such as John Carter of Mars and Ghost Town. How did you get involved in this one, and why do you think this is the first one to be made after others fell through?
Harry Knowles: With John Carter, it was a situation where the studio kept changing hands. Every single time we had a new studio head we had to get a new director, which was counter-productive. Every time we had a script that we all agreed we were going on, suddenly the head of the studio would change and we'd have to basically start from scratch again, which was a demoralizing sort of thing. And with Ghost Town, Revolution Studios went under before we were able to make the film. Since then I've been pretty quiet about everything I've been producing, because the thing you learn when you're working in the film business is, it's not real until it is in the can and on Blu-ray.
About three years ago, I began having conversations with a man by the name of Thomas Tull [founder of Legendary Entertainment], the lead financial guy behind the Comic-Con documentary. We were talking about trying to do one of the projects that I had, and it was a fantastic project but tonally it was just different from what Legendary was looking for. And then Morgan Spurlock had Stan Lee and Joss Whedon on board, and he was trying to find the money to shoot the Comic-Con project, and he went in to pitch Thomas Tull. Thomas agreed only if he could bring me on board as a producer, because he really felt it was important to have somebody who had been a part of the convention from the beginning -- because my first Comic-Con was 1972. Morgan and I started talking and hit it off.
The key on getting films made is just getting the money. And the business has changed so radically since I've been involved. Whether a film gets made depends not just on whether you get the money to shoot the movie but also the money for prints and the advertising. You have to present it to the studio as if it's no risk and the studio's only expense is selling the movie. That's crazy. That's not at all the way the business was 10-11 years ago. Even for experienced producers right now, it's incredibly hard to get projects off the ground.
Spurlock seems to like to make documentaries based on gimmicks. Can you speak to that in relation to Comic-Con Episode Four?
Knowles: What we had when everyone was starting was the title. We were talking about the project and Morgan asked, "What sort of stories happen at Comic-Con that you'd like to see on the screen?" So we started talking about all the areas that the blogging community doesn't know about. They never even see this stuff, because all the general websites care about is Hall H. Never mind that it's just one tiny part that only 15,000 people see, when there are over 140,000 people at Comic-Con.
At the heart of Comic-Con are all these areas where fans can meet the professionals to critique their work and get their advice. And Masquerade, which is the best geek masquerade on the planet. You have to know it's there. Well I know it's there, because my mom did it back in the '70s.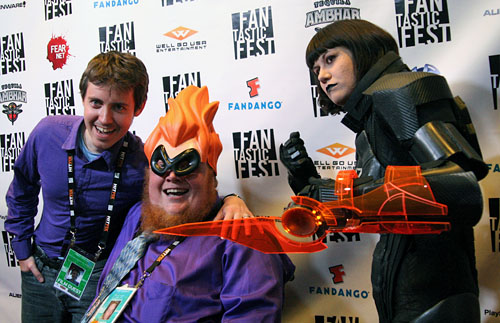 We started going on the idea since it's called A Fan's Hope, let's focus on a group of fans that all have a hope for Comic-Con. There's a goal, there's something they want to accomplish there. The people we decided to follow were genuine discoveries. And they all did pretty amazing stuff in this documentary. You really get emotionally involved with all the characters. I wanted a documentary that showed the tone of what it's like to be a geek at a fest like Comic-Con when you had something you had to do. And I wanted to show that that's sort of real emotion, because geeks are geeks, but they're about a lot more than just what's happening at Comic-Con, that's just what they're most passionate about. Trying to capture that passion was something very important.
There's nothing in this that we could really do that's really a gimmick, something that we could set up. Holly, our cosplayer in the Masquerade, makes the most amazing costumes ... but there's no guarantee that she's going to take home a prize. At the same time, when you're looking at artists that can do comic-book work, there's no guarantee that these people are ever going to be seen again. They could walk in and have some professional tell them that they don't have an ounce of talent. And the thing that got me was the idea that anybody that would be taking their work trying to get into the industry would allow a documentary crew to even follow them. That would be so nerve-wracking to me, and you actually see those nerves in these people, and it's incredibly touching.
Morgan wisely understood that he needed to be an inaudible personality in this, because frankly, he's just sort of starting to discover Comic-Con. Before the documentary he hadn't been there a whole bunch of times, so this was a way for him to discover what all is happening at Comic-Con.
What is your own personal favorite experience from all these years going to Comic-Con?
Knowles: I honestly don't know. Getting to moderate a panel with Sylvester Stallone, Dolph Lundren, Bruce Willis and the rest of the cast of The Expendables was an awful big "Wow" -- my first time on the stage at Hall H, looking out at 15,000 people. Now I can see that actually while I was doing that, our documentary crew was following Se Young and James Darling, and there's actually a part of the film that takes place while I was on stage doing that ... that was kind of fun and cool.
But my favorite memory of Comic-Con was 1974, when I woke up in my room at the hotel, and I escaped my room, and I decided to go down to find Mom and Dad and I couldn't find them. I ended up walking around the hotel and wandering around the block. My mom went up to check on me and comes down in a panic, because her baby's gone. All the dealers start searching for me. Dad thinks maybe I wondered outside and everyone starts to panic. They wound up finding me in a massage parlor with a bunch of nice Asian beauties that were taking care of me. That's my favorite story of Comic-Con, because I've heard it all my life.
I also saw the world premiere of The Golden Voyage of Sinbad there, and they weren't going to let me in, because they thought it was going to be too scary for me. But the people right behind my mom and dad were Forry Ackerman and Ray Bradbury, and they stepped forward and took me out of my parents' arms and carried me and said "This kid's seen more horror films than all of you! You let him in with us." And when they saw that it was Forry Ackerman and Ray Bradbury they let us in, and then I sat on Ackerman's lap the entire time watching The Golden Voyage of Sinbad. That's awesome.
I love that at Comic-Con, Jack Kirby nicknamed me "Fuzzy Knowles" because he didn't think I'd earned the name Harry yet. I've since spent my life trying to earn the name Harry, and I think I've done it now.
At Austin's Comic-Con last year, I was at your panel about Famous Monsters. [For background, read this Austin Chronicle interview from December 2010.] Is there any new action on that project?
Knowles: No, what has happened was we wanted to start off by doing a website. It was a fairly ambitious plan. We were willing to pay for our 50 percent of expenses and on the other side, it was a bit expensive for him [Famous Monsters owner Philip Kim], so we decided to scale back. We were going to be launching it at the start of this year, but when the Russian attack occurred and we lost our servers and Ain't It Cool had to be rebuilt from scratch, that put us back to where our priorities are --- getting Ain't It Cool as solid and awesome as possible. I haven't heard from Philip in a pretty long time, and he might have decided to go in a different direction altogether. It's something that I would love to do at some point, it's just right now, I have to take care of Ain't It Cool first and foremost, and that's always going to be my top priority.
You've got a successful site, written books, helped create the world's best film festival and will soon be writing comics. Is there something you'd like to do you still haven't had the chance to try?
Knowles: I would like to get some narrative films under my belt from a producerial viewpoint. And, I would eventually like to maybe helm a project or two. There's a couple of projects I have that Guillermo [del Toro] and Peter [Jackson] and [Robert] Rodriguez and folks have encouraged me saying "You should do that." And that's pretty intense peer pressure. The thing I tell them at this point is I don't know how much I don't know about film. And I'm not arrogant enough to think that having never directed a short film, that I'm quite ready to direct a film. That said, they all tell me I know more about how to make a film than half the people that are making films. I disagree with them. There's things I'm learning just in the course of putting the money together to make movies that in 10 million years I would have never understood. I mean, how do you get hundreds of millions of dollars? I know it sounds like a ludicrous question, but that's what I've been working on for the past five years.
[Photo credit: "Harry Knowles" by Ronald Woan; "The Expendables, San Diego Comic-Con 2010" by Antonio Ruiz Garza; both found on Flickr; used under Creative Commons licenses. "Fantastic Fest 2011, Day Eight" by J. Kernion, all rights reserved.]