Fantastic Fest Review: Comic-Con Episode Four: A Fan's Hope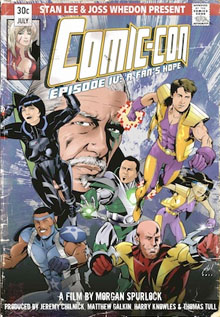 Documentaries aren't normally gala closing-night picks for film festivals, but you couldn't find a better movie to end Fantastic Fest this year than Comic-Con Episode Four: A Fan's Hope. The frothy, upbeat doc from filmmaker Morgan Spurlock celebrated fandom -- and not exclusively, or even primarily movie fandom -- with a focus on a variety of attendees at Comic-Con San Diego.
Wait. Stop. I know what you're thinking. You've seen Spurlock's documentaries and you're wondering how he's managed to wedge himself into this particular scenario. But I bet that for most people, if you didn't know Spurlock directed this movie, you would never guess. The Super Size Me filmmaker doesn't appear onscreen at all -- you don't even hear him in a voiceover. This time, he lets many other voices and faces, both well-known and newcomers -- tell the story.
And it's a nice story, respectful of everyone who swarms San Diego annually for the giant Comic-Con gathering, whether they're aspiring artists, collectors or cosplayers. Comic-Con Episode Four: A Fan's Hope focuses on a few diverse attendees from Comic-Con 2010 to draw us into the event: comic-book dealer Chuck Rozanski, who's had a booth at Comic-Con for decades; first-time attendees Skip Harvey and Eric Henson, who want to illustrate comic books; Holly Conrad, who's been working on costumes for a giant Mass Effect-themed presentation at the Masquerade; and James Darling, who hopes to buy a ring at Comic-Con and propose to his girlfriend Se Young Kang during a panel featuring Kevin Smith.
In between the adventures of these attendees, Spurlock intersperses clips from interviews with Comic-Con regulars, some of whom are very familiar if you are a fan of film and/or comic books, others of which are simply interesting people (or people in very interesting costumes). I spotted Eli Roth, Frank Miller, Guillermo del Toro and Olivia Wilde, among others. The interviews include several of the film's producers -- Joss Whedon, Stan Lee and Harry Knowles -- and watching Lee interact on the con floor with attendees of all ages is a delight. Another unexpected delight was filmmaker Kevin Smith, showing us his best charming fanboyish side, causing me to forget briefly and almost forgive all the anti-critic ranting we've heard from him this year.
I would have liked to have seen a little more background on Comic-Con. The documentary doesn't tell us who runs the con, or much about how it started -- except that it was in the 1970s and actually focused on comics then -- or why it's strayed from comics over the years and into movies in a serious way. It's great to have a peek at the parts of Comic-Con that aren't the over-publicized Hall H (where all the film and TV panels take place), but when and why and how did so much of the con shift over to Hall H? In short, I wanted a slightly broader focus and a little more context. However, at 88 minutes this film never dragged once, so perhaps I should be satisfied.
Comic-Con Episode Four: A Fan's Hope is quite entertaining in a style I recognize as Spurlock's, but without the artificial storyline, or the stats and set-ups that I sometimes find misleading. It's a sweet confection for devoted Fans-with-a-capital-F, without once being demeaning or snarky of its subject matter, and yet not feeling like an advertisement for Comic-Con either. On the other hand, it may be the equivalent of a recruitment poster for fanboys and fangirls.
Austin connections: Austin film writer Harry Knowles of Ain't It Cool News is one of the producers of Comic-Con Episode Four: A Fan's Hope and appears briefly in a couple of interview clips.