'You're Next' Sweeps Fantastic Fest Awards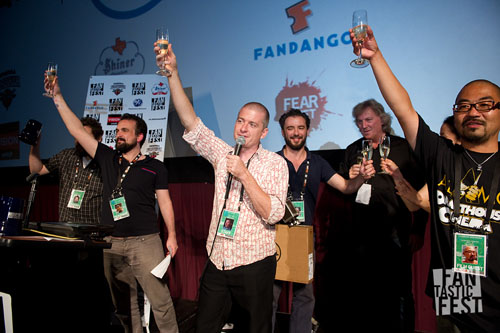 It's amusing to me that the movie that won the most awards at Fantastic Fest during the Monday night ceremony is one that screened the least. Because You're Next has just been picked up for theatrical distribution by Lionsgate, the studio cut the number of times the Adam Wingard-directed film would play the fest down to one, a screening that proved very popular even up against Fantastic Debates. The movie picked up jury awards for Best Horror Film, Best Director, Best Screenplay and Best Actress. It was also a runner-up for the Audience Award.
I was pleased to see the delightful movie A Boy and His Samurai won the Audience Award -- look for a review from me soon. Bullhead won three awards in the Next Wave competition -- Best Picture, Best Director and Best Actor -- and if you're at Fantastic Fest, a screening has been added for this film on Thursday at 12:45 pm. And as I mentioned in my review of Milocrorze, A Love Story, the movie won Best Picture in the Fantastic Features category.
A full list of awards is after the jump, along with some video footage, but I want to mention the one Austin-connected winner, who wasn't on the list. The Best Fantastic Fest Bumper award this year went to Nick Robinson, a former Austinite who occasionally contributed to Slackerwood when he lived here. Nick's bumper was one I watched with my fingers over my eyes, and I know I'm not the only one ... it's the one that played opening night and showed vasectomy surgery. You can watch it on YouTube but it is not for the squeamish (or even the unsqueamish, really) and probably not something you want to watch in public either. However, I'm happy to share a completely work-safe photo below of Nick getting his award.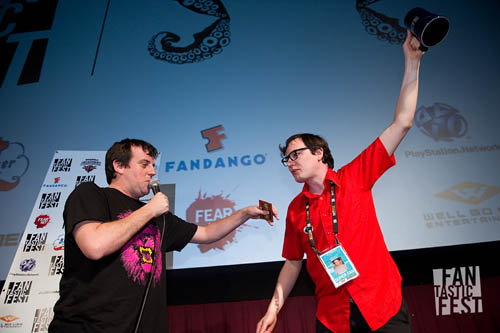 Fantastic Fest 2011 Awards:
AUDIENCE AWARD -- A Boy And His Samurai (Yoshihiro Nakamura)
Runners Up: You're Next, Juan Of The Dead

AMD & DELL "NEXT WAVE" SPOTLIGHT COMPETITION
Best Picture - Bullhead
Best Director - Michael R. Roskam (Bullhead)
Best Screenplay - Josh MacDonald (The Corridor)
Best Actor - Matthias Schoenaerts (Bullhead)
Best Actress - Jessica Cole (Aardvark)
Special Jury Award for Boldness Of Vision: Beyond The Black Rainbow

HORROR FEATURES
Best Picture - You're Next
Best Director - Adam Wingard (You're Next)
Best Screenplay - Simon Barrett (You're Next)
Best Actor - Sean Harris (A Lonely Place To Die)
Best Actress - Sharni Vinson (You're Next)

FANTASTIC FEATURES
Best Picture - Milocrorze: A Love Story
Best Director - Noboru Iguchi (Karate Robo Zaborgar)
Best Screenplay - Olafur Egilsson, Grimur Haonarson (Summerland)
Best Actor - Julián Villagrán (Extraterrestrial)
Best Actress - Sawa Masaki (Underwater Love)

GUTBUSTER COMEDY FEATURES
Best Picture - Clown
Best Director - Steffen Haars, Flip Van Der Kuil (New Kids Turbo)
Best Screenplay - Casper Christensen, Frank Hvam (Clown)

SHORT FUSE: HORROR SHORTS -- How To Rid Your Lover Of A Negative Emotion Caused By You (Nadia Litz)
Runner-up: The Unliving (Hugo Lilj)
Special Jury Award for Outstanding Achievement in Special Effects and General Badassery: Brutal Relax (David Muñoz, Rafa Dengrá, Adrián Cardona)

FANTASTIC SHORTS -- Decapoda Shock (Javier Chillón)
Runner-up: All Men Are Called Robert (Marc-Henri Boulier)
Special Jury Mention for Acting: Robert Picardo (The Candidate)

DRAWN AND QUARTERED: ANIMATED SHORTS -- Last Norwegian Troll (Pjotr Sapegin)
Runner-up: Lazarov (NIETOV)
And here's video of the Bullhead award presentation.
[Photo credit: David Hill. Video credit: Arts + Labor. Used with permission from Fantastic Fest.]