Fantastic Fest Review: Milocrorze, A Love Story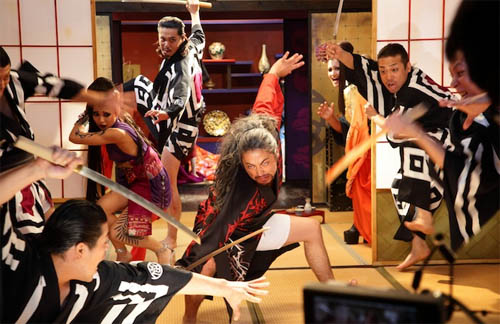 Sometimes my favorite Fantastic Fest movies are the ones I pick on a whim because the description sounds interesting and contains no words that worry my squeamish self like "torture" or "bloody violence." Milocrorze, A Love Story (Mirokuroze) was one of those movies, and I didn't even realize that its lead actor was Takayuki Yamada, whose performance I enjoyed so much in my unexpected favorite film from Fantastic Fest 2010, 13 Assassins. (He played nephew Shinrouko.) It's a delightfully surreal and even downright silly movie, a great upbeat alternative if you spent a previous festival day watching some of the more downbeat selections. Apparently I'm not alone in liking this movie, as it won the Fantastic Features award at the fest this week.
Yamada plays three roles in Milocrorze, A Love Story, which is divided into four acts that are more or less connected. He's not in the first part, which stars a very cute child in a fairytale-like story about the title character. The child is actually portraying a grown-up man -- kind of -- whose mundane life is transformed when he encounters the beautiful Milocrorze. Yamada first turns up in the second act, playing a bizarre and obnoxious world-famous "youth counselor" who shouts incredible advice over to the phone to love-struck teenagers, and who travels (and dances) with an entourage of scantily clad women. This is the goofiest part of the film -- it's almost jarring in contrast to the other sequences -- but it works beautifully. The audience could not stop laughing, at least not after they picked their jaws up from the floor.
The third act of Milocrorze, A Love Story is the longest and most poignant and dramatic. Yamada is a young man in love with Yuri, who works in a flower stand, and they're very happy together until she's abducted by a nasty gang. He's determined to find and reunite with her and transforms into a tough street fighter. The set piece of this sequence is a long, slow-motion martial arts sequence that goes on a little too long and almost drags down the film as a whole. Fortunately, the movie recovers nicely in time for the fourth act, a kind of epilogue to the first one.
Filmmaker Yoshimasa Ishibashi has the rare talent of being able to combine the ridiculous and the touching, so the sweetest moments in the film don't become annoyingly sentimental. Ishibashi is also behind the Fuccon Family/Oh, Mikey TV series in Japan, which starred an all-mannequin cast -- I think episodes were shown at an early Fantastic Fest but I'm not certain. (I can't imagine where else I possibly would have seen them.) Milocrorze, A Love Story is lighthearted and funny, a visual treat, surrealism backed with a solid platform of emotion. If you get the chance to see this movie, don't hesitate.
Milocrorze, A Love Story plays Fantastic Fest again on Wednesday, September 28 at 12:15 pm.