Fantastic Fest 2010 Guide: How to Drink Like an Austinite
Being a native Texan and a craft beer enthusiast, I feel the need to dispel a misconception about Texas beer -- Lone Star is NOT the national beer of Texas. Former Governor Ann Richards unofficially declared Shiner Bock the "national" beer of Texas during her term, as it was her personal favorite hailing from the Spoetzl brewery in Shiner, Texas. Sure, Lone Star beer will quench your thirst when you're floating down the Guadalupe River on an inner tube, but if you have a palate for real hop flavor or a good malt backbone, Texas offers many more and much better beers.
With an increase in the number of microbreweries in Texas, The Texas Craft Brewers Guild has finally come to realization. Central Texas has three microbreweries that have been producing and distributing for several years -- Live Oak, Real Ale, and Independence Brewing. (512) Brewing just celebrated their second anniversary and Thirsty Planet began hitting local taps in July. As if five microbreweries around Austin isn't enough, another eight new craft breweries are slated for Central Texas within the next two years.
What does beer have to do with the Austin film scene and Fantastic Fest? Plenty, if you want to enjoy the "draft" in Alamo Drafthouse Cinema.
If you're a first-time visitor to Austin, you'll notice right away that Alamo Drafthouse theaters are unique not only because you can order food during screenings, but also beer or wine from their extensive selection. A few years ago, the Alamo Drafthouse arranged for Independence Brewing to brew an exclusive Alamo Drafthouse draft beer, which is now distributed widely as Austin Amber. Alamo's Rolling Roadshow has hosted a Strange Brew screening at the Independence brewery location, complete with dogs in capes and a jelly donut-eating contest. Alamo Drafthouse at the Ritz screened the "bockumentary" American Beer and featured a beer sample of 15 microbrews that were visited in the documentary. The beers were served in the order in which the breweries are visited. Alamo Drafthouse Lake Creek annually hosts the Off-Centered Film Fest, which includes a special beer tasting with Dogfish Head Brewing founder Sam Calagione. Finally, former Lake Creek kitchen manager and executive chef Nate Seale (pictured at right) left the Alamo Drafthouse family to start a successful career as head brewer at (512) Brewing.
The Alamo Drafthouse on South Lamar -- Ground Zero of Fantastic Fest -- is currently offering plenty of local craft beers on draft, including Independence Saison, Independence Austin Amber, (512) Brewing Pale, (512) Pecan Porter, Live Oak Hefeweizen and Live Oaktoberfest. Newcomer Thirsty Planet's Buckethead IPA made its Drafthouse debut at South Lamar. Although technically Real Ale is in Blanco, it's definitely part of the Austin microbrew family. Be sure to check out their beers including the latest house beer, Drafthouse ESB, Fireman's #4 blonde ale, or whatever seasonal brew is on tap. Currently it is the Lost Gold IPA, but will likely switch to Real Ale Oktoberfest by the time Fantastic Fest starts.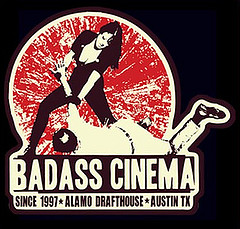 Alamo promotes itself as "Badass Cinema," and in commemoration Jim Hughes, Head Beer Nerd at Alamo South Lamar, introduced "The Badass Tap" in January 2010. This tap features a rotating range of premium beers. The Badass is reserved for beers that are rare, one-off, and aged beers, plus the occasional seasonal beer that is held back and tapped when least expected. The Badass selections aren't cheap and aren't available for long, but they are definintely plentiful in flavor. The first official Badass release -- following the wildly successful (512) Whiskey Barrel Pecan Porter that inspired the Badass tap -- was Avery duganA Double IPA, a hop bomb that's not for the faint of heart. Each new keg is announced on a board in the theater lobby, as well as on the Drafthouse blog where Hughes provides a great overview of the Badass beers. Hughes has also introduced several Badass bottles, including Dogfish Head Squall IPA which has finally made its way into the Texas beer market.
At this time of year, seasonal beers are mostly Oktoberfests, with a few summer saisons and "lawnmower" beers hanging around as great thirst quenchers. The South Lamar location has the aforementioned Live Oak Oaktoberfest, plus Sam Adams Octoberfest, and the aforementioned Real Ale seasonals. A couple of fall seasonals will be offered on the Badass Tap -- right now it's Bear Republic Late Harvest Lager (a personal favorite but probably gone before Fantastic Fest starts), and then Avery "The Kaiser" Imperial Oktoberfest. Two non-Oktoberfest autumn seasonals at Alamo South Lamar are Sierra Nevada Tumbler Brown Ale and New Belgium Hoptober Golden Ale.
Like your beer in a can? Check out Southern Star Brewing Company (from Conroe, north of Houston) and their Bombshell Blonde. Need something a little less pricey? Go for a bucket of Shiner beer. Fantastic Fest will also offer beer specials from festival sponsors including Pabst Blue Ribbon -- known affectionally as PBR, another river-trip favorite -- and Stella Artois.
Not in the mood for something alcoholic during a screening? Try a Maine Root Beer which is brewed here in Austin -- Alamo South Lamar has it on tap, and also offers Maine's delicious orange and blueberry sodas in bottles. Or you might like an addiction of mine picked up from a fellow Fantastic Fest attendee: a 32 oz. Italian soda with raspberry syrup but hold the cream.
Over 12 hours of Fantastic Fest programming a day for a week in a darkened theater leaves most attendees wanting to get out and about to check out the local scene. Many options are available nearby, with the most immediate being The Highball. This diner and bar adjacent to Alamo South Lamar features eight lanes of bowling, seven different themed karaoke rooms, four lanes of skee-ball with ticketed prizes you won't find anywhere else and a ballroom event space which will be the home of Fantastic Arcade. Bar manager Ryan Schibi keeps the beer selection fresh and exciting with 12 local taps and four rotating taps, offering staff's personal favorites as well as seasonals. The Highball also features beer and food events such as the recent Real Ale Beer Feast with brewmaster Tim Schwartz (pictured right) sharing insight into the crafting of each beer.
The Highball will be running their weekly specials throughout the fest, with all-day happy hour on Wednesday including $2 drafts on most of the tap wall. Thursday features all local beer on special for $2.50 per pint. The Highball also offers a (512) Brewing flight while supplies last, and has an entire local spirits and beer page in their bar menu.
Want to get away from the festival crowd for a drink? There's no need to wander far from the Alamo South Lamar or the gala screenings at the Paramount Theatre for good libations. Here are my recommendations on where you can find a good selection within a short distance by foot, bus or cab:
If you are dying to know what's on tap at local establishments, check out Taplister's Austin coverage. I especially enjoy the Beer Signal iPhone app to view and update the beer selection at my favorite watering holes. Keep in mind though, that since content is user-generated, not all information is current.
It's not all beer in Austin, with local vodka from Tito's and Deep Eddy as well as tequila flowing. No visit is complete without margaritas and Mexican martinis. Recommendations:
Be sure to ask Alamo Drafthouse and Fantastic Fest co-founder Tim League about tequila rifles, and you'll understand why sometimes tequila is pronounced "tuh-KILL-ya."
My best advice for out-of-towners who want to get off the beaten path? Don't bother with the Sixth Street entertainment district unless you are going to a late screening at Alamo Ritz and want to gawk along with the tourists at the frat boys stumbling drunk out of the shot bars. Don't get me wrong -- there are some great places to drink in the heart of downtown within what I call "The Barmuda Triangle" between The Jackalope, Casino El Camino, and Club Deville. The Iron Cactus has a great tequila and margarita selection, Lovejoy's Taproom and Brewery has their own craft brew, and the Jackalope has cheap PBR -- avoid the chartreuse shots if you value your liver.
Speaking of which, moderation is the best cure for a hangover. Enjoy beers and social time at Fantastic Fest, but be forewarned -- drinking until 2 am with the karaoke crowd may impact your viewing pleasure the next day, so pace yourself. Remember as with any film festival and the socializing that accompanies it -- it's a marathon, not a sprint!
Fellow Austinites -- any recommendations you want to make? Leave a comment and we'll add it to the guide.
[Photo credits: "Draft Beers at the Highball," by Lucius Kwok; "BADASS Cinema" courtesy of Alamo Drafthouse; "Tim Schwartz at The Highball Beer Feast," "Head Brewer Nate Seale of (512) Brewing" and "2010 Opal's Divine Mary Mix" by John M. P. Knox, on Flickr. Used with permission.]