Slacker 2011: Paul Gordon Finds the Comedy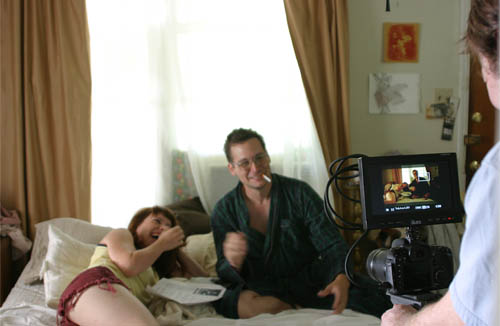 In celebration of Slacker's 20th anniversary, local filmmakers are re-creating scenes from the Richard Linklater movie for Slacker 2011, a fundraising project benefitting the Texas Filmmakers Production Fund (TFPF). As we await the August 31 premiere, we're chatting with some of the filmmakers participating in one or more of the short films that will comprise the project -- check out our interviews so far.
Today's interview is with Paul Gordon, whom you can see partially on the right edge of the above photo. Gordon is a local filmmaker whose features include Motorcycle (2006) and SXSW 2010 selection The Happy Poet (Jenn's review), in which he also starred. Gordon has also appeared in Mars and An Ordinary Family.
Slackerwood: Which scene from the film did you reshoot?
Paul Gordon: I did Scene 8, in which a reclusive guy and his girlfriend discuss whether or not to go outside and do something fun -- such as go to the lake, or play frisbee.
What made you interested in re-creating this particular scene?
I had forgotten how funny Slacker is, before re-watching it recently. This scene in particular has always cracked me up; it has great subtle funny stuff going on. And I guess I can relate to the main character... Going outside and having fun often does seem like a lot of work, and unpleasant when it's really hot. I don't really like being out in the sun. I'd rather go, for instance, to the Paramount for a summer film series screening, than to the beach or something. When I see people jogging, in the middle of a hot summer day in Austin, I think to myself, "Wow. Those people really have to be crazy."
What do you think your challenges have been in re-visiting this scene?
I liked the scene how it was, so I guess that was the challenge -- knowing that it would inherently be compared to the original, and to the other new versions of the other scenes. But working on it with the cast and crew was so much fun, that it made me want to make more short films. It takes so long to get a feature project going... I was really thankful to be asked to be a part of this project, because it gave me an excuse to get together with people and have fun making something.
By the way, here's who worked on it -- Producers: Caroline Karlen and Scott Colquitt; Actors: Jonny Mars, Ashley Spillers and Monty Muir; DP: Luke Millard; Sound: Steve DeGennaro.
Did you work on any of the other scenes by other filmmakers in addition to your own?
Unfortunately not. I've been away from Austin for most of the summer, in Batavia, IL, trying to get some writing done...
Could you share any connections or memories related to the original Slacker you might have?
I watched Slacker for the first time in a little viewing booth at the DePaul University library, in Chicago, when I was in school there. I used to check out VHS tapes and watch movies in between classes. A few years later, I moved to Austin, because it seemed like a cool place to live, in the film. So Slacker and the film Songwriter are the two main reasons I moved to Austin ten years ago.
Can you tell us about any projects you're working on now/next?
I'm working on a script for a film I've been calling Mexico Carpenter. It's about a lonely carpenter who awkwardly attempts to befriend his helper, a migrant worker, and then goes to Mexico looking for him, when he stops coming to work. I also recently had a lot of fun acting in a couple of great short films with John Merriman and Courtney Davis, directed by Steve Collins. And I'm going to shoot a short film I'm excited about in mid-September. Am also looking forward to seeing a cut of Spencer Parsons, Jason Wehling and Jonny Mars' horror film that I play a cop in.
[Photo courtesy of Paul Gordon]