Slacker 2011: The Zellners Drop Stuff from Bridges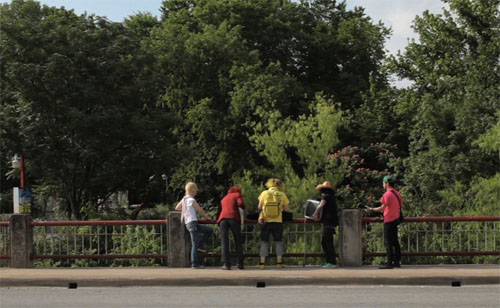 In celebration of Slacker's 20th anniversary, local filmmakers are re-creating scenes from the Richard Linklater movie for Slacker 2011, a fundraising project benefitting the Texas Filmmakers Production Fund (TFPF). As we await the August 31 premiere, we're chatting with some of the filmmakers participating in one or more of the short films that will comprise the project -- check out our interviews so far.
Today's interview is with David Zellner. David and Nathan Zellner are an Austin filmmaking team -- they're brothers -- who have brought us such comically twisted short films as Sasquatch Birth Journal 2, Aftermath on Meadowlark Lane and Quasar Hernandez (available online). They also wrote and directed the feature Goliath, which played SXSW in 2008 and is now on DVD.
Slackerwood: Which scene from the film did you reshoot?
David Zellner: The jilted boyfriend throwing his typewriter/tent off a bridge.
What made you interested in re-creating this particular scene?
It was one of our favorite scenes, had some amazing dialogue and we knew it would be fun to do.
What do you think your challenges have been in re-visiting this scene?
Being true to the original material, spirit and tone while at the same time attempting something new and interesting.
Did you work on any of the other scenes by other filmmakers in addition to your own?
No, there wasn't time unfortunately.
Could you share any connections or memories related to the original Slacker you might have?
Slacker was my first impression of Austin and part of the reason I moved here. It was also really inspiring in that at the age of 17 it made me realize you could actually make movies in Texas.
Can you tell us about any projects you're working on now/next?
We have a new feature we're really excited about called KID-THING that we're currently in post on.
[Photo courtesy of David Zellner]