Slacker 2011: Mike Dolan Captures It in One Shot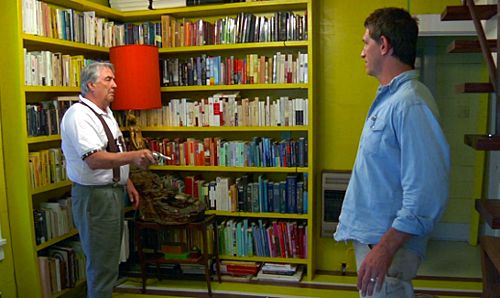 In celebration of Slacker's 20th anniversary, local filmmakers are re-creating scenes from the Richard Linklater movie for Slacker 2011, a fundraising project benefitting the Texas Filmmakers Production Fund (TFPF). As we await the August 31 premiere, we're chatting with some of the filmmakers participating in one or more of the short films that will comprise the project -- check out our interviews so far.
Today's interview is with Mike Dolan. Dolan is from Oklahoma and started his film career as an actor, appearing in movies such as Biloxi Blues, Courage Under Fire and Lolita. He also had a role in Geoff Marslett's locally shot film Mars. Mars premiered at SXSW 2010 along with Dolan's feature directorial debut, Dance with the One (Debbie's review), shot in Austin with a primarily local cast and crew (and soundtrack).
Slackerwood: Which scene from the film did you reshoot?
Mike Dolan: We shot the scene (#15 -- but who knows that) where the Old Anarchist arrives home with his daughter Delia to find a Burglar in the house. Apparently the Burglar was on a hunt for TVs, but instead gets caught up reading the books he discovers, and then the Anarchist is totally cool with him, in fact invites him to take whatever he wants, and insists he won't call the cops. They have a nice chat about an Anarchist assassin, then go for a walk, and later the Anarchist invites the Burglar to stay for dinner. Basically a typical afternoon in Austin.
What made you interested in re-creating this particular scene?
I love the generosity of spirit the Old Anarchist shows the Burglar, and the sweet neediness he seems to have, wanting to spend some time with someone with a spirit he recognizes as capable of creating something even it is out of an act that could be seen as destructive; i.e., stealing from people.
I have a tattoo on my left shoulder which I got in Denver when I was 16 and hitchhiking across the country. It reads "Anarchy Now." That was in '81 when not a lot of high school kids had tattoos so I was pretty into the ideas of Anarchy. I also loved that all the scenes were in one shot. I've rarely done that and I wanted to explore and practice that elegance and economy.
Another thing was that I really wanted to explore the way Austin has changed over the years. So I cast a younger man as the Anarchist, Kirk Smith, a playwright and musician, who I have always wanted to work with. He has a similar spirit of adventure and openness that Louis Mackey, the original, demonstrates and actually studied philosophy with Mackey. I also wanted to work with Ramsey Wiggins who is a lifelong Austinite, father of Wiley (Linklater connection). Ramsey and Kirk had tons of great ideas from costumes to script. We all agreed that we wanted to see what would happen if we kept the dialogue almost verbatim from the original. We changed a couple things to do with time, but I like the way it plays, adds mystery to what is already an off-center event.
What do you think your challenges have been in re-visiting this scene?
The original house is such a cool layout that the one shot works really well. It was hard to find a house location that allowed us to see everything we wanted in the scene. Lee Daniels is a genius and the original used a dolly so beautifully, and we wanted to use one, but because the parking lot has changed, or rather the trees have changed, we would have had needed 40 feet of track and we didn't have the crew for that (the pavement is a mess). We tried a steadicam, but that didn't work, so Jason Eitelbach shot most it handheld and he did a great job, but it lacks a certain security the original had.
Did you work on any of the other scenes by other filmmakers in addition to your own?
I was an extra in the scene before at the Alamo directed by Elisabeth Sikes.
Could you share any connections or memories related to the original Slacker you might have?
I saw it in New York, had read about it in the Village Voice, and remember thinking it redefined what I understood a movie to be, so it was very liberating. I was an actor then, not a filmmaker really, and I really loved spontaneity of everything.
Can you tell us about any projects you're working on now/next?
I just shot a short film that we're now editing. We shot at a carnival outside Waco and the footage is amazing.
The feature we made a couple years ago, Dance With The One, is now available on VOD, and will be playing all over Texas this October as part of the new Texas Independent Film Network's outreach deal.