Slacker 2011: Bob Byington Re-Creates Papa Smurf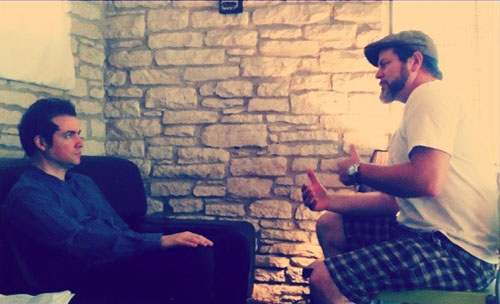 In celebration of Slacker's 20th anniversary, local filmmakers are re-creating scenes from the Richard Linklater movie for Slacker 2011, a fundraising project benefitting the Texas Filmmakers Production Fund (TFPF). The trailer is now available. As we await the August 31 premiere, we're chatting with some of the filmmakers participating in one or more of the short films that will comprise the project -- check out our interviews so far.
Today's interview is with Bob Byington, who has been making movies in Austin since the mid-1990s. At the 2009 Traverse City Film Festival, he won the Stanley Kubrick Award for Innovative Filmmaking for Harmony and Me (my review) and RSO [Registered Sex Offender], both of which are available on Netflix Watch Instantly now. He's also acted in other filmmakers' movies, such as Beeswax and The Color Wheel. Byington has received multiple TFPF awards for various film projects, most recent in 2010 for a new feature film.
Slackerwood: Which scene from the film did you reshoot?
Bob Byington: The "Papa Smurf" scene at Les Amis.

What made you interested in re-creating this particular scene?
The idea of working with Kevin Corrigan and Nick Offerman, and Rick [Linklater] responding very favorably to the idea of Corrigan portraying Papa Smurf. Also the idea of commemorating Les Amis.
What do you think your challenges have been in re-visiting this scene?
Not getting too caught up in it -- the original film is inimitable.
How did you deal with the logistical issue of Les Amis Cafe no longer being there? I think it's a Starbucks now.
We were going to try and comment on that, and try to shoot at the Starbucks, but it seemed like a potential headache, so we shot at Sagra -- they were very courteous.
Did you work on any of the other scenes by other filmmakers in addition to your own?

No. I begged David Zellner to let me visit their set and he refused.
Could you share any connections or memories related to the original Slacker you might have?
I saw it at the Dobie and had a very strong sense for being told a story, despite the fact that, on the surface, there was no plot or story. This was the first time something like this happened to me as a viewer, I think.
Can you tell us about any projects you're working on now/next?
We just shot a film called Somebody Up There Likes Me that stars Nick Offerman. We're also making a short with Kevin Corrigan later this month, that he wrote, with Larry Levine and Sophia Takal from Gabi on the Roof in July.
[Photo courtesy of Bob Byington]