Slacker 2011: Chris Eska Gets to Destroy a Camera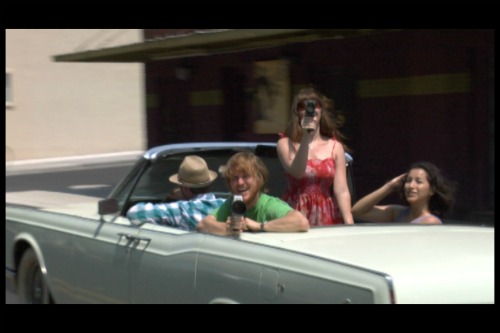 In celebration of Slacker's 20th anniversary, local filmmakers are re-creating scenes from the Richard Linklater movie for Slacker 2011, a fundraising project benefitting the Texas Filmmakers Production Fund (TFPF). The trailer is now available. As we await the August 31 premiere, we're chatting with some of the filmmakers participating in one or more of the short films that will comprise the project.
Today's interview is with Chris Eska, the TFPF grant-winner whose dramatic film August Evening won the John Cassavetes Award at the 2008 Independent Spirit Awards.
Slackerwood: Which scene from the film did you reshoot?
Chris Eska: The final scene where a group of friends drive around in a convertible with Super 8 cameras before running to the top of Mt. Bonnell and throwing a camera from the top.
Why did you look forward (or did you?) to re-creating this particular scene?
It was nice to do something quick and fun after hugely ambitious projects that take a long time. Also, it was nice to destroy a camera, because you usually have to walk on eggshells around the camera.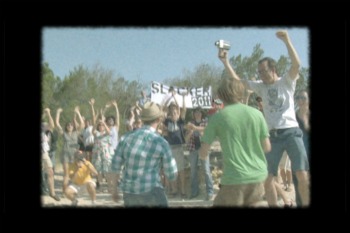 What do you think your challenges have been in re-visiting this scene?
Finding the right tone to finish a film that's comprised of scenes made by 23 different filmmakers, each with their own style and voice.
Do you have any connections or memories related to the original Slacker?
I'm actually one of the few contemporary Austin filmmakers that grew up around here. I was 15 when it came out.
As a teenager, I used to travel up to The Drag from my small town for a glimpse of cultural alternatives. When I saw the film, it inspired me to see that someone right in my own backyard was creating art without huge budgets, stars, or special effects.
[Film stills courtesy Chris Eska]