Slacker 2011: Jay Duplass Returns to The Drag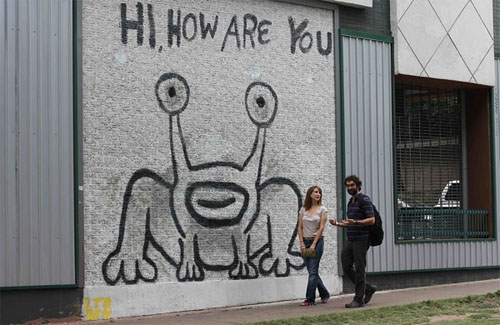 In celebration of Slacker's 20th anniversary, local (and formerly local) filmmakers are re-creating scenes from the Richard Linklater movie for Slacker 2011, a fundraising project benefitting the Texas Filmmakers Production Fund. The trailer is now available. As we await the August 31 premiere, we're chatting with some of the filmmakers participating in one or more of the short films that will comprise the project.
Today's interview is with Jay Duplass, who moved to Austin in the early 1990s to attend The University of Texas and soon thereafter, started making movies with his brother, Mark Duplass. They've written and directed features such as The Puffy Chair, Baghead, Cyrus and the upcoming Jeff Who Lives At Home. The Duplasses no longer live in Austin, but you can occasionally spot them here. Jay was at SXSW earlier this year with his short documentary Kevin, about musician and former Austinite Kevin Gant, and apparently he slipped into town again recently to work on a short for Slacker 2011.
Slackerwood: How did you end up involved in the Slacker 2011 project?
Jay Duplass: Bryan Poyser [who's producing the film for AFS] knew I was coming to Austin for a week, and threw the idea at me as a long shot. Rick [Linklater] has been a huge influence on me creatively, methodologically and hair-wise, so I was just psyched to have a chance to throw the ball back over the net.
Which scene from the film are you reshooting?
The one where the boyfriend gives the girlfriend a Diet Coke, she gives it away to a homeless guy, and then they argue. I was actually assigned this scene because the Zellners' scene is before mine and John Bryant's was after. David Zellner and John Bryant were both in my wedding, so they figured I'd be able to coordinate with them and make the links work in the short time I had.
Why did you look forward (or did you?) to re-creating this particular scene?
I mostly looked forward to being in Austin on The Drag, and shooting a scene I had seen play out dozens of times. I lived in West Campus for five years, and I know every inch of that place, so it was a sweet little homecoming for me. The funny part about it is, even when I'm doing someone else's movie and they're assigning me the scene, I still end up doing a relationship break-up scene. It must be karmic.
What do you think your challenges have been in re-visiting this scene?
Directing a scene with my wife and myself arguing in it. I put us in it because I didn't have time to cast, and I wanted to steal the location and keep the whole cast and crew to five people total. Once we started shooting and we started getting into it, I didn't know which way was up (as I usually do when we argue). I have no idea if it'll be interesting - all I know is we did get genuinely pissed at each other, and we shot the whole thing out in about four hours.
Could you share any connections or memories related to the original Slacker you might have?
I arrived in Austin in '91 for college, and Slacker was playing midnights at the Dobie. It was all the rage in Austin at the time, and seeing the movie made me realize for the first time that anyone could make a movie, not just a privileged class somewhere in Hollywood. I'd see Rick around town as well as many of the other actors in the film, and it seriously deconstructed the whole concept of what a movie needed to be.
I was a Plan II and Psych major and grew up in New Orleans where no one does anything creative for a living, unless they're broke and living in the French Quarter. But Slacker changed my mind about things, and created the ethic for how my brother and I got to making movies ... that is, pay only for tape stock and pizza, and everything else you just steal or borrow.
A few years ago a friend bought me the Criterion Collection Slacker as a gift, and it struck me how lucky I am to have a document of what life was like when i arrived here in '91. It's almost like a yearbook for me.
[Photo credit: "Jen Tracy Duplass and Jay Duplass" by John Bryant]