SXSW Review: Better This World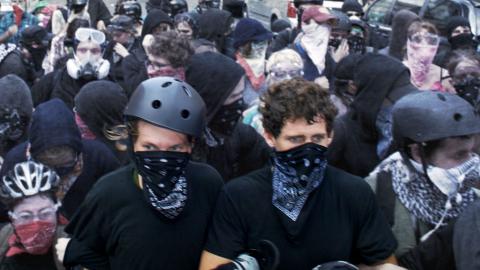 I sometimes find it hard to review politically charged documentaries. Like many critics, I don't limit my opining just to film; discussing political and social issues is one of my favorite pastimes. (My Facebook friends know this all too well.) When the worlds of film and politics intersect in documentaries, it can be a struggle to separate my opinions about a movie and its subject matter.
Better This World is such a film, a fascinating but disheartening documentary about two young Austin activists, Brad Crowder and David McKay, who were charged with domestic terrorism while protesting at the 2008 Republican National Convention in Minneapolis. While I greatly admire the film (which had its world premiere on March 12 at the Vimeo Theater and screened again on March 14 at the Alamo South Lamar), I found the story it tells completely infuriating.
Crowder and McKay are longtime friends who grew up together in Midland and moved to Austin in their early twenties. In 2008, they attended an event held by the RNC Welcoming Committee, a Minnesota group that was recruiting activists to "shut down" the Republican National Convention by protesting and blocking streets.
Also at the meeting was well known Austin activist Brandon Darby, who volunteered to help the group prepare for their trip to Minneapolis. However, Darby also was an FBI informant who filed regular reports on the group's activities. Darby, McKay and Crowder travelled to Minneapolis in September 2008 with five other activists in a rented van towing a trailer filled with shields, helmets, gas masks and other protest supplies, all of which were legal.
In Minneapolis, things went horribly awry. Before the convention, the Feds had raided the homes of several local activists. The police stopped the Austin protesters' van and searched them at gunpoint. The group had left their trailer at a house; when they returned to it, they discovered the police had broken into it and confiscated all their supplies. Crowder and McKay then made what they later admitted was an exceedingly stupid decision: They made Molotov cocktails to retaliate against the police. Darby, of course, informed the FBI of their actions.
Crowder and McKay were arrested and charged with possession of the Molotovs and conspiracy to disrupt the convention by arson. The two didn't deny making the weapons, but insisted that they made them in the heat of the moment and never intended to use them, as they left them in a basement and went to the protest without them. McKay further proclaimed his innocence because he was arrested only a few hours before he planned to fly back to Austin. McKay and Crowder also claimed entrapment, saying that for several months Darby had been encouraging them to use violent tactics they otherwise would not have considered.
Knowing that the odds of winning acquittal were against him, Crowder accepted a plea bargain and was sentenced to two years in prison. McKay decided to fight his charges with the entrapment defense; his first trial ended in a hung jury, but he was convicted in his second trial and sentenced to four years. Darby and the FBI were cleared of the entrapment charges.
Better This World tells this story in riveting, slickly produced and thoroughly blood-boiling detail, with lots of interviews, trial transcripts, phone call recordings and other fact-filled footage. Documentaries of this type often descend into blatantly partisan cheerleading, but Better This World is refreshingly balanced. While it spends most of its time telling McKay and Crowder's side of the story, it doesn't downplay the fact that they voluntarily built the Molotovs and that McKay initially lied to the authorities, falsely claiming that Darby specifically directed him to make the weapons. The documentary also gives the other side its due via interviews with FBI officials and prosecutors involved in the case. (Darby -- who apparently has abandoned his activism and is now a right-wing radio commentator -- did not consent to an interview.)
While Better This World is balanced in its examination of McKay and Crowder's cases, the horrifying facts it presents do make it a searing indictment of how Americans' civil liberties are regularly abused in the name of national security. The film asks plenty of difficult questions and pulls no punches in saying that McKay and Crowder are only two among many Americans who have been spied on, subjected to unreasonable search and seizure, illegally detained or otherwise denied their legal rights in post-9/11 America's relentless War on Terror. Better This World also harshly condemns our criminal justice system, which McKay and Crowder claim is rigged to intimidate defendants into accepting plea bargains rather than going to trial and presenting evidence that might embarrass the government.
As politically charged as it is, Better This World's real power stems not from how it questions authority but from the way it humanizes McKay and Crowder. The interviews with McKay's father and Crowder's mother are particularly effective; neither is politically inclined, but both are unfailingly supportive of their sons' impassioned fight against the powers that be. There is plenty of astonishingly intimate footage of the two activists with their families. A scene in which McKay and his girlfriend, Emily Coleman, discuss whether their relationship could survive a long prison term is especially moving, bordering on emotionally bruising. This and many other intensely personal scenes make it painfully obvious that McKay and Crowder are hardly the dangerous radicals their accusers make them out to be.
Better This World directors Katie Galloway and Kelly Duane de la Vega have crafted an honest, captivating, exceedingly well-made film, one that sheds much needed light on a frightening reality of modern American life. If you appreciate great documentary filmmaking and value your civil liberties, Better This World is yet another must-see film at SXSW.
Better This World's final SXSW screening is on Friday, March 18 at 2 pm at the Paramount.
Austin connections: The main subjects of the documentary lived in Austin.