SXSW 2011 Guides: Filmgoing Tips for Locals and Passholders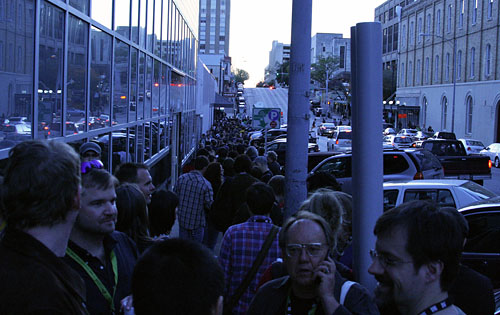 Note: A 2012 Guide for Locals and Passholders is now available.
Last year, SXSW Film seemed more frustrating than usual for Austin festgoers with film passes, or people who wanted to buy tickets for a couple of movies. The Interactive conference practically exploded in size, and a lot of those attendees had Gold badges, while others queued up en masse for the screenings that were also open to Interactive badges. The opening-night film filled up before passholders could get in (badgeholder line from Kick-Ass pictured above; what's not pictured is that it completely circled the Paramount block). And I'm still frustrated that I missed Thunder Soul because I could not find any parking within a mile of the Paramount for under $20 that day.
It looks like SXSW Film access will be much better overall this year, and special care has been taken to ensure that Austin filmgoers can see festival movies. For example, this year Interactive-only badgeholders can't use their badges to get into any screenings. And a couple of remote theater venues are intended to appeal to locals. Movies playing at Alamo Ritz tend to play larger venues as well.
If you haven't bought a badge yet, you can still enjoy SXSW Film. The film passes for SXSW 2011 are already sold out, but tickets are available even now for some SXSW screenings, and we bet you'll be able to walk up and buy tickets easily at the more remote venues.
In case you aren't a seasoned SXSW vet, here's how the access works for each movie: Film, Gold and Platinum badgeholders are all in one line and are allowed in the theater first. After that, the film passholders are let in, if space allows. Finally, if there's still room, ticketholders can get into the screening. Tickets usually go on sale 15 minutes before the movie starts if space allows; some tickets are on sale already, as we mention below. For more details, check out the great video SXSW produced on SXSW 2011 Film Access.
Here are our tips for Austin filmgoers, especially those who want to enjoy a taste of the festival without a badge. In addition, Slackerwood has two contributors this year who will be using film passes to get around the film festival, and we'll publish updated tips and tricks from them during SXSW.
Tickets available right now
Many SXSW films at the Paramount already have tickets for sale online for $12 -- they'll refund your money if you can't get in, but they're confident these screenings will have room for you. Ticketholders who buy in advance get seating access before those who buy tickets that day. Nearly all SXSW Paramount films are available except the biggest marquee screenings (and local film My Sucky Teen Romance, which already sold all its advance tickets).
Here are a few of the films I've seen or am looking forward to seeing (funny how most of them are Austin or Texas-related):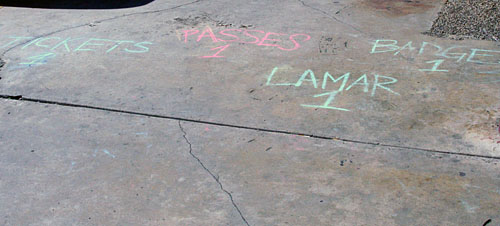 Tips and tricks for film passes and tickets
The "SXSatellite" remote venues this year -- Westgate (schedule) and Arbor (schedule) -- are your very best bet for film pass and ticket access. They're both showing a mix of encore favorites from previous SXSW fests and films the programmers think will be popular with Austinites. They'll also screen the award-winning features and docs. Some days these theaters only have 1 or 2 movies scheduled -- and Westgate is only a venue through Thursday 3/16 -- so if you're an avid film geek, you'll still want to head downtown sometimes ... and follow the rest of these tips.
For non-SXSatellite venues, try the Paramount and ACC (also known as the Vimeo theater this year), the two largest venues. The ACC theater lines in particular often thin out during the Music festival, and seats are usually available.
Avoid Alamo Ritz, especially during the first half of the festival, most especially the smaller theater. Out-of-towners will try to see anything at all here so they can enjoy the Alamo experience. After the film conference ends, your odds may improve slightly, but this is still the fastest-filling SXSW Film venue. Most movies screening here also screen somewhere else; check the schedule.
The earlier in the day the movie is scheduled, the better your chances of getting in. Badgeholders may be hung over, or tired from watching midnight movies, so you've got better odds before noon.
Which means you should avoid midnight screenings. They're almost always sold out for badgeholders anyway . Get some sleep so you can catch those early screenings the next day.
Get to the theater at least 30 minutes before the movie starts if you have a pass -- longer if you're trying to buy a ticket, or if you're dying to get into a popular movie. Try to strike up a conversation with people near you in line. If they're also passholders, they may have up-to-the-minute advice about which venues are least crowded this year.
Aim for seeing movies from Wednesday through the second Saturday, after the Film and Interactive conferences end. Many out-of-town badgeholders will be gone, so the lines are often shorter. The talent who appeared at Q&As earlier in the week will either have left or will look exhausted ... but the movie is the same one everyone saw earlier in the week.
Avoid big-name titles, especially if the movie is only screening once during SXSW, and if it's screening at a smaller venue. Many of those movies will come back to Austin sooner or later. Instead, take a risk with a lesser-known film that you might not get another chance to watch. Try one of the short film collections -- I love shorts, and SXSW always has a great selection.
Movies shot in Austin or with Austin ties may fill up quickly. Sometimes cast and crew members and their families are invited and a number of seats are reserved. On the other hand, these are the movies that often draw more ticketholders than badgeholders, because the audience is full of locals wanting to see their neighbor or coworker's movie. So if you get there early, you might be okay.
Make friends with badgeholders and see if they can't save seats for you near them. That way, if you do get in, you might not have to sit in the front row. (This doesn't always work, especially if it's a full screening, but it never hurts to try.)
The parking situation for locals:
Remember when parking at Alamo Drafthouse on South Lamar was your best bet? I was there recently on a Monday night and the lot was full, and that was with no film festival going on. The only places you know you'll be able to park easily are the SXSatellite venues, Westgate and Arbor. Interactive is still swelling in size, which means that downtown parking is more challenging than it used to be during the first part of SXSW Film.
The good news for badgeholders is that the SXSW Film Shuttle is running every day of the fest this year, so you can plan your day without worrying about how to park in two different locations. Sadly, this perk is not available for film passholders.
Resign yourself to paying to park downtown (we'll all have to do it more often when the parking meter hours extend later this year, anyway). Community Impact Newspaper has a fabulous map of downtown parking garages/lots. The ACC garages (PDF) are best because they don't jack up the rates once the Music fest starts. During Film/Interactive conferences, I also like parking in the St. David's Episcopal garage (Trinity between 7th and 8th) because it's easy to get to all downtown venues from there.
I can share with you my fail-safe, foolproof method of free and super-convenient parking on the first weekend of SXSW, but you won't like it. Ready? Get there before 9 am (which I had to do last year for a press event). Told you that you wouldn't like it. I did get amazing parking right behind Alamo Ritz, though. But even if you can't get downtown that early, remember that the earlier you get there, the better your parking chances. Once the Music fest starts, afternoon and evening parking is practically a mirage (unless you like spending $20).
Badgeholders: For the first weekend of SXSW, I'm wondering if it's worthwhile to try parking in the free-on-weekends lot across from Rollins and taking the shuttle downtown, although the shuttle will go to Alamo on South Lamar first, so budget for that extra time. Don't try that on the days when Auditorium Shores is hosting concerts, since it'll be quite crowded.
Once the Music fest starts, you might want to plan a day around Alamo South and perhaps Westgate, avoiding downtown. Really avoid downtown on March 17 unless you adore crowds and have a magical parking fairy to help you. St. Patrick's Day collides with SXSW Music and it's often chaotic.
Alternate Transportation Options
If you don't want to deal with parking downtown, especially during the Music fest when it gets aggravating and expensive, now is the time to get acquainted with Capital Metro. If your home isn't bus-convenient, you may want to park a little further away from the downtown venues and take a bus to the theaters. Cap Metro has Night Owl buses that run after midnight, too. Refer to our SXSW Venue Guide for specific bus routes that run near the SXSW theaters.
If you live in north Austin, this option gives you free, covered, non-towed parking: Park in a park-and-ride space in the Triangle garages, then take the #101 or the #1 to Sixth and Congress. Bus fare is currently $1.00 each way. You won't have to walk a mile to your car, and it's safe at night. Fair warning: When I tried this a couple of years ago and tried to head home at 10 pm at a stop near The Hideout, I waited a full hour for a bus because they were all jam-packed and didn't even bother to stop. After that, I started parking at ACC again. However, Jenn Brown gets everywhere she needs to go during SXSW via bus, with few complaints, so perhaps I just had bad luck. (Why Cap Metro doesn't offer extra service during busy SXSW times, I don't know. I also wish the Film Shuttle route included a park-and-ride lot slightly away from downtown, but we can't have everything.)
One good thing Capital Metro is offering for SXSW is extended MetroRail hours on Friday nights and Saturdays. MetroRail fares are $2.75 each way, which is cheaper than parking downtown during the fest. Check the times carefully and I'd suggest getting in line early -- MetroRail's occasional weekend service has been very popular. I'm thinking of trying this myself on the last weekend of the fest.
One final tip: At each SXSW venue, you should be able to find a printed Dining Guide. We at Slackerwood worked with SXSW to write up this guide and we hope you'll find it and enjoy it (and yes, let us know what you think we should have included and didn't). We may post some more tips for dining near venues soon, here on our website.
Please share your own tips and tricks for passholders and ticketbuyers in the comments. I'll update this entry whenever I receive any new information or tips.
[Photo credit: "SXSW Film Shuttle Stop" by Flickr user -Dons (Don Mason), used with permission (thanks again!). All other photos by Jette Kernion.]