Austin at SXSW 2011: Emily Hagins, 'My Sucky Teen Romance'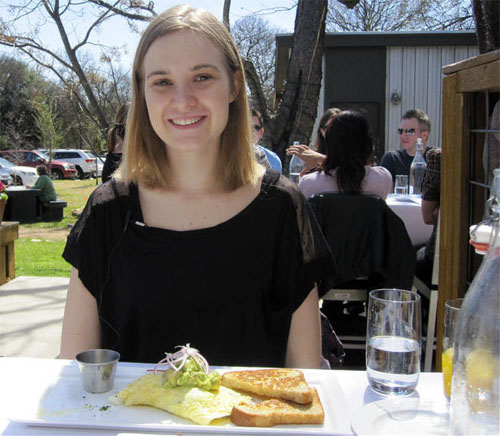 Anywhere else but Austin, the idea of an 18-year-old veteran filmmaker would seem odd. Still months away from her high school graduation, Emily Hagins is the envy of many filmmakers with her third feature, My Sucky Teen Romance, world premiering at SXSW at the fest's biggest and most coveted venue, the Paramount.
If you've been living under a rock, or somewhere besides Austin, Hagins began her film career at the tender age of 11 or so when she penned her first script, for a zombie movie called Pathogen. That production ended up being the inspiration for the documentary Zombie Girl. Pathogen may not be available on Netflix, but it put Hagins on the radar of local film fans and the indie scene as someone to watch. She completed her second feature, The Retelling, in 2009.
Hagins met me for brunch at Olivia in South Austin, and with the gorgeous weather we were having, we enjoyed the meal outside in the sunshine. I have sunburn already; just because it's March in Austin doesn't mean you can go SPF-free, and I was reminded (ow). I was also reminded why Hagins is a talent to watch in the future. Read more and you'll probably end up agreeing with me.
My Sucky Teen Romance is a horror comedy about a girl who finds out her new boyfriend is a vampire, and it's up to her friends to save her before it's too late. Like her other feature films, the protagonists are within her age group, and the script focuses on the experience and sensibilities of teens. Hagins explained, "It was really important for me that the kids had a genuine awkwardness to them. They had to improvise to sound natural."
A more ambitious film than her two previous features, My Sucky Teen Romance is bigger not only in production size but in its setting. Most of the action takes place at a science-fiction convention; at one point the production had as many as 100 extras on set.
"I never worked with producers before," Hagins admitted. "I was used to having to be the good guy and the bad guy ... having to manage time and everything on top of directing. I think that was really holding back our production a bit because I was having to do everything, being the person in charge, all those jobs. For this one, having other people doing that helped, even though our team was small.
"My last movie was such a learning experience, same as the one before that. It's still very independent. As much as we tried to make it a big movie because of the sci-fi convention we had to stage, it's still very local. I think it's something people can have fun with."
Talking with Hagins, her age is belied by her experience as a filmmaker. While she may be barely old enough to vote, she speaks articulately about her work, with humility one would expect from someone who's had to struggler much longer to get their vision realized. Her humility is genuine, having relied on friends and family to work both sides of the camera. With her third film, however, her reputation enabled to her to pull together a production team that included professionals also working on much bigger projects.
"There were a couple of people trying to get on our set that were working on Spy Kids 4 and My Generation -- they were getting bigger work so they couldn't spend too much time on our set. It's great that [Robert] Rodriguez and [Richard] Linklater and [Quentin] Tarantino like to film here because of the film crew people here. I never spent that much effort in such a short amount of time, with so many other people who were as committed to the project as I was.
"It was totally an epiphany moment -- 'this is totally what I want to do' -- despite how hard this is, to be staying up 24 hours at a time just to do a sound mix. We're all going through something we're really passionate about and that's a cool feeling."
Hagins is quick to praise her cast and production team, a mix of first-timers and professionals, from assistant director Lina Green ("she was 15, and she would keep people up and awake and on task. She did such a great job") to the dedication of her sound designer Isaac Hammons, as well as the visual effects created by Brian Behm.
"It blows my mind, what they were able to do with AfterEffects," Hagins said. "While we were filming we didn't always know if it would work in post production. Their dedication ... it's so good to be working with a team like that. I love when you can tell when you're in a movie that the people making it love movies."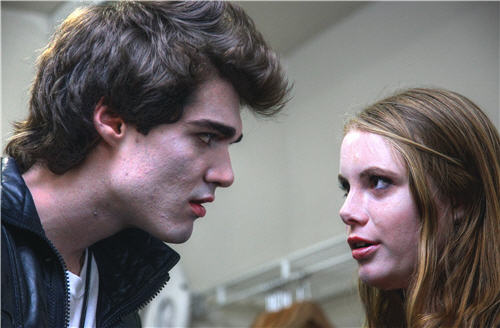 Even with all the support Hagins has in the filmmaker community (AFF regular Shane Black read the script and provided feedback), money has still been a factor for her movies. One of the things Hagins learned on her first film was how to find funding; she is the youngest recipient of a Texas Filmmakers Production Fund grant. This time around, she helped people put their money where their mouths are through IndieGoGo, a site that helps filmmakers raise money. Crowd-funding through a website allows independent productions to leverage the smaller contributions of fans, friends and family versus traditional funding methods.
"I never thought about crowd-funding websites and it became such a big part of being able to make it happen and generate excitement, people feeling they were part of it, making it a community project. I don't know how we would have done it without it," Hagins said.
Hagins had originally intended to finish My Sucky Teen Romance by the time she graduated high school, and she's beaten that goal by a few months. And despite having to occasionally justify missing school because of film-related obligations, Hagins still intends to go to college -- but not necessarily with the obvious major.
"I definitely know I want to make movies no matter what, but it could be through college, it could be through other means," she explained. "I'm definitely not opposed to getting higher education. All through high school I've known I want to make movies and I don't need a higher degree [to do that]. As long as I keep making movies, I'm happy. I don't want to resent college because I couldn't make movies, and I don't want to resent making movies because I missed college."
Whatever path Hagins chooses, filmmaking is a given. For her next project, she doesn't plan on another supernatural theme (The Retelling was a ghost story), but as she told me that, she laughed. She didn't intend for her latest project to feature that theme, either. She also hopes to direct a film from someone else's script in the future. In the meantime, she's nervously enjoying living the dream; having a film play The Paramount is something she's hoped for, and it was not expected.
"Whenever I go to The Paramount, since I started making movies, I felt it'd be great to have a movie premiere there. Last year at this time I was just writing. I was going to volunteer for SXSW like I usually do, and then I thought, if I'm going to do this right, I'm going to need to take a break and work on this film. And a year later it's premiering ... there."
SXSW may show a lot of Austin and Texas-made films, but the decision to premiere Hagins' film at the biggest venue was practical. Says Janet Pierson, producer of the SXSW Film Festival and Conference, "Programming a film festival is an art, not a science. There are many different variables. We chose to premiere My Sucky Teen Romance at the Paramount because we're excited about it and know there's a lot of other people in Austin and at SXSW excited about it too!"
My Sucky Teen Romance world premieres Tuesday, March 15 at 9:30 pm at the Paramount Theatre. For more information follow the film on Twitter @MSTRmovie and at the My Sucky Teen Romance website.
[Photo credits: Emily Hagins at Olivia courtesy Jenn Brown. Devin Bonnée and Lauren Vunderink as Vince and Cindy courtesy Cheesy Nuggets Productions.]