Austin at SXSW 2011: Clay Liford's 'Wuss'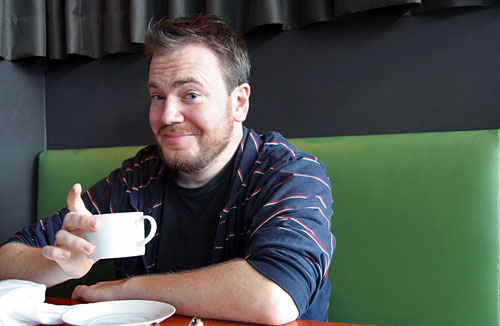 Congratulations to filmmaker Clay Liford, whose latest feature Wuss will have its world premiere in the Lone Star States category at SXSW 2011 next month.
Remember Clay? Last year at SXSW, My Blackberry Ate My Clay Liford Interview when I talked with him and producer Barak Epstein about Clay's cerebral science-fiction genre-crossing movie Earthling, and touched briefly on his 2008 short My Mom Smokes Weed. The man is batting a thousand -- getting two features into SXSW two years in a row is no mean feat. He spent a Sunday brunch at Olivia a couple of weeks ago chatting with Jette and me about his latest projects -- we all ate smoked gouda grits, and the Blackberry did not eat the interview this time.
As it happens, My Mom Smokes Weed star Nate Rubin plays the lead in Wuss. Rubin stars as Mitch, a high-school teacher who can't seem to escape the fate of the eponymous archetype the title implies, being repeatedly bullied by his own students until an unlikely alliance results in a "friendship that stretches the use of the word 'inappropriate'." Wuss also stars Tony Hale (Arrested Development, Chuck) and local actor/filmmaker Alex Karpovsky (Lovers of Hate, Tiny Furniture) among others.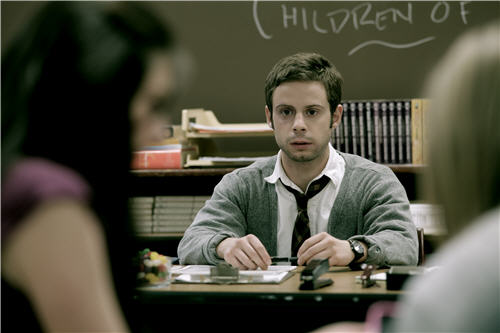 Clay has done a lot of work getting Wuss just right. He's had multiple screenings, including a Narrative in Progress screening at Austin Film Society, where AFS members at a certain level of membership can attend special screenings of unfinished work and provide feedback. According to Clay, one such screening was the worst of his life as a certain attendee he particularly wanted to impress was frowning during most of the screening, then walked out. Says Clay, "I never wanted to run out of a room so badly." Later, he found out the individual in question was dealing with food poisoning.
Screening works-in-progress films are a double-edged sword because you can only see a film for the first time once. But Clay says it was worth it; he realized a particular scene wasn't working, resulting in one minor reshoot. According to Clay, "I was using a mallet to do what I could manage to do with a paintbrush and I went back and reshot a scene. There was a lot that was unnecessary and it was too much and too long. This was one those epic takes where a lot of choreography happens, and I realized the entire thing was taking two minutes when we could do it in two shots. We got that perspective [from the test screening]."
Clay went to film school at The University of Texas at Austin, and has until recently been based in Dallas until he moved back to Austin last fall. Clay is one of those hands-on filmmakers, having credits beyond writer and director: editor, cinematographer and even actor (and more, but you can see that all on his IMDb resume for yourself). You may be familiar with the beautiful cinematography work he did on David Lowery's 2009 SXSW selection St. Nick. In fact, he's preparing to photograph an indie film shooting in Lockhart later this month.
He also has enough perspective to utilize all available resources. "When you're the filmmaker and you know how to edit, and you're a professional editor, you don't have to technically pay yourself so the ball is hanging squarely in your court. I didn't want to edit Earthling and I made a huge proclamation I was not going to edit Wuss."
Apparently karma was in play, because Clay was singing the praises of editor Jay Serra. Serra, who worked on visual effects on Earthling, edited the rough cut of Wuss. "His rough cut was so good, I upgraded him to a full editor credit with me. The scene that we used on the Kickstarter page, it's basically one of the best cut scenes in the film ... I maybe changed one edit."
During our brunch, Clay mentioned one of the less pleasant parts of being a filmmaker is choosing which festivals to submit to, and to accept. It's not just about rejections, either, although there can be some double edges to both rejections and offers of acceptance. Imagine being told by a major festival that they like your movie, but they can't accept it because they've lost a venue and have to reduce the number of selections and screenings. Then imagine finding out that another big festival wants your film -- if they get to world premiere it, when it's been accepted into yet another prestigious festival. And that's not even getting into all that goes into screening your film once it's accepted, such as putting up with two chatty critics who insist on taking you to brunch (Jette was there, it wasn't just me talking his ear off).
Talking with Clay only made us anticipate seeing Wuss even more, and not just because it's got a great cast and we're familiar with Clay's earlier work, or that it's another world premiere. Last year Earthling had a very good festival run beginning with its world premiere at SXSW, and has European distribution after a very strong showing on the festival circuit. While it's not yet officially secured U.S. distribution, there should hopefully be news, soon. In the meantime, you can vote on which cities should be included in a road tour of Earthling. And it's currently available to save to your Netflix queue even though a release date is not yet available (hint: if you've seen it, you can rate it). His 2008 comedy short My Mom Smokes Weed also got a lot of mileage out of the festival circuit.
While Wuss was filmed in the Dallas-Fort Worth area, we at Slackerwood will shamelessly claim it as an Austin-ish film now that Clay's back, and it's screening at SXSW.
[Photo credits: Clay Liford enjoying coffee at Olivia, by Jette Kernion. Nathan Rubin as Mitch from Wuss, courtesy of Clay Liford and Well Tailored Films.]