A Unique 'Food Design' Mini-Feast at Alamo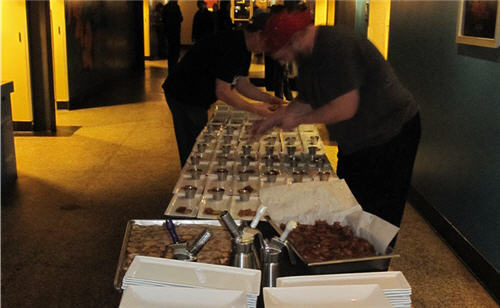 If you ever thought it was just the American food industry that was mercenary about marketing and selling food, think again. Apparently it's no different in Europe.
Earlier this week Edible Austin and Austin Museum of Art teamed up with Alamo Drafthouse on South Lamar for a mini-feast and dialogue on Food Design, a 2009 Austrian documentary about the science behind food marketing and commercial research. And in under 40 minutes, chefs John Bullington and Chris Kincaid (pictured above) managed to send out three courses with five separate preparations on each, making the film an interactive experience.
Pictured above are the chefs plating the first course; despite the poor quality of the picture you can get a sense of the frenetic pace they kept to keep the food moving. And while we didn't see any of the courses in full light save the first and most monochromatic, the fact we couldn't really see the food enhanced the tasting experience. it was quite a learning experience all the sensations of each different preparation.
One of several recent documentaries questioning the foods we so often consume without thinking in recent years. Food Design joins the ranks of several documentaries exposing the less than savory aspects of the industry that provides food for our tables but doesn't necessarily nourish us, including Food, Inc., Supersize Me, King Corn, and the docudrama Fast Food Nation.
Food Design is the debut film of Martin Hablesreiter and Sonja Stummerer and based on their book.* At only 52 minutes, Food Design may never real deep-dive into the subject, but it's an intriguing introduction. The art of cooking process is completely overlooked as the film which focuses on the practical and often mercenary aspects of food and how to make it attractive. Taste is perhaps the shortest chapter in the film -- and in the profession of food design -- which has an emphasis on the practical aspects of food including form, color, smell, consistency, and even the sounds of food and how to make the most desireable food possible. For instance, did you know that fish sticks are intentionally shaped to not resemble fish to appeal to those who don't like fish? And did you know that chocolate bars break at 38 newtons? (yeah. really.)
Some things are obvious, like a coating on an ice cream treat to combat warm temperatures and that crackers are better crunchy, but others are downright insidious. Designing the shape and appearance of a new food item before even creating a new food product and the profession of food design does not consider cooking. These are not chefs, but scientists and marketing researchers who determine what foods are available to you. In all of these areas, the whole experience of preparing, eating and tasting is marginalized.
Alamo Executive Chef John Bullington helped introduce the film and explain the courses presented to us to underscore the film's subject matter. Each course served a basic ingredient five ways with very different preparations, and as Bullington said, focusing on the integrity of the primary ingredient in each course. The first was potato, including potato brulee, smoked potato chips, potato foam, potato sorbet and smoked potato croquette on a stick. Carrot was served as foam, caviar, puree, smoked and dehydrated chip and another sorbet. The final course was tuna, served as a granite with soy caviar, tartar with pomegranate, jerky, and mousse. There was thankfully no tuna sorbet.
I never want to taste the sorbets again, particularly the potato one, but about ten percent of the audience really liked it. The hit of the night was on the same plate; potato brulee was outstanding with the audience even applauding the dish during the post-film Q&A with Edible Austin publisher Marla Camp and Bullington. I really enjoyed the sensation of the carrot roe, which was like cold little gelatin balls, and rather fun to eat. Bullington mentioned that while the process to make it is very easy, two of chefs on his staff had to stand over the water solution that makes it possible and use eye droppers to make each individual drop to form each 'egg' of carrot roe.
Camp clearly appreciates good, natural food, and pointed out that the short segment about the actual taste focused on people tasting food in isolation stalls, when good food is about community and the experience. Bullington mentioned how he has to balance economic realities with planning the Alamo menu, but enjoys the fact that he can do things like get locally sourced and natural ingredients. In fact, while Bullington advocates "slow food" he acknowledges there is some overlap in the purely intellectualized food design a shown in the food and in his kitchens. As he mentioned, the Alamo French Fry has gone through an evolutionary process and as Alamo chefs have offered up their variations for consideration, he has to point out that most food tastes great immediately cooked in the kitchens but everything the Alamo serves still needs to taste good 15 minutes after it's ready to serve.
I readily admit I didn't enjoy every item served during the event; in fact, I would say I only really enjoyed less than half. But the experience of all those different textures and preparations was priceless for this foodie, and makes me even more appreciative of the fine are of cooking. The only disappointment was this was not an typical Alamo audience, with far too many talkers.
Food Design does not have a theatrical release in the US, and is not currently available on DVD in retail outlets.
*Author Martin Hablesreiter provided a correction indicating "everything was Sonja Stummerer and Martin Hablesreiter."