Eenie Meenie Miney Movies: November 2010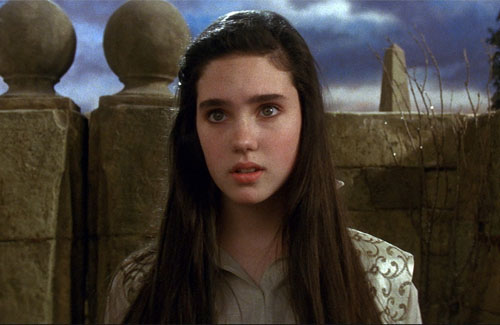 Parenting and film nerdery can often be at odds. So many movies are inappropriate for kids and the cost of a babysitter can inflate the price of a movie ticket beyond what one might reasonably want to pay. One great allure of movies, after all, is that they are relatively cheap entertainment. It's not that there is any dearth of movies for kids -- quite the opposite, of course. The problem is that so few of the "kids movies" out there are suitable for parents. Children will watch damn near anything, but finding a film in theaters that will entertain me, my wife and my four-year-old daughter Elizabeth is like striking gold. The last movie that fit those criteria was Toy Story 3 -- and that was back in June.
A few days ago Elizabeth said to me that she wanted to see more movies in the theater (insert your own "chip off the old block" metaphor here). "Well, this is Austin," I thought. "It's a pretty good town for movies -- maybe I'm just not trying hard enough to find flicks in the theaters that we could go see together." I'll post the results of my research here along with upcoming and recent DVD releases for those weekends when you're feeling like a night in is more your speed.
Notable Theatrical Releases in Austin (November)

Megamind (Nov. 5, PG, wide release) -- Or, as a friend of mine put it recently, "MegaMeh." I thought the trailer looked awful. When a trailer is bad enough to dissuade me from the talents of Will Ferrell and Tina Fey, I listen to my instincts. Dreamworks Animation has so many more misses than hits that it's usually a better bet to stay home and watch a Pixar DVD or one of DWA's few strong films, How To Train Your Dragon (see below).
Labyrinth Sing-and-Quote-Along (Nov. 11 and 18, PG, Alamo Ritz) -- This is one of those special events that is probably best reserved for kids who already know and love Labyrinth (pictured at top). I imagine it would be pretty weird to see this dark fantasy for the first time with fans singing along with Jennifer Connelly and David Bowie, but hey -- maybe it would be awesome. Keep in mind that most Alamo Drafthouse screenings do not allow children under six.
Harry Potter and the Deathly Hallows: Part 1 (Nov. 19, PG-13, wide) -- This one's for the older kids, but it can't be ignored. The final chapter of the Harry Potter film series begins with this picture, originally set to be converted to 3D but now to be released in 2D only.
The Nutcracker in 3D (Nov. 24, PG, wide) -- A live-action adaptation of The Nutcracker as a dark fantasy adventure with Elle Fanning and Nathan Lane. The trailer is impressive, but as always I'm going to approach this one with caution. The PG rating on this one looks justified -- I can see how some of these scenes could be pretty scary for young kids. I'm not one to coddle my kids but yeesh, John Turturro as the Rat King? I'm disturbed just thinking about it.
Tangled (Nov. 24, PG, wide, 3D in some theaters) -- A Disney retelling of the Rapunzel fairy tale with Mandy Moore and Zachary Levi. I have to admit the trailer doesn't thrill me but the writer was also responsible for Pixar's Cars and Bolt (a surprisingly good non-Pixar Disney pic), so I'll give it a chance. This is Disney's big Thanksgiving weekend release so it's probably the one you'll be dragging the family to once the mashed potatoes are gone and you're all sick of each other.
The Little Prince -- (Nov. 27, Kids Club at Alamo South Lamar) -- A free showing of the 1970s "musical curiosity" based on the classic book. Features appearances by Gene Wilder and Bob Fosse. Directed by Stanley Donen (Singin' in the Rain). Kids age 3 and up are welcome.
It's a Wonderful Life (Nov. 29 - Dec. 2, Alamo South Lamar) -- Let the Christmas bonanza begin with this Jimmy Stewart classic presented in a "brand new high definition digital restoration." I'm assuming that means it's projected digitally. Again, no kids under 6.
Teenage Mutant Ninja Turtle Pizza Party at the Alamo Ritz (Nov. 30, PG, Alamo Ritz) - The original Teenage Mutant Ninja Turtles movie presented as an Alamo Food & Film Event. Tickets are $16 but include all-you-can-eat pizza. Cowabunga. Kids over 6 only.
Notable DVD Releases (November)

Toy Story 3
-- Well, duh.
How to Train Your Dragon
-- A surprisingly good yarn from Dreamworks Animation. Technically released in October but worth checking out if you skipped it in theaters.
Cars Toon: Mater's Tall Tales
-- A collection of short films featuring Mater and other characters from Pixar's Cars.
The Sound of Music
-- Newly released on Blu-ray.
A Christmas Carol
-- Try the George C. Scott version, now on Blu-Ray.
Willy Wonka & the Chocolate Factory
(Nov. 16) -- Get your Gene Wilder on with this Blu-ray release.
Peanuts Deluxe Holiday Collection
-- Snoopy and Charlie Brown in hi-def. Includes It's the Great Pumpkin Charlie Brown Deluxe Edition, A Charlie Brown Thanksgiving Deluxe Edition, A Charlie Brown Christmas Deluxe Edition, It's Christmastime Again Charlie Brown, It's Magic Charlie Brown, The Mayflower Voyagers and a Peanuts snowglobe for about 50 bucks.
Fantasia / Fantasia 2000
-- Given what must be the staggering new mind-altering powers of this new Blu-ray presentation, maybe this is one you'll want to savor after the kids go to bed.
Sid & Marty Krofft's Saturday Morning Hits
(Nov. 30) -- A collection of "the most beloved episodes" of H.R. Pufnstuf, The Bugaloos, Wonderbug, etc. Warp your kids with a taste of the '70s.
Ramona & Beezus
-- Jette is barging in here to say that she didn't get a chance to see this movie in theaters and is hoping to catch it on DVD ... and doubly hoping it's even half as good as the Beverly Cleary books.