AFF 2010: Don't Pass on the Pass!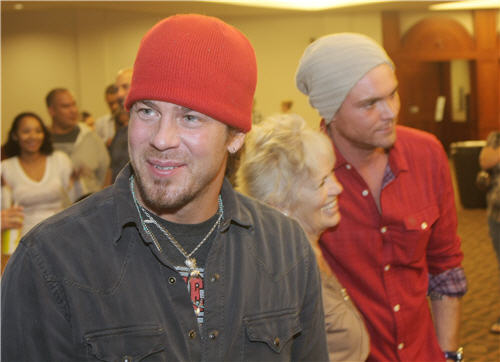 Bummed out that you didn't get a badge for Austin Film Festival at their cheapest and now you're priced out? Don't be. You have the opportunity to buy the deal of the year for film enthusiasts: the AFF Film Pass.
Let's do some simple math: At $50 (the current price), if you manage to see one film a night (8 films), you're only paying $6.25 per film, which is lower than most matinee ticket prices these days. Single tickets for AFF films are $10 at the Paramount and $9 at all other venues, so if you plan on seeing just six movies, its a deal. You know you'll see more than one movie on Saturday or Sunday; it's like snack chips, you can never have just one. And those are movies you're gonna want to see before everyone else, all those Oscar contenders, and high-buzz indies.
While a badge will get you in to the panels and all the parties, that little ticket-shaped pass will get you into nearly every movie you try to see. You still get to hear the post-film Q&As, and you may have an opportunity to meet the special guests in town to support their projects. You can still do quite a bit, and there are even some filmmakers who will opt for the pass (usually with the smaller movies when several people show up to support their film). So what celebrities might you be seeing this year? How about Edward Burns, Dax Shepard, Colin Hanks, Jon Gries, Jon Lovitz, Jeff Fahey, and D.B. Sweeney ... just to name a few.
Seriously, I've had passes for all but two years I've been going to AFF and the only time I didn't get in was at Alamo Drafthouse at the Ritz screenings when I got there late, and the Robert Pattinson frenzies in 2008 (and I didn't bother to try). Don't forget that two AFF venues are away from downtown (Regal Arbor and Alamo Lake Creek), and not a lot of badgeholders drive up there.
Just follow this simple formula: The smaller the theater + the closer to downtown + the more buzz (or the more Austin connections) = the sooner to get there. The only thing you have to do is be in line at least 25 minutes before the movie starts, to make sure you get in before people who are trying to buy tickets. If shorts are your thing, many of the shorts programs are at the Hideout but you can still get in. No one is guaranteed a seat at every screening, not even badgeholders, but chances are pretty good that you will, especially if you plan well. And don't forget, after the conference ends on Oct. 24, there's a mass exodus out of town, but films still screen through Oct. 28, with a lot fewer people in town to see them.
If that's not enough for you, this year there is a special new event open to passholders. AFF is launching the Paramount Theatre Film Pass Party on Tuesday, October 25, at Aces Lounge, and anyone with a 2010 pass or badge or can get in (with proper ID). Yes, anyone. And this is a film festival away from LA so chances are you might end up rubbing elbows with panelists and filmmakers. Some of those unknown filmmakers might be the next Jason Reitman. Even with a mere "pass," you can party like a film star.
Finally, at least one conference panel is open to passholders this year: "Film Critics and the Industry," on Friday at 3:15 pm at Alamo Ritz. No, none of us from Slackerwood are on it -- it's moderated by Charles Ealy of the Statesman and the panel includes Kenneth Turan (Los Angeles Times), David Denby (The New Yorker), Chase Whale (Gordon and the Whale), Neil Miller (Film School Rejects) and Scott Weinberg (Cinematical).
You can purchase passes online through the Austin Film Festival website and pick them up in person at the Driskill (same room as the badge pickup, it's hard to miss). That's also the only location you can buy them in person, as only tickets are available at the screening venues. If you join the Friends of the Festival, some membership levels earn you a free pass as well, which has the added bonus of getting you in to free screenings throughout the year as well. I do this every year, and I highly recommend it.
Austin Film Festival runs October 21 - 28 with the conference running October 21-24. You can find Austin Film Festival on the web, Twitter and Facebook.
[Photo credit: Christian Kane after the Q&A of The Donner Party at AFF 2009, with Clayne Crawford and a fan in the background. Photo by Jenn Brown]