Fantastic Fest 2010: The Closing-Night Party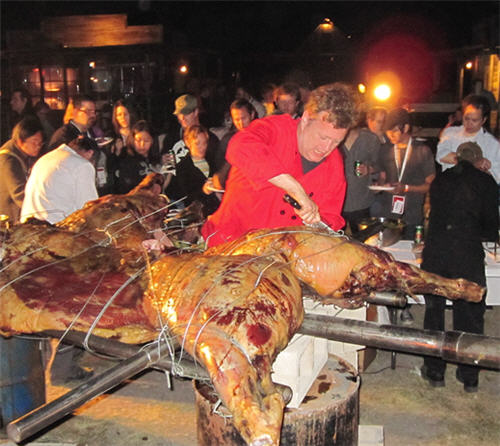 Back in April, I told you about the cow to be sacrificed for our pleasure at Fantastic Fest 2010. Finally, the day arrived. After 25 hours on site and 18 hours of roasting, the cow from Richardson Farms was served up at the J. Lorraine Ghost Town in Manor on Thursday night, where Fantastic Fest badgeholders, volunteers, staff and a few guests had the chance to partake of the feast John Bullington and staff put on for 500 people.
Wondering what you ate? If you missed the signs, the menu included Fresh figs with mozarella, burnt tomato goat cheese and anchovy bruschette, smashed potatoes with tapanade crust, fire roasted cow with chimichurri, humita (savory corn pudding), burnt fennel and zucchini with parmesan, lemon and basil, rescoldo vegetables (carrots, onions, peppers, potatoes, squas), and burnt oranges with rosemary with dulce de leche panqueue.
But that wasn't all. We were treated with a Mariachi performance, the Arc Attack Band complete with Tesla coils and people dancing in cages, a walking maze, a couple of the Buried coffins, an outdoor theater showing the 100 Best Kills, knife-throwing demonstrations as well as the ability to try your hand at it, and fireworks. Yes, all that. The closed party was a very relaxed atmosphere, and everyone I talked to was raving about how wonderful it was.
I have to confess; this was my first real closing-night party. I went last year very briefly and left. I didn't even go in year one, despite a VIP badge. But having had to miss three days of the fest, I really wanted one final chance to see people, and it was well worth it. Personally, the Ghost Town as the location for the closing-night party every year has my vote.
This year I hadn't had much chance to hang out with my favorite Alamo/Fantastic Fest staff, because it's been so crazy busy. But I did get a chance to at least say hello, hug, and thank people. I want to specifically point out Jill, Angela, Devin, Hallieh, Eric, Kristin, Eddie, Caitlin, Rae and everyone on their staffs and volunteer teams for putting in so many hours to make it the best fest possible. If I could, I'd get you all a spa day to help you recover from your 20+ hour days. These are just a few people involved in the fest, there are just too many to count. And even after eight days of fest, they still move too fast to get a picture of more than one or two of them at a time.
I wasn't expecting to be at the party past midnight, but there I was, at 2 am, reluctantly getting on a bus to go back to the Alamo South Lamar. And despite a creepy cab ride home from there, yet again, I'm getting the Post Fest Funk. No word yet about a Best of the Fest screening day, but as soon as I hear, I'll let you all know, because there were several great films you should go out of your way to see.