Fantastic Fest 2010 Day Seven: Casualties Galore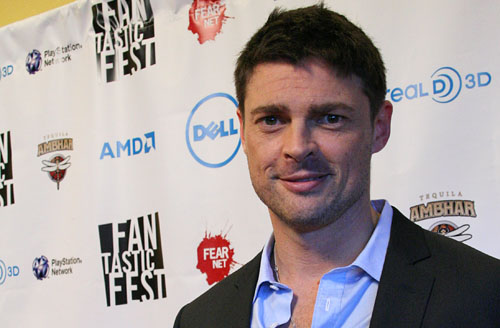 The Slackerwood gang is starting to falter a bit at this point in the film festival. All three of us covering Fantastic Fest were rather tired on Wednesday and needed a break from moviegoing. Jenn was stricken with migraine woes and spent the day recuperating. Debbie was unwell but managed a movie in the 9 pm slot. And I went to my day job in the morning to catch up there a bit, despite feeling like I'd been run over by a truck, and didn't show my face at Alamo Drafthouse on South Lamar until after 5 pm.
After the usual chitchatting, my first event of the day was the red carpet for Red. I admit I got a childish kick out of saying "the Red red carpet." I am so easily amused. It was a small red carpet, very easy to work with -- a few cameras and one subject, actor Karl Urban. Urban plays the foil to the team of good guys in Red. If his name isn't ringing a bell, you've probably seen him in the most recent Star Trek movie (as McCoy) or the Lord of the Rings trilogy (as Eomer) or going way back, as Julius Caesar on Xena: Warrior Princess. He was extremely polite and everything went smoothly.
I can't say much about Red right now -- you'll have to wait for our review on Slackerwood when the film opens on October 15. It's a spy thriller/comedy starring Bruce Willis, Helen Mirren, John Malkovich and Morgan Freeman, among others. It was a fun movie and of course all those star performances were quite enjoyable to watch.
After the film, Urban participated in a Q&A where he shared amusing stories about the cast (including an Ernest Borgnine story ... he has a small but delightful role in Red) and talked about training for the film. He also dropped some hints about the movie he's working on now, Dredd, another adaptation of the Judge Dredd comics. Urban is certainly easy on the eyes, but to keep with the fidelity to the comic books, he intends to wear the Dredd mask throughout the whole film.
The lobby was rather chaotic after Red -- it was like Mardi Gras in there. I managed to squeeze my way out and then back in again when I found out that seating had already started for Fatso, my second movie of the night. Turned out Debbie was in the theater with me. The movie started late, but everyone in the theater got a treat: honeydew melon with something yogurt-ish on top and a rolled up slice of pepperoni. The idea was for this to resemble a scene in the film in which someone, er, masturbates with a melon. Alamo programmer Daniel Metz introduced the film and warned us that no one would be allowed to masturbate in the theater during the film.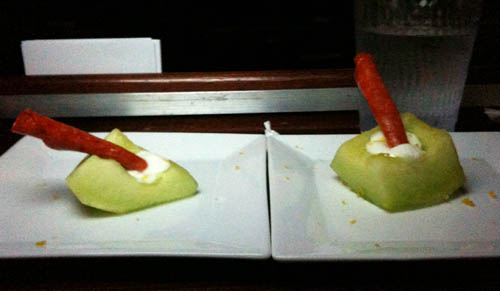 As you might guess by now, Fatso includes quite a good deal of self-pleasuring. The title character, Rino, lives alone and works as a technical translator from his home office. He also draws a comic strip that takes his sexual fantasies to bizarre extremes. He has a lot of porn, he misuses melons, and even jerks off while brushing his teeth. His parents -- who are his landlords -- force upon him a roommate, a 20-year-old blonde Swedish girl, and suddenly his life changes in any number of ways.
Fatso includes some animated sequences, which are Rino's comic-book panels come to life, and which is probably why the film was included in the Fantastic Fest lineup. It was occasionally a little gross but always in a funny way. This was an excellent late-night movie choice, and a great way to end my Wednesday night.
I'm not sure what I'm doing today, exactly -- this festival has worn me out entirely. But I'm hoping to catch at least one good movie. Hopefully at least one of us at Slackerwood will recuperate enough to make it to the closing-night party.
[Photo credits: "Karl Urban" by Jette Kernion; "Eff Melons" by Debbie Cerda. All rights reserved.]