Quick Snaps Fantastic Fest Day Three: Roadkill Tacos, Drone Directors and Pub Crawls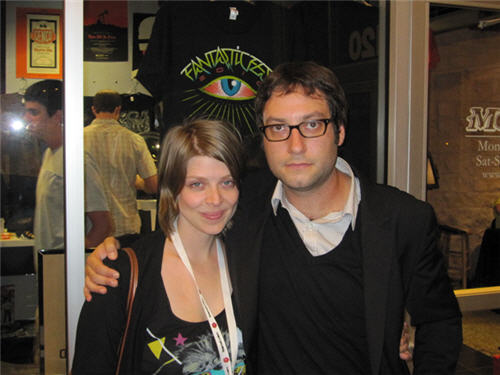 Drones co-directors Amber Benson and Adam Busch were here to support their film, along with star Angela Bettis. It was probably one of the more fun Q&As with jokes and stories from the set, including onset harmony and daycare, and offset arguments over who ate the last sausage (answer: a vegetarian). Being alums of the Whedonverse, lots of fans wanted pictures, and both graciously obliged. Busch may still be in town for the second screening of their fun and snarky tale of aliens in the office, but Benson had to leave. Glad she's working, but I'd love a discussion about independent filmmaking with her next time she's in town. Remember, this is someone who found distribution.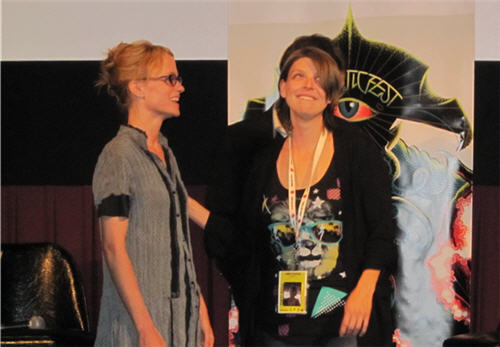 Here's Drones star Angela Bettis with Benson. I love Benson's face in this picture, she clearly enjoyed her time in Austin. It's great Bettis is back, as she's not only a great actress, but also a Fantastic Fest alum as director as well (remember Roman?). Benson talked a lot about indie films and being blessed with lots of talented friends and the two are excellent cases in point, as they're proven talents in front of and behind the camera.
FearNet teamed up with Austin food truck extraordinaire Chilantro BBQ to bring fantastic fest folks some roadkill tacos. The truck was here yesterday and Friday. I haven't seen it yet today, but look for it outside the Highball. The menu says Grilled Squirrel, Ground Skunk, Rice & Possum, and Baja Deer. You probably can't see it, but each has an asterisk that indicates it "tastes like chicken." It tasted like spicy good chicken, to be exact. Zombie Roadkill is being presented by Fearnet.com, and is going to be online on October 4. If they're still around, check it out, but be warned, these aren't mild (but they are quite tasty).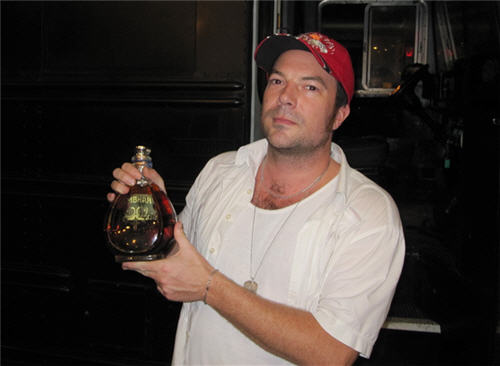 But they weren't the only sponsor out there giving treats to the badgeholders: Ambhar Tequila sponsored the post-Red White and Blue screening with a pub crawl featuring several Austin watering holes featured in the slacker-revenge thriller. Hosted by Red White and Blue director Simon Rumley (pictured above), the revelers returned with lots of smiles on their faces so it sounds like it was a great time. And in case you were wondering, there was not an encore Crazy Commenter in the Q&A this time, like there was at SXSW.
And lastly, apparently the makers of Swedish Fish have decided moviegoers need to up their sugar intake with Swedish Fish, with at least three people giving away handfuls of sample packs. If you need your sugar rush, they have you set. Plus, they made a colorful picture.