Up All Night at Cinemapocalypse with 'The Expendables'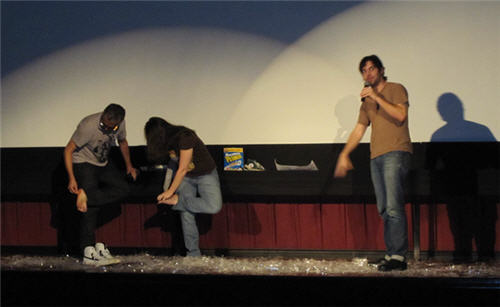 When the second annual Cinemapocalypse -- entitled Expendables Cinemapocalypse -- was announced a few weeks ago, the anticipation was extreme. People set alarms to make sure they didn't miss out on getting tickets, and the event sold out in mere minutes, even with a technical problem. The rush wasn't just for a sneak preview of The Expendables, but for the whole event, especially after the success of the 2009 Cinemapocalypse events in Austin and other cities.
The original Cinemapocalypse event was a West Coast variation of the Rolling Roadshow in early 2009, with an eight-night, four-city series of exploitation films from the Alamo vault, along with special guests. Last July, Alamo Drafthouse at the Ritz rocked the socks off a theater full of film geeks with an all-night grindhouse event, also called Cinemapocalypse. The event was bookended with the local premiere of Inglourious Basterds complete with Quentin Tarantino himself, and ending with the historical drama Ip Man, based on the life story of Bruce Lee's Kung Fu master.
The highly anticipated event exceeded expectations with over 12 hours of films, trailers and special guests that left everyone as satisfied as they were exhausted. It was such a big deal that people were begging for our two-part report before the event because they couldn't get in. Unfurling Nazi banners during Inglourious Basterds and a surprise appearance from Robert Forster raised the bar again for Alamo Drafthouse events. Unfortunately, the bar was now impossible to reach.
With a lineup announced in advance this time, we knew what to expect: Demolition Man, I Come in Peace, and Die Hard, all in glorious 35mm and starring action heroes who also star in the pièce de résistance, The Expendables. Host Zack Carlson, the Alamo programmer who is a familiar face to regulars, brought his unique brand of energy, complete with pyrotechnics, tacos and "glass shard" walking contests. Only something was lacking.
Again, we enjoyed trailers and commercials between films, and they were exceptional, including a Bruce Willis Seagrams wine cooler commercial, and an Old Spice 16hr B.O. Blocker ad that creeped me out the first time I saw and still creeps me out having seen it again. A Dolph Lundgren workout video introduction reminded me of the worst of the 80s, complete with quotes like "Nature is really amazing." The intermissions included ads and trailers with the cast of The Expendables, from First Blood to Masters of the Universe and beyond Hudson Hawk. There was even some special material, including a Bruce Willis montage and one of Arnold Schwarzenegger, which was so popular that when it was stopped to start the next film, the audience roared in disapproval.
But this time, there wasn't much anticipation for the event. We knew the lineup in advance, and there weren't any guests. As a result, that buzz just wasn't there. There were no Nazi banners suddenly unfurling, and no cult favorite actors to work the crowd. At a third of the cost, it really wasn't reasonable to expect it to equal, let alone surpass last year's Cinemapocalypse. But there was that expectation.
Technically, while the online tickets sold out in near record time, it wasn't a sold-out screening. Batches of tickets were available to walk ups on Friday night, and a least a full row's worth of unreserved seats were available throughout the night, as well as more empty seats that were reserved.
That isn't to say it was a bad evening; After watching Demolition Man, where Taco Bell is the only restaurant that survived the restaurant wars, Zack had a few dozen Taco Bell delights to throw into the audience. And for Die Hard, he flung plastic "glass" shards along the stage, and had two volunteers race each other in bare feet across the "glass" for a selection of silly prizes. After Die Hard, during intermission, more people went up on stage to walk on the glass.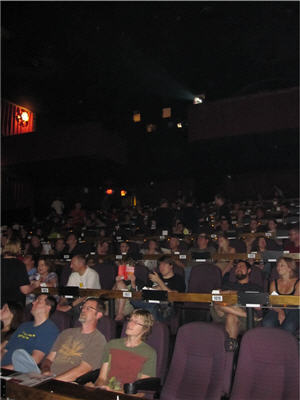 The movies, chosen in a public poll earlier this year, were essentially the people's choice. Demolition Man is not exactly Stallone's finest work, and I Come in Peace was accurately described by Zack as not even attempting to pretend to be realistic. Of all the three previously released films, they saved the best for last, Die Hard.
Die Hard is classic action, but seeing it again on screen, in a nearly pristine 35mm print, it's hard not to consider it the watermark of action films. It's smart, it's funny, and it's got a lot of action in it. It's an absolutely gorgeous film on many levels, right down to the sinister variations of "Ode to Joy."
It was a good way end the older films, but it also set another high bar; could The Expendables even come close? The answer is, not quite, but that doesn't mean The Expendables isn't a worthy film. A highly romanticized take on the manliest of men in action flicks, The Expendables is tail-heavy on action with some character development, but falls victim to the quick cut cheat epidemic in action. Still, Jason Statham kept stealing scenes and seemed to be the universal favorite of the audience.
Let's leave it at this: The Expendables is guaranteed to be a man-cave staple when it's out on DVD and Blu-ray. As for its theatrical run, definitely see it at the Alamo, with a bucket of beer and your buddies. (Debbie will be doing a full review later this week.)
The Expendables Cinemapocalypse was worth every penny of the ticket price. But it didn't meet the gold standard of last year's Inglourious Cinemapocalypse. Maybe next year there won't be a corporate changeover and a Rolling Roadshow kicking off at the same time of the event, so Alamo can bring back the apocalypse to Cinemapocalypse.
For another, somewhat different account of Cinemapocalypse 2010, check out Reel Distraction.