Ritziest Birthday Ever
­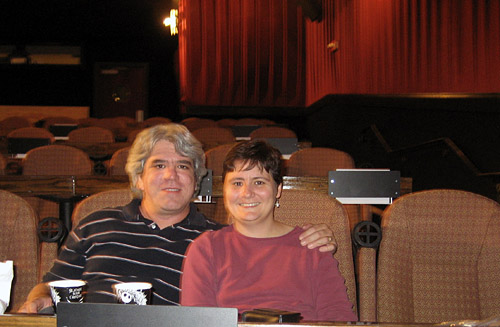 I knew we were doing something special for my birthday today (although strictly speaking, it's tomorrow), but my husband was stubbornly silent about the details. "We're going to get socks for Rufus [our cat]," he kept telling me. I was pretty sure we weren't going to Alamo at the Ritz's opening-night triple-feature, because it didn't start until 7, and he picked me up from work at 4:30. Also, it included a mushroom feast and my husband has a dire dread of any kind of edible fungus. I imagined all kinds of scenarios: we were going to Tea Embassy, we would have drinks with a bunch of friends, my sister secretly flew into town ... I love a good surprise, because the guessing can be almost as fun as whatever eventually happens.
When I got into the car, he said, "I lied about Rufus's socks. We're actually going on a birthday picnic," and headed downtown. I started to have a slight suspicion when we parked awfully close to Sixth Street. But I still wasn't sure we were going to the new Alamo at the Ritz -- after all, he could be trying to trick me -- until we walked in the door and my husband said to Lars, "Tim's expecting us."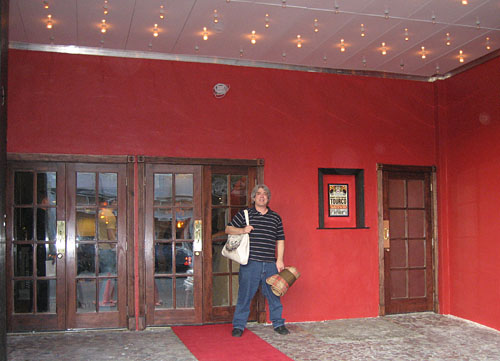 Lars led us to the smaller of the two new theaters in the Ritz, which he said wouldn't be in use that evening -- the festivities would all be in the larger theater. We sat in the first row, and my husband opened the bag he'd brought with him and pulled out a multi-course picnic supper: cheese and crackers, barbecue chicken and potatoes and cole slaw, and a chocolate mousse parfait. We enjoyed our dinner while observing the goings-on at the Ritz: even though the theater wasn't being used, it still drew some activity behind us. Alamo founder Tim League had been working on another part of theater, but stopped for a TV interview with a local station, and said hi to us when he was done.
Other construction workers and Alamo staff walked past while we ate -- we got a few funny looks, but lots of smiles and waves. Lars revealed to me what the secret midnight screening would be, and who would be there, but I can't tell you that since it hasn't happened yet. I felt sorry I had to get up early Friday and couldn't stay. At one point a staff meeting took place behind us. It was so inspiring that my husband was tempted to quit his day job and ask to wait tables at Alamo. (Although I am not sure he would have volunteered, as some of the staff bravely did, to wear blue Underoos for the upcoming weekend screenings of Confessions of a Superhero.)
We also admired the theater itself, which looks nearly finished. It seems to seat nearly a hundred people -- very well put-together for a smaller theater, with few limited-view seats -- and I especially loved the seats themselves. Not only were they wonderfully comfy, but the fabric pattern was a cool retro-ish design that fit the remodeled theater style perfectly.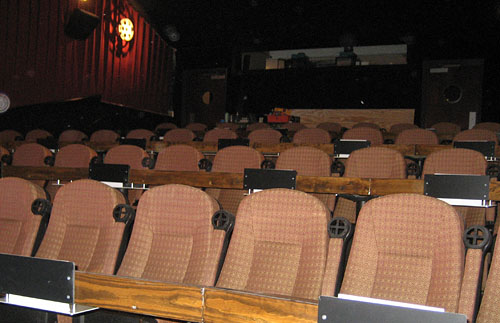 After we ate, we tagged along after Lars for a little bit, trying hard not to get into anyone's way, so we could catch a glimpse of the larger theater. We ducked through the projection booth and entered one of the two VIP balconies in the back of the theater. We didn't enter the floor level of the big theater itself (there were lots of people putting last-minute touches on stuff and we wanted to steer clear), but from the balcony, we were impressed. That is one snazzy-looking theater. I can't wait to sit there for a movie, perhaps this weekend. (I don't have any good photos of the main theater -- it was too dark -- but hopefully I'll take some soon.)
I loved the downtown Alamo on Colorado, but wow. The Leagues and the Alamo staff, and everyone else who worked on this theater, have made the Ritz a beautiful place inside. It's quite different from the ratty theater where I watched Super 8 movies back in 1998. I was admiring details like the finishing touches on the side rails in the theaters. And yet, as Lars remarked to us, it feels like it's been a real movie theater for a very long time, it has that authentic old-theater vibe.
On our way down the stairs, we noticed the photos had been hung on the walls, which we'd seen on the floor when we walked up the stairs before dinner. They were all photos of the Ritz through the years, nicely framed -- when you go to the Ritz, stop a second and look at the pictures on the stairs.
I really liked the old clock above the bar, and the bar itself is pretty cool-looking too. That's Lars leaning against the counter. And that's a TV screen next to the clock (it's more of a 90-degree angle, actually) -- I don't know what they're planning to show on it, but probably not loud commercials.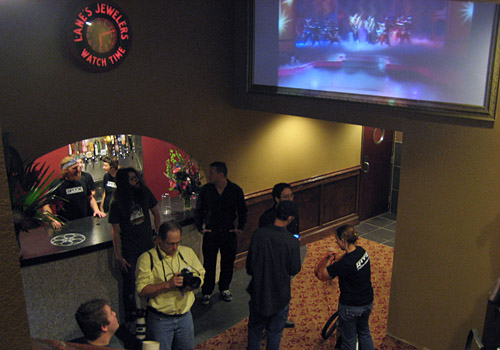 I am obviously gushing, and should try to describe something I thought was hideous. Hmm. The women's bathroom is a bit small, but it's still so much nicer than the old downtown Alamo bathrooms, which did have a certain grungy charm, but I can do without grungy charm in a bathroom. The staircase to the theaters is flanked with busts of John Wayne (from The Alamo, natch) and I liked the painting of the old Alamo on Colorado that was between them.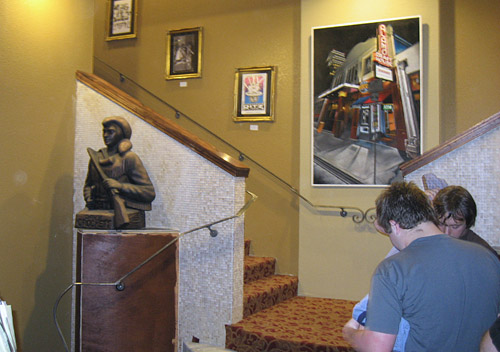 The line for Matango and the accompanying mushroom feast had already started forming when we returned to the lobby. I recognized several people in line. The Alamo regulars have returned. Yay!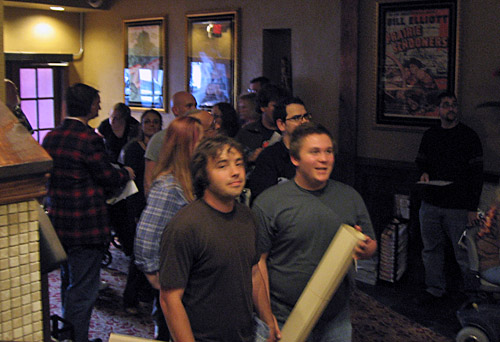 I probably said this last year, but it was the best birthday ever. Thanks to my husband, to Tim, and to everyone at Al­amo who helped me have a unique birthday surprise and treat. We'll be back there soon. (As for Rufus, he is sad not to get any socks, but he'll get over it.)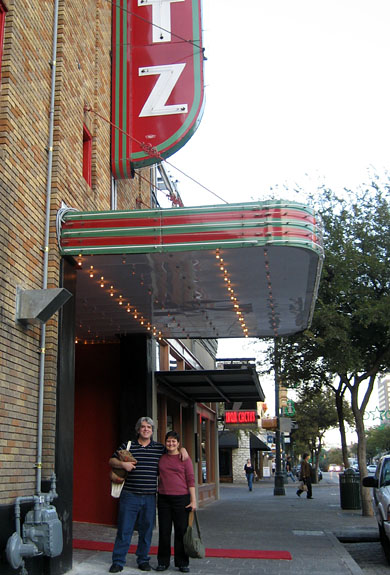 ­­
­