Review: Despicable Me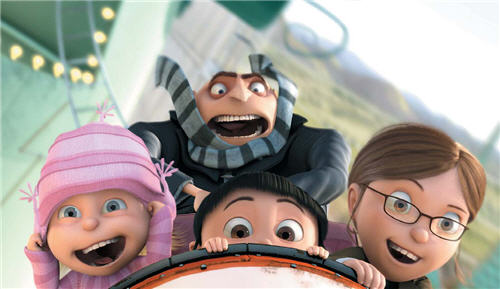 Any animated kids' movie following a Pixar release has its work cut out for it, with Pixar being a gold standard for family-friendly tales and animated excellence. But Universal's Despicable Me shouldn't be dismissed just because it lacks the Pixar brand, and releases right after the last Toy Story feature.
Gru (Steve Carell), a curmudgeonly villian living in Suburbia, is happy in his misery until someone else pulls off the biggest dastardly deed ever. Not to be outdone, Gru will let nothing and no one interfere with his plans to make his most evil dream come true, even pesky orphans hawking cookies and an ubergeeky villian wannabe. Gru seizes an opportunity to use the orphans ... only they're not the simple means to an end he's anticipated. Margo (Miranda Cosgrove), Agnes (Elsie Fisher) and Edith (Dana Gaier) have dreams of their own.
Bachelor dads are not a new movie concept, but Despicable Me isn't trying to break new ground. What it is trying to do is mix evil masterminds into the genre, and make a family-friendly film that's not overly simple. For all his evil aspirations, Gru's really just a dreamer. He may be a villian, but he's a sympathetic one; he's clearly a good boss, with hundreds of minions. Strange, yellow, punch-happy minions who don't speak English, but devoted minions nonetheless, who have more team spirit than any corporate outing.
Steve Carell's voice acting is an entertaining mix of droll dripping in an Eastern European accent and surly grump. The girls fit the personalities drawn into the animation, with Gosgrove sassily smart, and Gaier gleefully sweet. Unfortunately, Fisher only gets to tease the audience with Agnes's morbid sensibilities.
Still, Despicable Me's story isn't overly sweet, even with the cartoonish violence. Co-writers Ken Daurio and Cinco Paul (both credited as writers on Horton Hears a Who! and Bubble Boy) have created a cohesive story with child-friendly story with the occasional sly jokes for adults. Co-directors Chris Renaud (No Time for Nuts) and Pierre Coffin each only have one other directing credit and for shorts at that, but they've transitioned quite well into features. And yet again, Kristen Wiig (Saturday Night Live, Extract, Whip It) steals the show, as the cheerfully creepy Miss Hattie.
Despicable Me covers the usual ground of both genres, with villians battling villians, kids wreaking havoc, and never really delves into darker territory, but that's never where it wanted to go in the first place. There are plenty of laughs for kids, with many the adults will enjoy too.
In a summer of forgettable films, Despicable Me stands out as one worth your summer movie dollars, and despite Agnes's fervent exclamation of "It's so fluffy!!!" in the trailers, Despicable Me has more substance than family fare standards require.