Interview: Eric Byler, '9500 Liberty'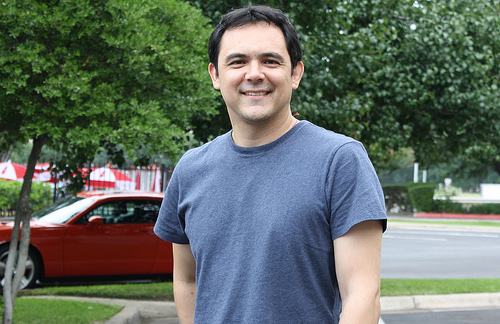 As I noted last week, filmmaker Eric Byler was in Austin to promote 9500 Liberty, currently playing at the Dobie (Don's review). The documentary depicts the battleground in Virginia and on the Internet over an anti-immigration policy, the "Immigration Resolution," that the Prince William County board of supervisors adopted in 2008. To counteract the racial divisions that occurred in their community, county residents formed a resistance using YouTube videos and virtual town halls. The inflammatory showdown between the groups had profound and devastating social and economic impacts in their community.
Byler and Annabel Park not only co-directed 9500 Liberty, but co-founded the political action group Coffee Party USA in response to the politics that enabled the Virginia anti-immigration law to pass. Byler is the YouTube/Online Media Coordinator for the group, and has created a number of videos about political issues.
As he mentions in his interview, Byler screened two of his feature narrative films at SXSW: Charlotte Sometimes in 2002, which won an audience award; and Americanese in 2006, which won the Best Narrative Feature award and a special jury prize for Outstanding Ensemble Cast. I caught up with Byler before last week's 9500 Liberty special screening at the Texas History Museum and asked him a few questions.
Why a documentary after your experience and success in narrative filmmaking?
This is about a transforming medium of film. I won three awards at SXSW for my narrative films. I was making a good living in L.A., I was living my dream at barely 30. And then around Hurricane Katrina and the war in Iraq, I realized that there really was more at stake in this era than the social issues I had devoted myself to with those films.
I didn't feel that was gratifying or the best expenditure of my time. I wasn't sure what I was going to do, but that "macaca" video [in 2006] spoke to me. It reminded me of the child that I was in Virginia. "Let's have a round of applause to welcome macaca to America and the real world of Virginia" basically says that you couldn't possibly be a real American or Virginian if you weren't white. That's an identity issue that I struggled with a lot growing up in Virginia, and here it was crashing back upon me as an adult -- only now I had more facility with which to process that, and with which to respond.
What role does social media play in your filmmaking?
I was part of two revolutions. When I graduated from college in 1994, I was trying to raise $140,000 to make my first feature film because it had to be on 16mm at least -- the technique being to shoot on 16 and do a blowup to 35mm. By the time I was 28, a couple of digital movies had come out that were really good, for example The Celebration.
Suddenly the artists could afford the tools of their crafts. Filmmaking was no longer limited to those people whose uncles were rich enough. It was open to everyone. To me, the democratization of that medium meant that we would hear so many voices that weren't heard before, including this half-Asian kid who wanted to tell a story about Asian-American twenty-something romance. That brought me to Austin for the premiere of Charlotte Sometimes, and that started my career. I made another 35mm digital feature, Americanese, which came back here and won two awards as well.
Then I saw that "macaca" video and decided to volunteer for Jim Webb [candidate opposing Sen. George Allen, R-VA, who made the "macaca" comment]. YouTube had just been invented and people were realizing the power of YouTube. People are looking around and wondering, how can we tap into this? It turns out that there's a Directors Guild member amongst your volunteer corp.
So Annabel and I started making these videos -- there was one video in particular starring Daniel Dae Kim from Lost, who's a buddy of mine. We shot a little rejoinder to the "macaca" comment that went viral and helped us raise a lot of money from the Asian-American community. We were able to use that money to do more traditional things like make flyers with Korean, Chinese or Vietnamese translations. We also did Spanish, which was a bit of a harbinger.
I had these skills to make films, and I had the motivation to have an impact. You put that together with the democratization of media in general -- first digital and then YouTube, with digital videos on the web. Suddenly you don't have to own your own news channel to impact the direction the country takes. All you have to own is a video camera, and the wire that goes from the camera to the computer. That's exciting, and I think that's what is going to see us through this very challenging period in our history where America is going through an identity crisis.
People are extremely concerned about the demographic shifts that we are seeing. The fact that an African-American president was elected is extremely alarming to some people. Some people are resorting to extreme tactics and using these satellites and news channels to amplify their message in ways that rather remind Annabel and I of what happened in Prince William County, where you had 200-300 people get together and take over a county government that represented 360,000.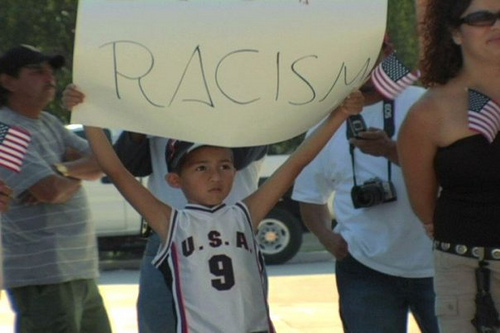 I think that the Tea Party is a similar phenomenon. It's a tiny fraction of our population, but is given tremendous amount of attention from some corporate media interests that really would like to make America look more like the Tea Party and would like to convince us that we are in the minority if we are not part of the 7 percent of America that supports the Tea Party, which is absurd. But if you create a reality TV show and play it every day, and you cast only people who are of a particular ethnic group, a particular age and a particular sort of political paranoia, then you can make it look like that's a larger swath of the public than it really is. It creates the illusion of consensus, which is how the immigration resolution was passed in Prince William County.
That's why Annabel and I continue to use new media to counter these kinds of hyper amplification of extreme minority positions that are far outside of the mainstream. We know we can use new media to give voice to that silent majority that isn't necessarily speaking or participating, especially when things become very divisive and very ugly and racially tense. We can find a way to make it safe to create a space for people to participate, whether it's on the Web or in real life.
The Coffee Party is doing a great job of creating those spaces in real life, which is something we didn't really do in 9500 Liberty until you see that scene at the restaurant. That scene in some ways is the first Coffee Party, the first time that people who are living in a fear politics-infested climate found a way first on the Internet to create a virtual resistance, and then in person, come together and through the strength of numbers no longer be afraid to speak.
We don't own our own satellite or news channel. We have a YouTube channel and Flickr page which are free, and a website on my credit card. We are just ordinary citizens using stuff that's free, and we are holding our own with the Tea Party, which is corporately funded.
You're very involved in the Coffee Party movement, how does this affect you as a filmmaker? Will you be taking a break from filmmaking?
I'm shooting and editing a lot more now then when I was making narrative films. If you look at the sum total of my four or five YouTube channels, there's more minutes of Eric Byler filmmaking since 2006 than before. Am I going to stop making narrative films forever? I hope not because I really enjoy it. I love going to work and knowing that my job is to help everyone pretend. To create something out of these little pieces, whether it's set decoration, or a beautiful performance, or lighting design, to create this world that didn't exist before. It's like building with Legos, except for adults and it's so much fun.
People have told me that they got married because of Charlotte Sometimes, and people have told me they got divorced because of Americanese, or that they broke up because of Tre. People have told me they've had an identity epiphany because of those films. Those films do accomplish a very complex goal, but I did it. I'll do again maybe one day, if I can raise the bar -- but as far as mining the depths of my twenties, I did that at the end of my twenties and I think I did that pretty well. I think I could be a more effective and convincing filmmaker if I venture outside those topics that I knew the best when I was making narrative films. I think I could use a little more seasoning.
I think the adventure should continue a little longer in this interactive documentary/new media advocacy career. It's not even a career, because I don't get paid. I've spent all my money doing this. But when I feel that our country is back on the right track, that democracy really does belong to the people and not to corporations, then I would love to spend the time that it takes to make a narrative film. Until that point, I would feel that I was out of the game. I do want to go back eventually. I think I've made three good movies about being young and unmarried, and curious. Then when I return it will be about something deeper than that, but I'm not sure exactly what.
9500 Liberty is playing locally at the Dobie at least through this Thursday.