Immigration Doc '9500 Liberty' Heading for Austin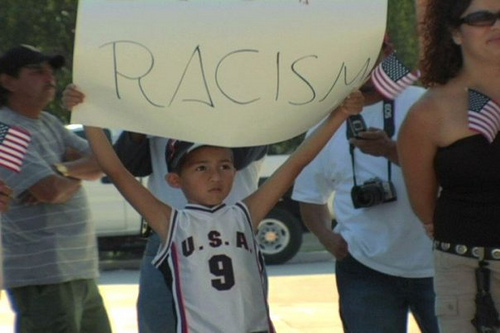 Arizona's new immigration law has provoked accusations of racial profiling, since it gives police the power to stop and detain suspects if they have "reasonable suspicion" they are in the country illegally. The law has triggered a national debate about immigration and the role that local and state authorities play in enforcing federal laws. A new documentary shines a spotlight on the social and economic impacts of immigration policies, including racial profiling.
The documentary 9500 Liberty, directed and produced by SXSW Award Winner Eric Byler (Americanese) and Coffee Party Movement founder Annabel Park, depicts the battleground in Prince William County, Virginia and on the Internet in the battle over immigration policy. Anti-immigration networks used online media to frighten local lawmakers and citizens in Prince William County. In order to counteract the racial divisions that occurred in their community, residents formed a resistance using YouTube videos and virtual townhalls. The inflammatory showdown between the groups had profound and devastating social and economic impacts in their community. 9500 Liberty shows how real people and local businesses were affected by the "Immigration Resolution."
9500 Liberty refers to the address of a property owned by Mexican immigrant and U.S. citizen Gaudencio Fernandez, a home improvement contractor and father of three. A rental house owned on the property by the Fernandez family was destroyed by a fire. During the process of tearing down the home, Fernandez decided to leave one wall standing and created the "Liberty Wall" with a banner to protest of Prince William County's Immigration Resolution. Supporters of the Immigration Resolution demanded that the sign be removed, but the City of Manassas refused to take action against the Fernandez family, citing protected speech.
9500 Liberty debuts in Texas at the Dobie Theatre on Friday, June 4, with filmmaker Eric Byler in attendance for opening night. Advance screenings are also being hosted in Austin. The Austin Immigrant Rights Coalition is hosting a screening with Spanish subtitles on Saturday, May 29 at 6 pm at the Delco Center. On June 2, Texas Senator Kirk Watson and Austin Film Festival are hosting a sold-out screening and discussion at the Bob Bullock Texas State History Museum. Although the AFF screening is sold out, don't miss 9500 Liberty during its limited run at Dobie.