Marfa Film Festival: Day 2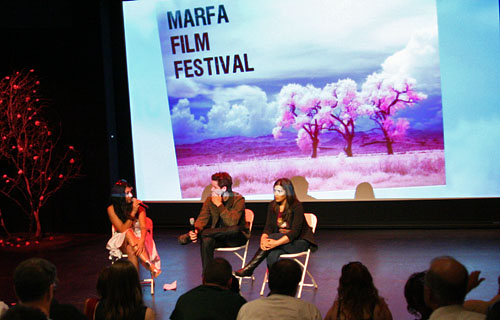 I love the feeling of waking up in an out-of-town location on a weekday and dilly-dallying to get ready while everyone else in the world (or so it feels) is rushing around like crazy trying to get to work. That is what a vacation is all about.
On Friday morning, I took my time getting ready, then wandered around the hotel area to find breakfast. I stopped at a nice little place next to a laundromat that had very good hot chocolate and wireless, which I used to scope out some potential breakfast spots. Then I wandered over to Padre's, a bar/concert venue that also serves food, which was selling breakfast tacos for the duration of Marfa Film Festival.
The guy who took my order and served me my tacos turned out to be the owner, David Beebe, who also visits Austin frequently. He's on the city council so I learned about Marfa politics, which sound a lot like our neighborhood association politics -- longtime residents versus newcomers. When I mentioned that, it turned out he knew the neighborhood where I live and we talked about the Northcross development, among other things. The whole time, Marfa Public Radio was on in the background, where someone was interviewing the filmmaker and star of the short Fanny, Annie and Danny. You can hear MPR a lot around this part of Marfa, and they did a lot of film fest-related interviews and features.
After breakfast and more puttering around, it was time for the first film of the day -- The Dry Land, which premiered earlier this year at the Sundance Film Festival. Austin Film Festival's conference coordinator, Maya Perez, introduced the film and its director, former AFF intern Ryan Piers Williams. This was only the third public screening of the movie so far.
The Dry Land is about a young man returning to West Texas after serving in Iraq, and how he and his life have changed. He's suffering from post-traumatic stress disorder, but that's not mentioned by name -- we can tell only from his actions. He has no memory of an attack he was involved in, and decides to look up his buddies to try and find out the truth.
After the screening, we had a nice surprise -- the film's executive producer, who also plays the main character's wife, was there for the Q&A: America Ferrera. MFF director Robin Lambaria led Williams and Ferrera in a discussion with questions from a local author who has written about Iraq and PTSD -- good questions, but the discussion was a little bleak at times. Normally when I am taking pictures, I like to catch the subject laughing, but no one cracked a smile as we talked about returning veterans.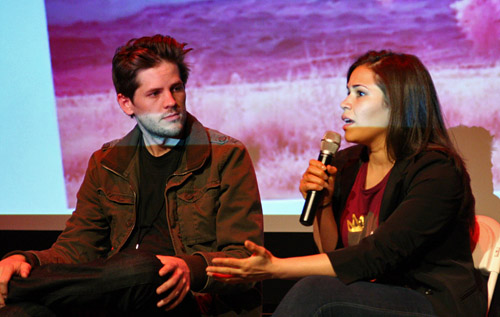 I decided to take a break for lunch ... and for looking around a bit. I ended up at a food trailer, very Austin, I know. The Food Shark serves really tasty Mediterranean dishes -- I had a combo plate so I could sample some of everything. While I was waiting for my food, I walked around the area and ran into someone I knew -- Austin photographer Chris Hamberlin, whom I know because we have both worked for the same high-tech employer. (It feels like a cult sometimes.) She was there with another woman from the same company, and we all ended up having lunch together.
Just as I picked up my food, we realized that at an adjacent table, America Ferrera was also having lunch. People were photographing her, even. And one reason why I can never be part of the paparazzi was that I figured I should leave her alone and let her eat. I was rewarded for this later, as you'll see.
I returned to the Crowley Theater in time for the 4:30 movie, Echotone. I got there early, and boy was I glad. Most of the Marfa Film Fest screenings have enough room for everyone, and I never stood in a line, but the theater was packed to the gills for Echotone. I saw people sitting in seats on the side where I can't imagine they could see at all well, and people sitting in the aisles. Apparently people like Austin music and movies about it, who knew? Robin Lambaria informed us, before the movie, that not only was this screening filled but that morning, they'd sold out all of the festival passes. Sadly, though, they had to turn people away from the Echotone screening.
Fortunately, Echotone turned out to exceed expectations. The movie, which had its world premiere at Marfa, is about Austin musicians and how the Austin music scene has been affected by development in the past few years. More specifically, many apartment and condo developments have been built near music venues, and then the residents complain about the music ... even though Stubbs and Club de Ville and Mohawk were there first. Echotone also spends some time showing us other problems musicians face, such as trying to make a living and afford health care and dealing with record companies. Austin musician Joe Lewis practically steals the film, as the filmmakers follow him around making rounds delivering fish for Quality Seafood while he talks about a variety of topics.
Echotone director Nathan Christ was around for a Q&A afterward, along with some of his crew and many of the musicians from the film. The Q&A was moderated by David Beebe, the guy who served me breakfast tacos that morning. They talked about why the film had premiered in Marfa Film Festival and not in Austin -- smaller, more off the beaten path, as well as underscoring that the difficulties in this film are not limited to Austin and/or musicians. Christ said he is planning to show Echotone in Austin in the fall.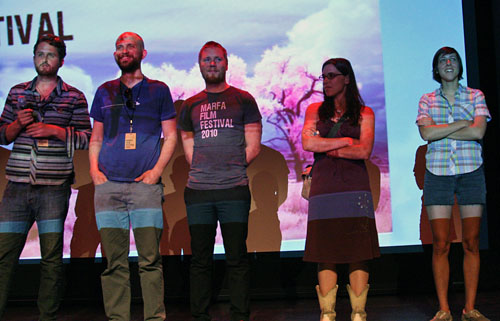 I took a break after Echotone, picking up some pizza from a street vendor (from Asheville, North Carolina) and having some quiet time in the hotel room for a bit. In addition, I confirmed an interview that the helpful PR folks at MFF set up for me for Saturday: Ryan Piers Williams and America Ferrera. See, the universe is kind to people who don't photograph actresses while they are trying to enjoy lunch.
After a rest, I changed into warm clothes and eventually headed for El Cosmico again. I got to the outdoor venue in time for a very interesting little exercise. Mexico City musician and sound artist Lazaro Valiente showed a number of film clips without sound, and asked the audience to participate in recording sound for them using cheap little instruments he had distributed in various seats. There were also microphones all around the audience area. At times he conducted the audience as they waved their noisemakers; other times, he accompanied the film on his guitar. It was great fun to watch and take a few photos.
The only drawback of taking photos of this event was that I lost my own seat, and had nowhere to sit for the feature film, The Athlete. I tried to watch it standing up but was just too tired. I headed back to the hotel, and am hoping for another opportunity to see The Athlete at some point.
By the way, I've started posting my Marfa Film Festival photos to a Flickr set -- check it out. And check back again later because I'm not done updating the set.