Cine Las Americas 2010: Day 9, That's a Wrap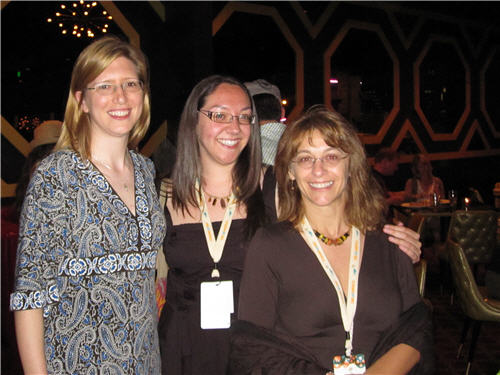 I'm feeling the post-fest blues already. Another Cine Las Americas is over. But it's less than a year til the next one. Chamaco (The Kid), the closing-night film played to a near capacity crowd, with a special introduction thanking festival staff for their hard efforts and announcing the winners of the competitions. I think I wrote them down correctly, but if not I'll correct it when the official announcement comes out:
Once the closing-night film Q&A was over, the party started over at The Highball to celebrate one more successful Cine Las Americas. And what a year: the audience has been bigger, and more diverse, and the programming equally diverse. I'd been skipping the parties because of too much else going on, something I always end up regretting at the end of film festivals and this was no different. That doesn't mean I didn't make the most of it until my knees gave out.
I had a chance to talk to Daniel Rovzar, one of the producers of Amor, dolor y viceversa (Love, Pain and Vice Versa) and La Profecia De Los Justos (The Last of the Just). I really wish I recorded the Q&A of the latter film, with great commentary on Mexican film and the brothers Rovzar's vision to break "Mexican" as a genre in and of itself. He told me a bit about their latest effort, an action comedy called Salvando al Soldado Pérez (Saving Private Pérez) which just might be Fantastic Fest worthy, a goal they have in mind. It's the story of a drug lord whose mother's dying wish is to see her other son one last time, only he's enlisted in the U.S. Army and is serving in Iraq.
I also had a chance to meet Miguel Alvarez (Mnemosyne Rising), a local filmmaker. Chatting with Miguel made me realize I really need to socialize more at these events. And when Cine Las Americas staffer Elena Bessire introduced me to Emilia Arau, I had no idea who she was. Arau, now an Austin resident, has an extensive resume in film, including a consulting producer credit on one of my favorite recent films, La misma luna (Under the Same Moon).
And that's just touching the surface; so many great people were at The Highball hanging out and talking, and around the time I left, someone was breakdancing. Dunno who, or what it had to do with Cine Las Americas, but who knew The Highball dance floor would include breakdancing? Maybe it was the discount Palomas and Ritas. Another party had the same drinks on special a few months ago, but were not nearly as good.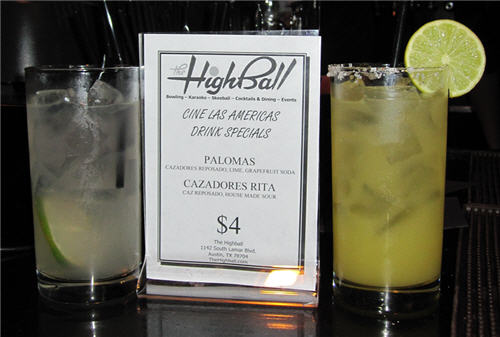 If you feel like you've missed out, and wish you'd seen some of the films, plenty of free screenings are sponsored by Cine Las Americas through the end of the year. A short series will soon start at the Harry Ransom Center on the Mexican Revolution Films of the 70s, and others at the Mexican American Cultural Center will celebrate the Mexican bicentennial and the centennial of the revolution. But more about that later, since I'm exhausted and need sleep.
[Pictured: Jean Lauer and Elena Bessire of Cine Las Americas, and filmmaker and jury member Emilia Arau]