Cine Las Americas 2010: Days 7 and 8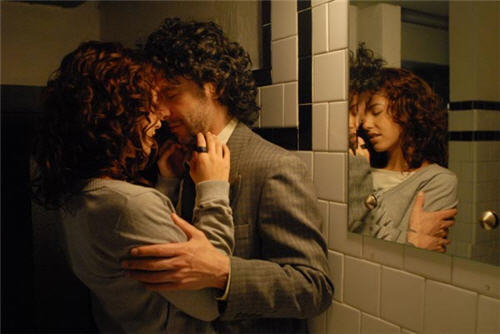 I'm sorry I missed updating you all about Cine Las Americas's Tuesday schedule, but I plead a case of Robert Downey Jr.-itis. I would've only seen one movie anyway, as only one was scheduled at Alamo Drafthouse on South Lamar that night. Speaking of which, I have to give a shout-out to the Alamo Lamar staff, which handled not one, not two, but three special events that night on top of a weekly series event, meaning every single theater was filled with unique programming in the early evening. What could have been a major cluster... mess, went off rather smoothly. Thank you, Alamo Lamar for that.
Wednesday night, well, you should've been there. Even with two more special screenings, including a special A Nightmare on Elm Street preview with Jackie Earle Haley in attendance and a marketing sneak of part of Toy Story 3 (college students only), things still seemed to run smoothly at the south Alamo location.
At Cine Las Americas, the theme for the night was twisted perceptions. Viajo Porque Preciso, Volto Porque Te Amo (I Travel Because I Have to, I Come Back Because I Love You) is a narrative collection of images turning a travel diary of a geologist into an insight on relationships and endings. The narrator is never seen, but through his travels on a field study for an upcoming canal development that will displace farms and villages, the loneliness of the road and what was left behind is heartbreaking. Unfortunately too many of the images are distractingly blurry, but it's still worth a watch.
I may have to change my favorite film of the festival, after seeing the mind-bending thriller Amor, dolor y viceversa (Love, Pain and Vice Versa). A young woman refuses to date because the man in her dreams is perfect. In fact, her dreams are disrupting her friendships and her life, when they start taking a darker turn as she searches for this stranger and it turns out her dreams are someone else's nightmares. Amor, dolor y viceversa is manipulative filmmaking that toys with the audience's perceptions. Producers Daniel Rovzar and Fernando Rovzar, also in town for La Profecia De Los Justos (The Last of the Just) did a short Q&A and confirmed that Amor, dolor y viceversa will at the very least get U.S. DVD if not theatrical distribution. I sincerely hope it gets the latter, as this one is going to start some conversations.
Tonight -- Thursday -- is the final night of Cine Las Americas, with the Chamaco (The Kid) as the closing-night film. The movie stars Martin Sheen as a doctor who joins his professional boxer son to mentor a teen boxing hopeful in Mexico City. Director Miguel Necoechea and Producer Don Franken will be in attendance. Hope to see you there.