Cine Las Americas 2010: Day 3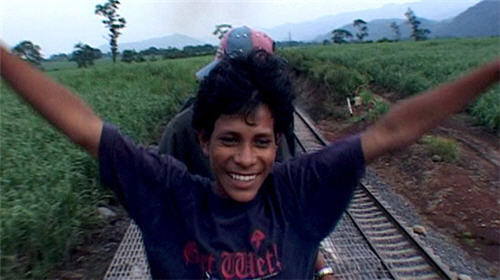 There's a phenomenon I've noticed at the smaller festivals in town: audiences generally don't applaud when the credits start. So when the audience at my first film of the day erupted into enthusiastic applause when the credits started, you know it was a crowd pleaser.
That film was El Regalo (The Gift), a Chilean comedy about a freshly retired professor who's taken against his will on a seniors' vacation just after his birthday. An exploration of love in a group that the western world assumes are past passion, it's often as insightful as it is funny. Even with the cheesy ending, it was quite fun, and obviously a crowd pleaser.
Which brings me to the bumpers at Cine Las Americas; the theme is again, "If this is our reality, imagine our films," using soundbites from authorities and other news sources as inspiration. I really wish the one of Argentinean president Cristina Fernandez urging people to eat pork because it's better than Viagra played in front of El Regalo, because it would've been perfect. They have one with a rambling beauty queen, and another with Hugo Chavez about taking a shower with a cup of water, the latter being available on the Cine Las Americas website and YouTube. The series is created by LatinWorks.
Speaking of perfect, I have to comment on the festival's lanyards. Let me just say that whoever donated them, thank you. They're wonderfully comfortable. I may have to do an editorial on the hell that is film festival lanyards, and use the Cine Las Americas 2010 lanyards as an example of near-perfect ones in a wide strip of jersey. They'd be absolutely perfect if they had swivel head hooks at the end, but that would also make them more expensive.
Anyway, next up was El acuarelista (The Watercolorist), a theatrical absurdity about a man inspired to give up everything to paint watercolors, only to be continuously obstructed by his neighbors. It didn't work for me, but those who love extravagant absurdist comedies might love it.
Next up was a pair of docs, starting with Artzainak: Shepherds And Sheep, a short about the history of immigrant sheepherders in Idaho with directors Jacob Griswold and Javi Zubizarreta on hand for questions. Good thing they are hoping to make a feature-length doc, because the questions didn't stop. Their film plays again tomorrow with another feature.
I had to end my evening with Rebecca Cammisa's Oscar- and Spirit- nominated Which Way Home, a heart-wrenching eye-opener about Central American children who choose to brave the very perilous journey to cross into the United States on their own. This provocative documentary will open your eyes about the myriad reasons why these children would risk their lives and the consequences of becoming illegal immigrants. I wish Cammisa was in attendance for a Q&A but that's a Q&A worthy of a panel session.
After that I wasn't up for any more for the day. But Saturday is going to be another packed day at Regal Metropolitan, again with two screens, starting at noon, with the possibility of seeing six screenings. Highlights and recommendations:
Hecho En Tejas Showcase -- These are all Texas made films, and the showcase includes locally made Taco! Taco! Taco! by director John Estrada and When I Grow Up by 2009 CLAIFF alumn Sharon Arteaga (both will be in attendance), and Whales of Gold, an eye-opening doc about eco-tourism in Mexico.
Tom Zé: Astronauta Libertado plays again; this is the guy who inspired Talking Heads' David Byrne's obsession with Brazilian music, so if you like either, you want to check this one out.
The Red Queen is another Hecho En Tejas selection, this time a feature-length film about a young woman searching for her mother.
Another Austin-made short, Mnemosyne Rising, which played SXSW is playing before the feature Tercer Mundo (Third World)
Lastly, this looks like a potential "midnighter" type pairing: Sebastian's Voodoo is a short about a voodoo doll out to save his friends from being pinned to death, and the feature Oveja Negra (Black Sheep) about some ranch hands who are fed up with their boss. I'll tell you how it is on Sunday, or better yet, come see it with me.
One more thing: I highly recommend bringing a sweater, as it gets downright chilly in the Metropolitan.