Cine Las Americas Announces 2010 Fest Lineup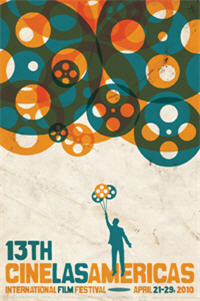 On Saturday night, the Cine Las Americas team made most of their festival lineup public, with 100 films from Latino and indigenous filmmakers around the world. The 13th Annual Cine Las Americas International Film Festival (CLAIFF) runs April 21-29 at three different venues around Austin. The opening-night and closing-night events are still yet to be announced.
CLAIFF is one of the smaller festivals around town, at least in terms of visibility to Austin's film geeks. Despite being in the shadow of SXSW, CLAIFF has an international film festival, with submissions coming from 23 countries. But it's not just a festival about the Latin experience, it's a celebration of indigenous culture as well.
I've seen some of the films that were accepted in the CLAIFF program this year, and I have to say that if you think you're an Austin cineaste and you haven't yet attended Cine Las Americas, you really need to correct that shortcoming. The mix of documentaries and narratives includes a little something for everyone, and you will likely find yourself pleasantly surprised, and in some cases have your worldview changed.
Vigils against alien invaders. Haunting memories overshadowing current experience. Struggling to survive in Haiti prior to the earthquake. Musical traditions unheard of by the outside world. People chosen to maintain balance in the world. A homophobic son who learns his father is gay. A musician returning an instrument to his elderly teacher. These are just a few of the stories in the narratives and documentaries accepted into the 14 programs at Cine Las Americas this year.
The Oscar and Spirit Award nominated documentary feature Which Way Home, an eye-opening look at the struggles of children from South and Central America trying to cross into the U.S., is among the nine films in the Documentary Feature Competition program.
At first glance, Austin connections include three shorts in the Hecho en Tejas program: Taco! Taco! Taco!, the story of two battling taco vendors; the enlightening documentary about eco-tourism, Whales Of Gold; and Death Rattle, one of the more unique coming-of-age shorts I've seen. [Jette interrupts to note that it seems Death Rattle filmmaker A.J. Garces, currently living in San Antonio, is also one of the illustrators behind the amazing Havana Street retro clip art, which originated in Austin.]
SXSW 2010 selection sci-fi short Mnemosyne Rising, from local filmmaker Miguel Alvarez, will be battling it out in the Narrative Shorts competition with Sundance Honorable Mention and Fantastic Fest selection The Attack of the Robots from Nebula-5 (El ataque de los robots de Nebulosa-5).
I'll have more details about CLAIFF for you in the next few weeks up to and during the festival. But in the meantime, consider buying a pass and having your pick of films from around the world. And if your budget is too tight for a pass, consider going to the films screening at the Mexican American Cultural Center (MACC), which are free and open to the public. Other venues include Alamo Drafthouse on South Lamar and Regal Metropolitan. You can buy individual tickets or passes good for all films at the Cine Las Americas website.