SXSW Review: Richard Garriott: Man on a Mission
Richard Garriott: Man on A Mission is an inspiring full-length documentary by local filmmaker Mike Woolf that chronicles Austin serial entrepreneur and game developer Richard Garriott as he becomes the first second generation astronaut to travel into space. The film takes viewers on a detailed countdown to launch as Garriott makes his way through his year of training. From Star City, Moscow, to NASA, to Yuri Gagarin's original launch pad -- viewers are Garriott's co-pilot in his journey to the stars. Through Garriott's experiences, the audience not only gets a fresh look at the under-appreciated history of the Russian space program but also is exposed to never-before-seen footage from inside the re-entry capsule.
The liftoff to space seen in Man on a Mission was a lifetime in the making. Garriott built his fortune as one of the founding fathers of massive multiplayer online role-playing games (MMORGs), most notably his first game Ultima. From his first game sale in high school to his millions with Ultima Online, he has invested in private space travel including the Spacehab modules. He is a primary funder of the X-Prize and Space Adventures, the only company that can take private citizens to the ISS -- Garriott is the sixth one to fly to orbit.
In January 2008, Richard Garriott wrote a $30 million check to secure his seat on a Russian Soyuz rocket. This expense was no whimsical joyride for him -- as the son of a NASA scientist-astronaut who flew onboard Skylab in the 70s, he believed space travel to be normal. Since he was diagnosed with nearsightedness at an early age he couldn't qualify as a NASA astronaut, so he became determined to find a way to make private space travel a reality.
Man on A Mission reveals how training to fly aboard the Russian Soyuz is quite difficult. Most of the training takes place in Star City, Russia's recently declassified cosmonaut training center. In this film, third space flight participant Greg Olsen shares his experience as well, as he states how he found the Russian language classes the most difficult -- with all the Soyuz's instrumentation and mission commands in Russian, an understanding of the language is critical. Step by step, Garriott guides the audience through the inner workings of the Russian space program. Training highlights include centrifuge training, hydro-lab work, and treacherous water rescue training in the Black Sea.
On a cloudless day in October of 2008 in Kazakhstan, family, past astronauts and future space flight customers including Google's Sergey Brin, watch as Garriott and crew leave Earth's orbit on their trip to the International Space Station (ISS) for a 10-day stay. As the scene cuts between the rocket and the spectators' reactions, the tension and historical significance provoke emotion from viewers.
Once in space, Garriott takes over the filming. He and his camera float weightless inside the tiny Soyuz capsule for the two days it takes to dock with the ISS. Man on a Mission then focuses on the experience of life on board the space station as Garriott performs science experiments, looks down on Earth and even does magic tricks and the first art exhibit in space. After a tense docking with the ISS, Richard gets down to work. Not only does he continue the experiments, but he also inspires kids all over the globe via ham radio, puts on a art show, duplicates the same photos his father took from Skylab and finds time to juggle with a crewmate ... and also films the first movie in space with crewmates.
The 10 days go by quickly and then it's time for re-entry. After an emotional goodbye with those staying behind on the ISS, Richard dons his space suit and turns on his camera to film an exclusive ride back to Earth like no other, including a look out the window during the fiery re-entry as the capsule is in communication blackout. Once safely back on Earth, his father is waiting to greet him.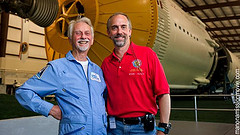 Through Man on a Mission, we meet several inspirational characters including NASA astronaut Mike Finke, Russian cosmonauts Yuri Lonchakov, Sergey Volkov, Oleg Kononenko, and Richard's father, NASA astronaut Owen Garriott. Owen is truly a man with the right stuff and is featured prominently in the film. He helps Richard develop science experiments to conduct in space and literally walks him to the rocket that will carry the first son of an astronaut to space. Brother and Origin Games co-founder Robert Garriott is also featured and provides some humorous moments -- "essentially Richard's job is to carry an ice cube into space and let it thaw" regarding the protein crystal growth research -- throughout the film.
From the opening moments, the cinematography and editing in Man on a Mission hook viewers as we see the Soyuz rocket being prepped for the launch pad and the astronauts suiting up. The cinematography is stunning, originated primarily in 1080p HD on RED Camera and Canon HL-1 with additional footage from various sources. Richard's HD space footage was filmed with Sony's HVR-V1U. As mesmerizing as the liftoff and ISS footage is, it's the never-before-seen footage of the re-entry capsule making its fiery return to earth that is most exhilarating, leaving me awestruck. The animation strongly supports the pacing of this film, and is a great example of how creativity can be applied in documentaries without appearing contrived, dispelling the stereotype that documentaries are "dry and boring." Musical contributions from Brian Satterwhite and Candi and the Strangers were well-chosen for this space documentary.
Man on a Mission effectively dismisses the skeptics who call Richard Garriott an eccentric or oddball. Instead, this film reiterates the immeasurable value of space travel and how private industry can further the benefits of space exploration and the accomplishments of scientific research in zero gravity conditions. Many well-known entrepreneurs/explorers who made millions in the technology boom are opening up the business of space to private industry. Man on a Mission shows how Richard Garriott is leading the way. Through this intimate and rare perspective of life on board the Space Station and his incredible journey, audiences of all ages are given inspiration, to explore our dreams and beyond.
Austin Connection: Garriott makes his home in Northwest Austin. His Brittania Manor is featured and viewers get a rare glimpse at some of his rare collections including his Sputnik. Beef and Pie Productions is based here in Austin, and includes editor Catie Cacci, director of photography Andrew Yates and executive producer Brady Dial -- read our interview with director Mike Woolf. Check back for our red-carpet coverage and an exclusive interview with Lord British himself, Richard Garriott.
Richard Garriott: Man on a Mission plays SXSW one more time -- today (Thursday 3/18) at 2:30 pm at the Paramount.
[Photo Credits: Soyuz Meal; Richard and Owen at NJSC, courtesy of Beef and Pie Productions]