SXSW Spotlight: Mike Woolf, 'Man on a Mission'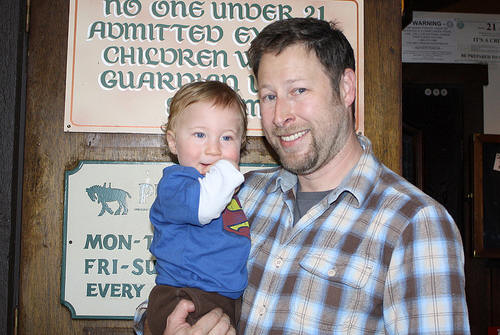 Although he hails from Baltimore, documentary filmmaker Mike Woolf is now firmly planted in Austin and no stranger to SXSW. In 2000, he started Beef and Pie Productions with renowned photographer/DP Andrew Yates and producer Karen Yates. Four of their short docs including Growin' A Beard, The 72oz Steak, Tuesday Nighter and Life is Marbleous have premiered at SXSW. I caught Growin' A Beard at SXSW in 2003, and was amazed to see how the filmmakers made an engaging documentary based on an annual beard-growing contest in Shamrock, Texas.
The Beef and Pie Productions team has now taken on their first full-length documentary, Richard Garriott: Man on a Mission, featuring a certain local entrepreneur and the first second-generation astronaut. I had the chance to sit down with Mike Woolf at the Draught House -- hence all the beer references -- to discuss his latest project. Here's what he had to say:
What attracted you to Man on a Mission and how did you get involved with this subject?
Both Brady Dial [producer] and I have known Richard Garriott through a mutual friend. We knew this wasn't just a $30 million vacation for Richard. We knew that he would be the first son of an astronaut to go to space ... that alone was enough to consider following him. We knew his dad Owen Garriott was involved in his mission, and we learned that Richard had basically pioneered private space travel to make this happen. Finally, Richard is a born storyteller -- that's what his games are about, his haunted houses and his mansion. Put that all together and we knew it was worth trying to make this project happen.
What were some of the challenges in filming this documentary?

We didn't have the rights to the story. We talked to the people who did and quickly realized they weren't interested in telling Richard Garriott's story. So we just started shooting Richard's training and waited for their contract to expire. Other challenges were being allowed so few crew to be present at NASA, Star City and the launch itself. Often times it was just Brady, Andrew [Yates] and I. Sometimes it was just Andrew and I. We left Brady in Moscow by himself once Richard reached orbit.
What was it like meeting Owen Garriott? Working with Richard Garriott?
Meeting Owen Garriott is hanging out with Space Royalty. He rode an Apollo rocket for godsake. He's the real deal. Working with Richard has been awesome. He's humble, up for anything and likes beer almost as much as we do.
What are your plans for this documentary? Distribution?
HBO baby!
What advice would you give to a new filmmaker who wants to make a documentary?
Don't do it! Are you insane? Get a real job. Something that will put food on the table. But if you insist -- get a tripod and a good mic.
Tell me about Brian Satterwhite's work for this film, as well as your other composer, John Constant of Candi and the Strangers.
Brian is a good friend of Brady's so we knew we'd be tapping his talent. We are also both friends with John Constant, a lifelong musician who just happens to have an amazing space band. If there was a club on the moon, they would be the headliner. Or at least the opening act for Bowie. John has been composing music for us throughout the entire edit. Catie Cacci [editor] has been throwing it against picture the whole rough cut and some of it has stuck. We knew 4-5 places John's music would be and then Brian composed everything else to a somewhat locked picture.
What are the benefits of telling this story? What audiences will this documentary appeal to?
This film captures a moment in space history. One that is only going to grow in importance as we move forward. In one person we usher in the second generation of human space exploration and the industry of private space travel. This is not just for fans of space - it's for anyone who works on a dream until it becomes true.
How do you address creativity in your film?
Collaboration. With beers preferably.

Richard Garriott: Man on a Mission will screen at SXSW on Sunday, March 14, 1:30 pm, and Thursday, March 18, 2:30 pm, at the Paramount. If you don't have a film badge or pass, you can buy tickets through the Paramount or try to get them in person 15 minutes before the screening. SXSW Film and Interactive badge holders are welcome at the Man on a Moon Spacetacular Party featuring special guests, Russian food and an opportunity to touch a Sputnik. Be sure to check out the trailer. Slackerwood will also feature an interview soon with Lord British himself, Richard Garriott.
[Photo credit: Isaac and Mike Woolf at the Draught House, by Debbie Cerda]