Quick Snaps: The Bone Shack in Austin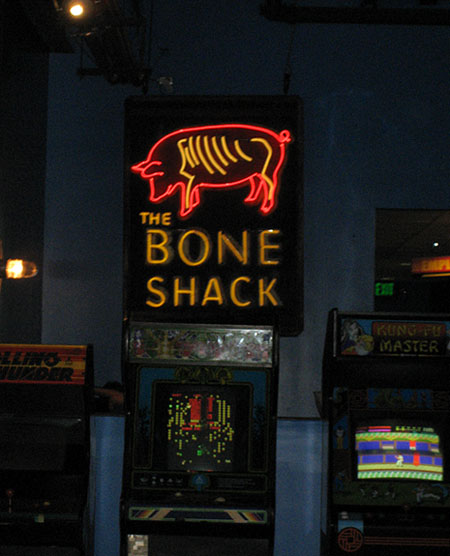 ­
My husband and I were at Alamo Drafthouse on South Lamar on Sunday to see Sicko, and on our way into the theater we noticed all kinds of changes, mostly imports from Alamo Downtown. The first one was Karen, the longtime manager of the downtown location ... you know everything's going to be all right when you see Karen on the case. Mondo Tees has taken over the old box-office space. The tall tables and chairs from the sides of the downtown theater (I spent 24 hours in one of those seats once) are now in the South Lamar lobby, providing a nice place to hang out before/after movies. Some of the couches from the last row downtown lined the hallway between the theaters.
But the most charming addition to South Lamar wasn't from Alamo Downtown, it was from Planet Terror, Robert Rodriguez's segment of Grindhouse. Here's the sign from the barbecue joint, The Bone Shack, right behind a row of video games. (Amusingly, one of the video games is Rolling Thunder, which is also the name of one of Quentin Tarantino's favorite films ... he founded a short-lived distribution company with that name in the 1990s.) I know Planet Terror was shot in Austin, but I don't know which location was used for The Bone Shack. Anyone?
And when we left the theater after Sicko, we saw the biggest import of all from the Downtown locale ... the sign.