Quick Snaps: Last night at Alamo Downtown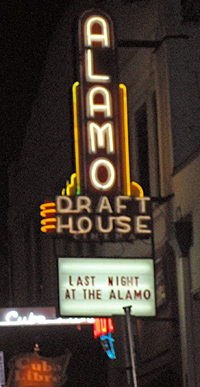 ­
Updated (8 pm): Matt Dentler has photos and commentary from the Last Night festivities. Wiley Wiggins posted a Flickr set of the last night at Alamo, including pictures of the sign being taken down. Austinist has a couple of excellent photos. Freddie Avalos has even more photos, including some of the sign being carted away. Warning: This will make you feel very very sad.
I didn't go to the Last Night event at Alamo Downtown -- I ended up seeing Brewster McCloud at Paramount instead. But afterwards, I drove up to the theater, put on my hazards, and managed to snap a couple of (not so great) photos. I wasn't even there long enough to get nostalgic, but I am feeling a little down this morning.
Thanks to all of you who are participating in and reading the Alamo Downtown Blog-a-Thon -- it's been a wonderful experience. I figured about a half-dozen, maybe a dozen people, all of whom I knew, would post entries. But at last count, there were 30 links on the page -- some to photos, some to blog entries, some to mini-sites dedicated to remembering Alamo Drafthouse Downtown. The stories in the comments section are also fun to read. I don't know everyone who sent me a link, and not all of them are "fanboyish" entries, either.
It's not too late if you still want to write something, since Blake and I see no reason to shut down a project that everyone's enjoying. I'm keeping a link to the blog-a-thon in the right sidebar; I know I'll want to go back and read some of these entries more than once. This one is my especial favorite, but that's because I am totally biased.
Special thanks to Tim League for promoting the blog-a-thon actively on the Alamo Drafthouse blog as well as in person during some of the last week of Alamo events. (Not to mention that he and Karrie opened the theater in the first place and have made all three original Alamo theaters such delightful homes for film geeks.)