Review: Adrift in Tokyo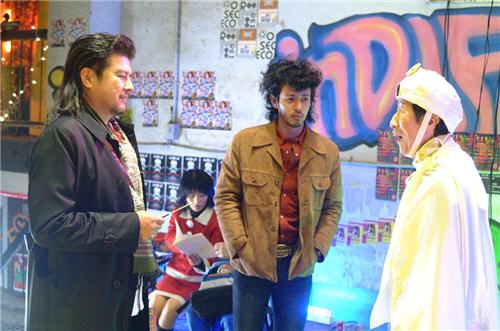 On Tuesday night, Fantastic Fest held a special screening of Satoshi Miki's Adrift in Tokyo, a film the fest organizers tried to get for FF2008, and one that hasn't any U.S. distribution. Thanks to a special arrangement, the film is getting a special engagement run at the Alamo Ritz, which kicked off with a free screening primarily for Fantastic Fest badge holders.
On a purely technical level, Adrift in Tokyo doesn't really fit into the Fantastic Fest programming categories other than being, well, fantastic. Austin Film Festival goers who fell in love with another Japanese film, Happy Ending, are sure to love this quirky, surreal piece of cinema. The Keep Austin Weird crowd will want to make Tokyo a sister city as well after viewing the eccentric leads and the quirky random characters that wander in and out of the film.
Fumiya is a slacker extraordinaire. After eight years in university, he's still a student, and heavily in debt. He gets a shocking visit from Fukuhara, a debt collector who gives him three days to pay up the 8,400,000 yen (about $96,000 USD) he owes to loan sharks. Even more shocking is the offer Fukuhara makes the next day: For accompanying him on a walk through Tokyo, he will give Fumiya 10,000,000 yen.
The resulting walk is a study in character in every sense of the word. The characters aren't exactly archetypes -- Fukuhara (Tomokazu Miura) is curmudgeonly, yet philosophical, and slowly reveals a need for companionship and understanding, as the reason for the walk is revealed. Fumiya (Jô Odagiri), equally selfish and petulant, rediscovers reasons to connect with people. Both men regress to a purer self during their journeys into Tokyo neighborhoods rarely seen in cinema.
Adrift in Tokyo also includes a cast of supporting characters and random acts of weirdness that could make Austinites feel at home, some seemingly normal, until they talk, to ones who look like their wearing a costume that Elton John vomited up while on acid. It would take several pages to list out all the characters, but it would be more fun to watch the film first.
Adrift in Tokyo is one of those hard-to-define films other than "independent" in spirit, hilariously funny, and surprisingly poignant. It deserves an audience that will appreciate it on the big screen.
You will regret missing this one if you don't see it. Adrift in Tokyo doesn't have U.S. distribution, but Evokative Films has picked it up for Canadian DVD release.