Idiocracy's opening night in Austin
My husband and I went to Alamo Drafthouse on South Lamar last night to catch Idiocracy on its opening night. I was assigned to review the movie for Cinematical, and normally when no press screenings occur I would have seen the movie as early as possible so I could post the review as quickly as I could. However, I was curious to see what kind of crowd (if any) that the non-publicized Mike Judge film would draw, so we bought tickets for the 7:45 pm show.
You can read my review of Idiocracy on Cinematical. I have a few extra comments, particularly related to Austin.
First of all, here's a photo of the audience at Friday night's film. I wish I could send a copy to the studio behind the film, Twentieth Century Fox. With no trailer and no publicity at all, the Alamo audience was hardly sparse:

The photo was taken about 10 minutes before the movie started, and even more people filled seats after I returned to mine. In fact, the first three rows were well populated, and if you've ever been to Alamo South you know those neck-craning seats are usually not anyone's first choice.
I realize that the movie didn't fare well in other cities (one commenter on Cinematical said he saw the movie in an LA-area theater on Friday night with an audience of four). Austinites sure do love watching anything involving local filmmaker Mike Judge, and the audience did include some people who were involved with the Austin filming of Idiocracy. (I met one nice woman whose daughter played a cute child who hugs Luke Wilson's leg.) I talked to some friends and coworkers on Friday before I saw the film, and either they hadn't heard of it at all, or didn't know it was being released this weekend. Once they heard a Mike Judge film was in theaters, though, they said they hoped they'd get to see it.
The audience we saw Idiocracy with loved the film, laughed a lot throughout, and chatted happily about it afterwards. One person did hiss the Twentieth Century Fox logo when it appeared onscreen (it was the guy sitting next to me and wearing a ring I gave him nearly three months ago), and the audience applauded when the title appeared.
After the movie ended, we walked out to the Alamo lobby, where we were approached by Austin Movie Show's "Movie Musketeers" crew: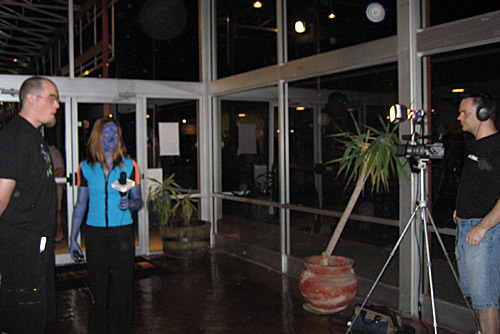 They were filming people's reactions to Idiocracy and asked if we wanted to be interviewed. We agreed, and waited in line with a few other people. I listened to the interviews before ours, and everyone seemed to be saying positive things about the film. We were interviewed by a charming robot.
(Austin Movie Show is broadcast locally on Sunday nights at 10 pm on cable channel 16. We're definitely watching tomorrow night to see if we made the cut. Look for a short-haired woman in a black Cinematical t-shirt next to a man in a white The Helmet Law Sucks t-shirt. Considering that my husband mimicked the film by flipping the bird on-camera, I'm not sure if we'll appear on the show.)
If you live in Austin and know the town pretty well, you can try to spot familiar locations in the film. My husband pointed out the Convention Center, where Luke Wilson's character encounters some amazingly stupid voice-activated software, and one scene appeared to take place in the midst of construction at I-35 and Ben White. (If you recognized any other locales, feel free to point them out in the comments section.)
I hope most of you who aren't in Austin will get a chance to see this film. My husband said this morning that he hasn't been so entertained by a movie since we saw Kiss Kiss Bang Bang last year. However, with potential poor turnouts in non-Texas cities, and Fox's mysterious decision not to give this movie more than a perfunctory release, you may have to wait for DVD. This is a shame, because some of the funniest moments in the film were background sight gags, which may be harder to see on a TV screen.
If you are in Austin or one of the other half-dozen cities where Idiocracy opened this weekend, and the film sounds even the least bit appealing to you, consider seeing it this weekend if you can. After all, there's a slight chance that if the film does well in its limited theatrical release, it might expand to other cities. So you're not just getting a lot of laughs in a nice air-conditioned theater, but you're potentially making it possible for other people to enjoy the film in a theater. And although Fox may laugh all the way to the bank if it does well, it would still indicate what idiots they are about their decision not to promote this film.
(Someday I hope to find out exactly what happened between Mike Judge and Fox. Someone's gotta spill the beans sometime.)