SXSW 2008: The Duplass Brothers and 'Baghead'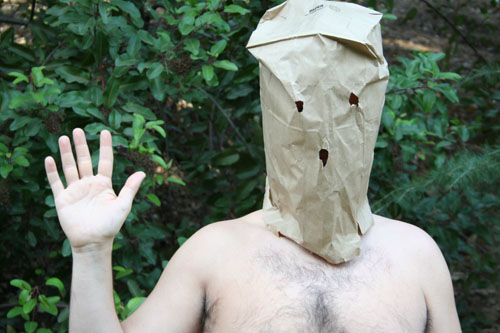 I vividly remember the screening of The Puffy Chair I attended during SXSW 2005. The brothers who wrote and directed the film, Jay and Mark Duplass -- why did their names sound so familiar? And their mom, who was in the film, handed out buttons with little puffy chairs on them afterwards, and she looked vaguely familiar too. I thought about going to talk to them after the screening, but they were mobbed.
So I called my mom, because I suspected this might be a case of the old familiar "New Orleans has one degree of separation, not six" syndrome. I was right. In fact, my mom had just seen Cindy Duplass over at the grocery store and had heard all about her sons' new movie. Years before, my mom had bugged me over and over again about how I should try to get in touch with one of my little brother's high-school cross-country team buddies who had moved to Austin, but I didn't see why I would want to hang out with one of his bratty, jock-y friends. And now that track-team kid, Jay Duplass, had teamed up with his little brother Mark to make movies, some of which had played Sundance.
I ended up emailing the guys and then meeting them in person in 2006, when they showed The Puffy Chair at St. Edward's University and did a long Q&A about the business of indie filmmaking. We had several things in common: that weird background of both New Orleans and Austin, film geekiness, and a delight in making slightly mean jokes about my brother.
Jay and Mark Duplass will be back in Austin next week for SXSW to show their latest feature, Baghead. The minute I heard the title, I had to wonder if they were inspired by a certain New Orleans sports-based trend that occurred in my childhood. And I was right ... sort of. We did a quick email interview earlier this week about the film.
I have to ask: You've got a character with a bag on his head. Was this at all influenced by all those disappointed Saints fans in the 1980s?
As a matter of fact, this is our synopsis: In 1980, the New Orleans Saints were well on their way to another losing season. 1 win. 15 losses. Some of the fans were losing hope and gaining shame. They stopped going to the games for fear of being seen as a blindly optimistic fool and ridiculed at work the next day. Some fans, however, would not abandon their beloved home team. Sure, they were embarrassed and ashamed, but they were loyal. They stayed. They believed. But, they needed something to hide their faces. Something cheap, something readily available. Something brown and crinkly, where the eyes and mouth could easily be punched out. Now, this story doesn't really have anything to do with our movie, but it kinda does. When one looks out over a sea of people in a major NFL stadium wearing bags on their heads, it's a bit hard to process. It's definitely a funny sight, but in the right light, it's kind of terrifying, too. That very dichotomy was exactly what we wanted to explore with Baghead.
I know you shot parts of the film in Austin -- I remember you putting out a call for extras in 2006 at the Arbor Cinema. Where else in Austin did you shoot?
We shot at Arts on Real, and the rest of the film was shot in Smithville, Texas.
Why Smithville?
They have pine trees that make the area look like the Big Bear Lake area of California.
What are some of your most/least favorite things about filming in Austin?
Our favorite is we get to be in Austin. I'm so homesick. Least favorite is that we go home to L.A. and live with homesickness for Austin for a few more months.
Will you be in Austin for SXSW? If so, what are you most looking forward to doing while you're in town?
We will be there for SXSW and mostly we look forward to having fun and seeing our friends and seeing movies. Strangely enough, that doesn't happen at Sundance.
So when are you and the Zellner brothers going to hold another smackdown? [See the YouTube video from SXSW 2007 if you don't know what I mean.] Will there be a Baghead vs. Goliath wrestling match?
We hold our own little personal smackdown every time we come into town, and by smackdown I mean dinner at Kerbey Lane north and then watching some weird footage David and Nathan recently got a hold of.
Did you give your parents a role in this film, like you did in The Puffy Chair?
Nope, they are currently too "big time" for small indies these days... after a year of Puffy Chair showing on Showtime, they're on to bigger and better things.
And so are the Duplass brothers -- during Baghead's premiere at Sundance this year, Sony Pictures Classics picked up the distribution rights to the film. No word yet on a release date, but you can catch the film at SXSW on Sunday, March 9 at 6:30 pm, at Alamo Ritz. And if you don't like the movie, you can always put a bag on your head too.