Elizabeth Stoddard's blog
Being a single twentysomething gal sucks on Valentine's Day. Right? Because you spend the day wailing and whining, planning anti-Valentine's Day parties that no one RSVPs to, and scarfing down candy, since that candy is the closest thing to a soulmate you will find for the day. Or so the Garry Marshall-helmed Valentine's Day would have us believe, by having Jessica Biel's character do just this. Despite the ginormous cast, don't look for self-confident women in this film ... unless you count the all-too-brief appearances by Queen Latifah as a sports agent.
The main story -- what there is of it -- tends to focus on the plight of a confident, happy-go-lucky flowershop owner, Reed (Ashton Kutcher). Reed's best friend is an elementary-school teacher, Julia (played by a chipper-despite-all-odds Jennifer Garner). Both of them are dealing with their own relationship issues; it's Valentine's Day, after all -- at least that's what somebody seems to say every five minutes throughout the film. There are also various subplots: a football player (Eric Dane) making a big life decision, an army captain (Julia Roberts) flying home to see a loved one after 11 months overseas, a little boy trying to express his love for his valentine, an office temp/phone sex worker (Anne Hathaway) dealing with the possibility of a new relationship, an older couple (Shirley MacLaine and Hector Elizondo) taking care of their grandson, and more!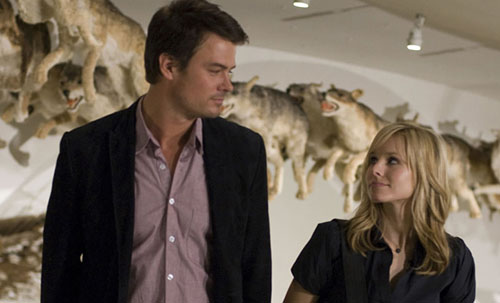 Please welcome guest reviewer Elizabeth Stoddard to Slackerwood.
Sometimes trailers work as they should; they give you a taste of a film and leave you wanting more. Others give the movie away in a 60-second spot, usually inspiring the thought, "Why should I pay to see the film when I just saw the whole plot?" Then there's When in Rome, for which the trailer shows the weaker points of the film and makes the movie look awful. Please don't judge When in Rome by its lousy trailer!
In the film, Kristen Bell plays Beth, the youngest curator at the Guggenheim Museum (which means there are some great shots at the Guggenheim). Beth is super-dedicated to her work, we're told, but this movie isn't really about that. It's not about her younger sister's quick marriage to a man she's only known two weeks. It's also not really about her relationship with her mother (Peggy Lipton) or womanizing father (Don Johnson). The movie instead focuses on the very fantastical idea that Beth's picking up people's coins from a beloved (fictional) Roman fountain after her sister's wedding would make them fall in love with her.