Review: When in Rome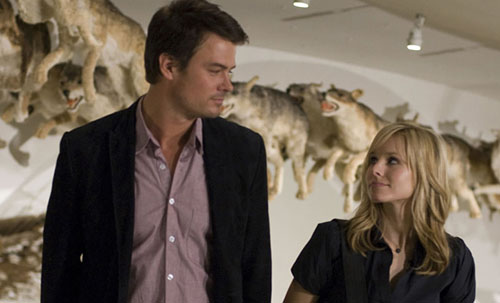 Please welcome guest reviewer Elizabeth Stoddard to Slackerwood.
Sometimes trailers work as they should; they give you a taste of a film and leave you wanting more. Others give the movie away in a 60-second spot, usually inspiring the thought, "Why should I pay to see the film when I just saw the whole plot?" Then there's When in Rome, for which the trailer shows the weaker points of the film and makes the movie look awful. Please don't judge When in Rome by its lousy trailer!
In the film, Kristen Bell plays Beth, the youngest curator at the Guggenheim Museum (which means there are some great shots at the Guggenheim). Beth is super-dedicated to her work, we're told, but this movie isn't really about that. It's not about her younger sister's quick marriage to a man she's only known two weeks. It's also not really about her relationship with her mother (Peggy Lipton) or womanizing father (Don Johnson). The movie instead focuses on the very fantastical idea that Beth's picking up people's coins from a beloved (fictional) Roman fountain after her sister's wedding would make them fall in love with her.
And herein the plot seems less like your average chick flick and more like Heart and Souls, except the guys who follow Beth around are all alive. A besotted sausagemaker (Danny Devito), goth street magician (Jon Heder), arrogant male model (Dax Shepherd), and aspiring artist with a terrible accent (Will Arnett) all follow Beth to New York City and won't leave her alone. These characters are played quite over-the-top, and I wish there had been less of them and more about Beth and Nick (Josh Duhamel), a sportswriter and former football player who Beth meets at her sister's wedding.
The writing in When in Rome is quite witty in parts: "We watched Roots while you were gone," Nick's friend Puck tells him after being kept waiting during an attempted call to Beth. The rest of the supporting cast isn't anything to sneeze at, either; Kristen Schall as a waitress in the pitch dark restaurant (they do exist) is perfectly hilarious. Also making appearances: Lee Pace as Beth's ex, Anjelica Huston as Beth's boss, Ghostface Killah as a DJ, and Efren Ramirez (Napoleon Dynamite) as a videographer who might as well be named Pedro.
Kristen Bell is entertaining throughout the film; in what could be a cliche-filled role, Bell plays Beth honestly, proving that she can hold her own. Josh Duhamel's Nick takes some wonderful pratfalls and has a nice chemistry with Bell, but his pal Puck (played by SNL's Bobby Moynihan) steals almost every scene he's in. The acting isn't all strong; Beth's sister (Alexis Dziena) and Beth's backup crew at the Guggenheim are played generically and weaken what could have been a stronger picture.
Still, When in Rome is a good sight better than some other recent chick flicks (I'm looking at you, 27 Dresses!). Is it an instant classic? No. Can I picture myself watching it again on ABC Family while I fold laundry? Certainly. The film has a light and breezy tone, and while the ending is oh-so-very predictable, When in Rome is good fun. Plus, there's a dance number at the end!