AFF 2011, Day Two: Super Woman Shoes and Free Firefly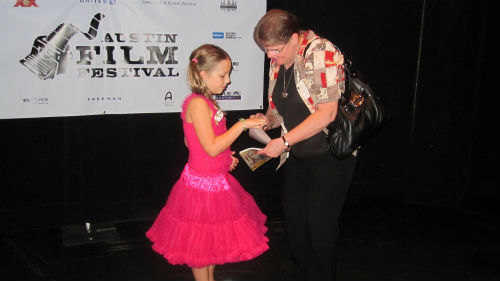 Just who is the girl in the picture and why is someone getting her autograph? It's Stella Otto, one of the stars of Sironia.
But first, let's start at the beginning. Today was a packed day, despite only making it to one panel. Had to decide between much needed sleep and a panel, and the sleep won out. But I did make it to one of the Pixar panels.
Kiel Murray and Mary Coleman talked about "Pixar's Story Development Process" and how the innovative animation studio approaches the development of stories and films. Unsurprisingly, no one at Pixar works in a vacuum; while they have directors on staff, every director has to come up with three separate and unique stories to pitch before the script process. Then an iterative approach is used that involves a "brain trust" feedback process as well as feedback from the entire staff of 1200 people. It was refreshing to hear that Pixar films don't get test screenings with kids (which would explain why they work so well for adults). They also use a similar development process for shorts, only anyone at Pixar can submit a story idea.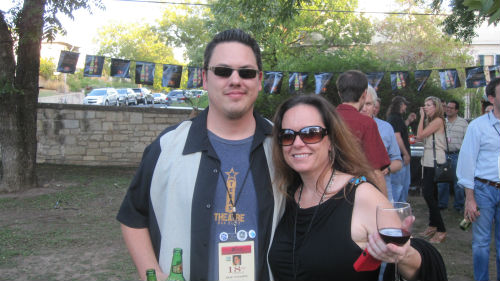 I didn't make it to the next round of panels, but I was able to go to the Film Texas BBQ Supper, an annual event. This year the logistics worked out much better with more lines and self-service with barbecue supplied by the Salt Lick. As always I ran into some old friends and made some new ones. For you celebrity watchers, David Boreanaz made an appearance. No, I did not take his picture. You'll have to settle for Adam Donaghey, producer on several fine Texas films including Uncertain, TX, which just premiered at AFF on Thursday. He's also one of the partners who've restored the famous Texas Theater in the DFW area. Pictured above is Donaghey with Paula Martinez of the Atlanta Film Forum.
I barely made it to the Rollins in time for the world premiere of the Austin-shot A Swingin' Trio. I'm so glad I did, and despite the siren song of Johnny Depp and in the insane crowds at the Paramount for the Rum Diary, there was a a large crowd for Kelvin Phillips and Carla Jackson's debut feature. I admit, I was a little dubious at the start, as it seemed a little stagey at the beginning, but then quickly became a tense tale of secrets, lies, and revelations. A Swingin' Trio could have easily turned melodramatic, but instead kept me wondering about motivations and just what might happen.
The cast and crew made the Rollins their own, pulling up chairs to do the Q&A (pictured below). And that leads me to the one regret of the night; Carla Jackson attended in a gorgeous floor length dress -- and matching "super woman shoes" that resembled Keds. Seriously ladies, take notice, you can look absolutely fabulous for a film fest and have comfortable feet. I wish I could've stayed to talk to Carla longer and take a picture of her stylin' shoes, but I needed to get in line for Sironia.
Now, keep in mind the Rollins might be walking distance from the other venues, but as AFF's Barbara Morgan mentioned in the Opening Remarks, it's walking distance for New Yorkers. It's a bit of a hike, and some avoid it because it's not so convenient. Having a lot of people attending a screening there is noticeable, and I was pleasantly surprised at the turnout for A Swingin' Trio. So imagine my surprise when I saw the lines for Sironia.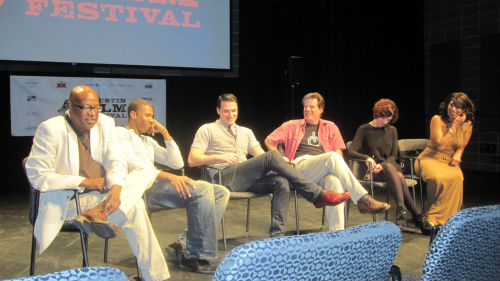 There were so many people waiting to see Sironia that even with adding two more rows of chairs, they still had to turn people away. They couldn't add more or the screen would be out of focus, so it's a good thing there's a second screening. Again, I had my doubts about the film I was about to see; a musician playing a musician in a film is a risk. Wes Cunningham did an outstanding job as a man who bristles at the life he's leading while making other plans. He manages to be both sympathetic and exasperating, with a strong supporting cast including Tony Hale (Arrested Development) and Courtney Ford (True Blood). And giving Lily Collins a run for her money as outstanding performance by a child at AFF is Stella Otto, the young woman in the top photo, as Heather.
Wes Cunningham is giving a free performance Monday at 7 pm at the Highball. And you can check out the music from the film at the Sironia website as well as download three of the songs, including "Firefly" from one of the more poignant scenes.
Logistics meant I missed the Some Guy Who Kills People screening over at the Ritz, but I've heard good things about it. Hopefully I can catch it later in the fest. In the meantime, I need some sleep. But before I go, if you want to read up about the films at the fest, check out Don Simpson and Dave Campbell's reviews over at Smells Like Screen Spirit. These guys keep us on our toes, they do so much coverage of local fests. And they're nice guys, too -- say hi if you run into them at AFF.