Terror Thursday: Raw Force! and October film festivals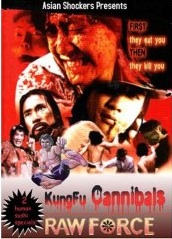 If anyone ever asks you what's so special about the Austin film community, take them to one of the free midnight screenings at the Alamo Drafthouse Downtown. Terror Thursday is a good choice for horror fans, though Weird Wednesday is usually a better choice for those looking for the cinematically absurd as a form of entertainment. This week's Terror Thursday, however, was pure gold: Raw Force is a tour de force that combines cannibalism, the undead, kung-fu, and the '80s sex comedy in a way that can't help but delight. You can read my full review over at Blue Glow.
AGLIFF winds down this weekend; there's just one day of screenings left at the Regal Arbor and the Closing Night Rolling Roadshow screening of Outlaugh at the Hotel San Jose. If you're jonesing for more film festival action, however, don't fret - the Austin Polish Film Festival has screenings every Thursday this month and the 13th Annual Austin Film Festival begins its eight-day monster slate of conference panels and movies on October 19th. (Full disclosure: I work part-time for AFF.) I'll do a write-up soon of some of the highlights (in my humble opinion) of AFF 2006, but for the moment take a look at the schedule, which is now online.
If you're into comedy, you might want to consider investing in a $95 weekend badge to take in the "From State to Stella" panel with Michael Ian Black, Michael Showalter, and David Wain in person. If you're any kind of a serious film buff, filmmaker, or screenwriter in Austin the Conference itself has a mind-bogglingly great lineup of talents from the industry coming in to hang out at the Driskill hotel for a long weekend to chat about movies and their making. If you just want to take in a few good flicks, a $35 film pass is the best deal in town all year.
OK, that's the end of my blatant plug for now but rest assured you'll be hearing more about the Austin Film Festival from me, Jette, and (hopefully) some other film bloggers around town.